Mazda gets class-leading residual values
CAP Automotive says Mazdas hold their value better than key rivals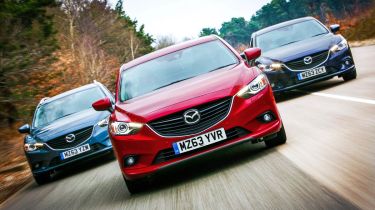 Independent car-value forecaster CAP Automotive predicts that the latest models from Mazda – including the Mazda3, Mazda6 and Mazda CX-5 – will hold their value better in the UK than key rivals over the benchmark three-year, 60,000-mile trade-in period.
The news means the Mazda3 hatchback is set to hold its value better than the Volkswagen Golf, which traditionally has the best residual values in the small family hatchback sector, but also has a higher average list price than the Mazda. CAP forecasts predict, on average, a Mazda3 will lose £12,618 over a three-year, 60,000-mile period, versus the Golf that is set to lose £14,263 in the same time.
Further up the range, the news is arguably even more impressive, where the Mazda6 is set to lose less (at £15,877) over the same three-year, 60,000-mile period, than executive saloon rivals such as the Audi A4 (£20,351) and the BMW 3 Series (£21,627). Large family cars including the Honda Accord, Vauxhall Insignia, Ford Mondeo, Toyota Avensis and Volkswagen Passat, will also fare worse than the Mazda.
Meanwhile, the Mazda CX-5 SUV – one of our favourite SUVs – has seen its average residual value leap by eight percentage points over three years and 60,000 miles, meaning it should hold onto 46 per cent of its value. Compare that to rival models including the BMW X1 (39 per cent), Hyundai iX35 (40 per cent), Honda CR-V, Nissan Qashqai and Volkswagen Tiguan (all 41 per cent), Ford Kuga (43 per cent) and Kia Sportage (44 per cent), and the future looks bright if you're a current Mazda CX-5 owner.
Key to the appeal of new Mazdas on the second-hand car market is the firm's SKYATIV technology, which gives the company's cars excellent fuel economy and strong performance figures compared to rivals in their respective classes.
To read reviews on all the Mazdas mentioned here, head to the Carbuyer Mazda reviews page.