Cheapest electric cars
Not all EVs are out-of-reach - here are the cheapest electric cars currently on sale.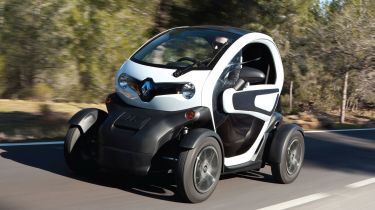 Most electric cars are more expensive than petrol or diesel cars because the technology is still relatively new. If you go back just 10 years, one of the only electric cars on the road was the Reva G-Wiz, which was slow, spartan, unsafe and could only manage 50 miles on a full charge (provided you didn't use the heater or lights).
In the last year or two, there has been a flurry of new electric cars that can all manage 250 miles of range or more, and most manufacturers are spending billions of pounds developing electric models. While many of these are still too expensive for the majority of buyers, the technology has started to trickle down into cheaper cars. Within the next couple of years, a number of manufacturers are aiming to sell pure electric cars that'll cost around £25,000, so soon there'll be plenty of more affordable EVs to choose from. One thing to note is that the prices listed below are before the Government's £3,000 plug-in car grant, so nearly all are more affordable than they appear.
That's not to say that you can't buy affordable electric cars now - the cheapest starts from under £11,000 but you do have to live without doors and a heater. It's also worth remembering that recharging an electric car can cost just a few pounds and road tax (VED) is free, so the low running costs can outweigh the high initial price.
If these cheapest electric cars are still out of reach, a hybrid or plug-in hybrid car might be within your budget. Hybrids still offer lower running costs than most petrol or diesel engines, and the difference between the two is whether you have to plug it in to charge or not. Plug-in hybrids tend to offer around 30-40 miles of electric-only range - enough to cover most commutes without using the engine.
Here are the 10 cheapest electric cars on sale.
For a different view on the cheapest electric cars, visit our sister site Driving Electric
It's hard to compare the Twizy to any other car. The driver and passenger sit in tandem (and very close to each other) and, even with the optional scissor doors, you're still exposed to the elements. It's closer to a scooter, and is classed as a quadricycle - just like a quad bike. There's limited storage space and it'll manage around 50 miles of range, plus it'll top out at 50mph.
The Twizy sounds intolerable, then, but look past these aspects and you could see it as a lovable, fun way to silently zip around town. There's even a Twizy Cargo van that replaces the rear seat with a small boot - we can see the appeal of this to urban, eco-conscious businesses and as a promotional tool. The Twizy is the only model on this list that isn't eligible for the PiCG because it manages less than 70 miles of range.
Smart now only sells electric cars and the EQ Fortwo is the smallest and cheapest of them. It offers around 80 miles of range but is flexible in terms of charging; it'll charge from a domestic socket in six hours, use a 22kW fast-charger to top up to 80% in 40 minutes, and can be charged in two-and-a-half hours from a Smart wallbox. Inside, the Smart features a modern design and infotainment system, and the boot is a usable size.
The main downside of this model is its two seats, although you might also see its price as a stumbling point - it's about £6,000 more than the previously available petrol-powered Smart Fortwo. The EQ Fortwo is also available as a two-seat open-roofed cabriolet, while the Smart EQ ForFour offers two extra seats but a smaller boot.
If you're familiar with the petrol-powered Skoda Citigo, you might baulk at the higher price of the electric Citigo e iV, but the state-of-the-art technology meant prices had to rise. It's still mechanically identical to the SEAT Mii (also electric-only) and the Volkswagen up! (petrol or electric), and still has many of the same qualities that made the petrol model so popular.
There's plenty of space for four adults, it feels very refined and is never uncomfortable. The Skoda undercuts its sister cars with an entry-level model that's a little sparse but offers the essentials, and it's a considerable £2,500 cheaper than the more expensive trim. For the price of the base model - around £17,500 - there's no other electric car that offers the same breadth of qualities as the Citigo e iV. Little wonder it sold out when it first went on sale.
The SEAT Mii electric is very similar to the Skoda Citigo e iV. Both are five-door only, both have an 82bhp electric motor and both will manage around 160 miles of range. The Mii brings slightly sportier looks and a high standard specification: there's only one trim level, but it comes with 'big-car' features like heated seats, cruise control and remote pre-heating of the cabin.
Unlike many electric cars, the Mii Electric isn't fast, but it does offer considerably lower running costs than the petrol model, which was hardly a gas-guzzler. Its compact size and skinny tyres means it's good fun to drive, even with the extra weight of the batteries. The mechanically identical Volkswagen e-up! is a little more expensive.
The switch to electric power has made little impact on the MINI's fantastic handling and the MINI Electric is nearly as quick as a petrol Cooper S, too. Even the entry-level '1' model comes with sat nav, dual-zone air conditioning, cruise control and a digital instrument cluster, and starts at under £25,000.
But you pay for the premium badge and equipment; the 145-mile range is far lower than the Renault ZOE and Peugeot e-208, and there's not much space for passengers or luggage - although there's no compromise against the regular MINI.
Few people expected MG to create an electric car, and some eyebrows were raised when the ZS EV launched. Although it's expensive compared to the petrol ZS, it's one of the cheapest electric cars currently on sale - after the Government grant it dips below £25,500. It's still a good sized, practical SUV, and the electric powertrain has transformed the driving experience.
The ZS EV is a whole four seconds quicker going from 0-62mph than the turbocharged petrol, and it can manage up to 163 miles of range (or 231 if you stick within city limits). You're not going to mistake the interior for that of a luxury car, but it's still reasonably well equipped with sat nav, DAB radio and smartphone mirroring all present on the entry-level model. The ZS' 448-litre boot is big for the class and is unaffected by the switch to electric power.
For Peugeot's first crack at an electric car, the company decided it wouldn't give the e-208 outlandish styling to mark it out as something different. It looks almost identical to petrol and diesel 208s - it's still striking and sporty-looking. You could argue it has the performance to back up those racy looks, as it's the quickest model in the 208 range.
Zero-to-62mph takes a smidge over eight seconds, while its maximum range is quoted as 211 miles. With 100kW fast-charging available, you can top up the e-208's batteries by 100 miles in just 20 minutes. Peugeot is now a by-word for eye-catching, well-equipped interiors, and the e-208 is no different. Not having somewhere to store the charging cable is an annoying, if minor, oversight.
The Renault ZOE was slightly ahead of the curve when it came to attainable electric cars with usable range, and it's Europe's best-selling EV as a result. Similarly sized to the Renault Clio, the ZOE offers a big boot and space for four, and its low-mounted battery pack even makes the car quite good to drive.
In this new model, the battery pack provides enough power for a claimed 245 miles, and the range won't drop as much in cold weather as the old one. Fast-charging is available on Iconic and GT Line trim levels, so it's worth upgrading if you'll regularly make use of it. Battery leasing is no longer available, so the initial price seems higher but you're not paying a monthly fee for the batteries.
Honda never intended to make its e city car but a huge reaction to the Urban EV concept was responsible for this retro-styled production model. It may look old-school from the outside but the Honda e is very hi-tech inside; there's a bank of screens that run from door-to-door, and these include the displays for the wing-mounted rear-view cameras.
It's nippy and agile (with a smaller turning circle than a London taxi), but the payoff is a small range of up to 137 miles. As you might expect from its compact dimensions, there's not an awful lot of space inside either.
The Nissan Leaf has become one of the best-known electric cars, and that's not surprising considering the model made up almost half of EV sales in 2017. As of spring 2019, there is a higher-capacity battery model of the Leaf available, and you can expect up to 239 miles from the larger 62kWh e+ version.
The standard 40kWh battery provides a range of 168 miles on the WLTP cycle and even that should be enough for most journeys and commuters. Both models get from 0-62mph in under eight seconds, and the Leaf offers a big boot and an airy, logical interior. With the e-Pedal function, you don't even need to touch the brakes - simply lift off the accelerator and the car will glide to a halt.
Smallest cars to buy 2020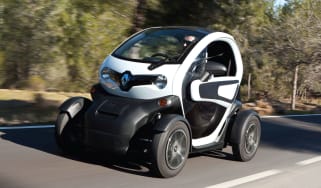 Smallest cars to buy 2020
Cupra Formentor SUV review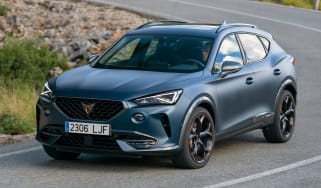 Cupra Formentor SUV review
2020 Volkswagen ID.3 hatchback: base model starts at under £30k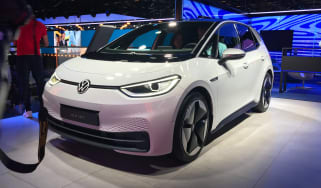 2020 Volkswagen ID.3 hatchback: base model starts at under £30k
Audi Q8 gains plug-in hybrid versions with 28-mile electric range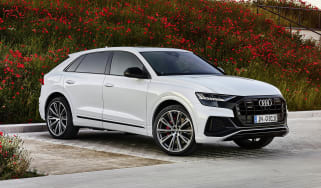 Audi Q8 gains plug-in hybrid versions with 28-mile electric range