London Congestion Charge exempt cars 2020
If you're after a London Congestion Charge exempt car, our run-down picks 10 of the best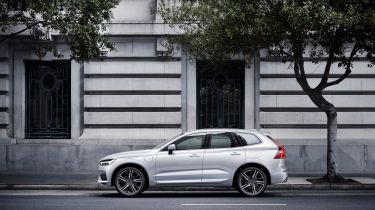 If you're driving into central London, it's likely you'll have to pay the London Congestion Charge. Introduced in February 2003, the London Congestion Charge aims to reduce traffic and emissions in the capital's centre. It also raises significant revenue for Transport for London, bringing in over £250 million in 2014/15 and is enforced alongside the London Ultra Low Emission Zone, which was introduced in April 2019.
Since its introduction, the London Congestion Charge excluded cars with low CO2 emissions. Up until July 2013, all cars that produced under 100g/km of CO2 were exempt from the charge.
In recent years, the CO2 figure for exemption has fallen to 75g/km, along with a minimum required zero-emission driving range of 20 miles (running on electric power only) - neither of which is possible in conventional petrol or diesel powered cars.
That means if you regularly drive into central London between 7am and 10pm and want to escape the daily £15 Congestion Charge fee, you need to look at electric or hybrid cars; these are the only models able to meet or undercut the 75g/km figure. That's not to say you'll be stuck for choice: Congestion Charge exempt vehicles range from small electric city cars to full-size SUVs.
You should also consider that a car's CO2 emissions can be affected by wheel size, so it's worth checking the individual spec of any car you may be thinking of buying. If buying a new car, check the trim level to see if it includes larger alloy wheels that could increase the CO2 rating. If you're buying a used car, the CO2 emissions rating will be printed on the V5C logbook.
Here are our top 10 best Congestion Charge exempt cars.
The flagship of the Volvo XC60 range is a high-performance SUV with a price tag to match. It can accelerate from 0-62mph in just 5.2 seconds, although you won't come close to the claimed fuel economy of up to 100.9mpg under the WLTP cycle if you try it very often. The speed is made possible by a 2.0-litre petrol engine and an electric motor combining to produce 385bhp, a setup also capable of 28 miles of pure electric driving range.
That's not bad for a bluff-fronted SUV. Its handsome looks are trumped by its stunning interior, which blends elegant styling with cutting-edge technology. The most obvious example of the latter is the large, tablet-style touchscreen, which is simple to use and controls most of the car's features. Spend another £1,500 on the Intellisafe Pro Pack, and you'll experience the XC60's party piece: a semi-autonomous driving experience.
There was a time when, if you wanted a plug-in hybrid SUV, Mitsubishi was the only game in town. Times have changed now, and the Outlander finds itself among a number of rivals. It lacks the interior quality and driving finesse of more upmarket competition, but it also lacks their upscale price tag.
Mitsubishi claims fuel economy of 166mpg and a 30-mile all-electric range. The story gets better when it comes to road tax. Unlike its more expensive rivals, the Outlander PHEV is available for less than £40,000, meaning it escapes the five-time annual road-tax surcharge applied to cars costing more than that amount.
As a first attempt for a mass-production electric car, the Jaguar I-Pace is a remarkable effort, mixing high-end luxury and practicality. Amongst its substantial list of plus points is the 90kWh battery and electric motor powertrain, which is capable of delivering 0-62mph in 4.8 seconds. Drive the I-Pace carefully and Jaguar claims a range of up to 298 miles between charges. Quick-charging with a 100kW charging point can take the car from 0 to 240 miles of range in only 40 minutes. The interior of the I-Pace is luxurious and tech-laden, with plenty of standard equipment included with all trim levels and a 656-litre boot.
The Tesla Model S was the EV that left a large number of mainstream manufacturers trailing in the firm's wake. Thanks in part to regular updates to its styling, electric motors and software, the Model S remains hugely popular with buyers. The most recent update to the Model S Long Range increased driving range to 375 miles between charging, and reduces the car's 0-60mph time to 3.7 seconds.
For those wanting more pace, the Model S Performance can be combined with the optional Ludicrous Mode upgrade, giving it a supercar-matching 0-60mph time of 2.3 seconds. Inside, the Model S features a space-age 17-inch touchscreen controlling all of the car's essential functions, in an interior that is minimalist and luxurious. The Model S is also hugely practical too, with 894 litres of rear boot space, and 150 litres of front boot space thanks to the absence of a conventional engine.
At the affordable end of the electric-motoring spectrum is the Nissan Leaf. Starting at around £27,000, the Leaf is a demonstration of how quickly EVs have progressed in recent years. With a real-world range of over 160 miles between charges, and a longer range Leaf e+ model capable of 239 miles, it's not hard to see why the car is popular.
Important aspects of the car's appeal include the conventional styling, smart interior, space for four adults and a reasonably sized 435 litre boot. Higher trim levels are well equipped too, including Nissan's ProPilot self-driving technology, leather seats, LED headlights and a Bose sound system as standard. Performance matches conventional petrol and diesel-powered hatchback rivals with a 0-62mph time of 7.9 seconds.
the market. The i3 offers an excellent drive and boasts a hi-tech and very well specced interior to match the eye-catching exterior. The cabin is spacious with plenty of room for four adults, even if the small 260-litre boot is something of a compromise.
The car has a generous battery life as well, with its 42kWh battery offering a claimed range of 192 miles under the WLTP cycle. Prices for the standard i3 start at around £36,000 before the £3,000 Government plug-in car grant. BMW claims that charging the battery to 80% takes 40 minutes when using a 50kW fast-charger.
The Kia e-Niro may look very similar to the standard petrol and diesel Niro models but there are styling differences, including a closed-off grille that helps to reduce drag. The e-Niro also has a new front bumper and unique alloy wheels with blue bodywork accents, hinting at its eco credentials.
It may not impress with cutting-edge style inside but the interior is modern enough and well equipped when compared to its rivals. The car undercuts some of the alternatives on price too, costing around £30,000 after the Government grant (deduction of £3,000). Kia claims the driving range for the e-Niro is 282 miles per charge, thanks to a 64kWh battery powering its single electric motor. This setup produces 201bhp, with a swift 0-62mph time of 7.5 seconds.
With the market for alternatively fuelled cars growing consistently, the Hyundai Ioniq Plug-in Hybrid has proved a strong seller, capable of excellent fuel economy figures. It has a conventional 1.6-litre petrol engine coupled to an electric motor, with an 8.9kWh battery that can be charged from any EV charger.
Hyundai claims the Ioniq Plug-in can achieve up to 32 miles of pure-electric driving, with a claimed total range of up to 660 miles when using both the petrol engine and electric motor. As you'd expect, this is not a driver's car, but it does offer enough performance for daily use with a hushed drive that is well suited to towns and cities. The Ioniq was designed around a plug-in hybrid powertrain, so it has plenty of room inside for five adults. The interior may not be anything groundbreaking, but it is well put together and well equipped, and offers a good driving position.
Limited range is a worry that may put potential EV buyers off. The Hyundai Kona Electric is an EV that aims to dispel range anxiety by offering up to 278 miles of range on a single charge. It may look rather conventional, but it does boast distinctive exterior styling, with a closed front grille the only giveaway of the electric powertrain hidden underneath. The interior features a hi-tech floating centre console in what is a well equipped and high-quality cabin. The Kona Electric also manages to better its petrol and diesel counterparts for pace as well, with 0-62mph taking only 7.6 seconds.
The Porsche Cayenne E-Hybrid is seriously multitalented; it's a hugely quick, well built and luxurious family-sized SUV. The source of its frantic pace is a turbocharged V6 petrol engine and an electric motor, which combine to produce 455bhp. It completes the 0-62mph sprint in 4.7 seconds with a top speed of 157mph.
On the flipside, it also has impressive eco credentials with a claimed fuel economy figure of 90mpg, CO2 emissions of 72g/km and a fully electric driving range of 25 miles. Inside, the cabin is beautifully finished with high-quality materials. Equipment levels are also excellent, with the standout feature being the large touchscreen infotainment that dominates the centre console. Boot space stands at an impressive 645 litres, which expands to 1,610 litres with the rear seats folded flat.
Updated Peugeot 5008 starts at £29,585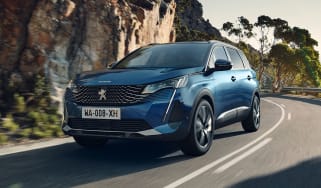 Updated Peugeot 5008 starts at £29,585
Cupra Formentor SUV review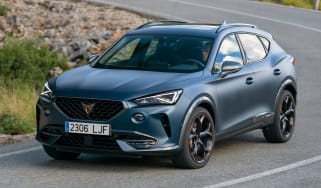 Cupra Formentor SUV review
2020 Volkswagen ID.3 hatchback: base model starts at under £30k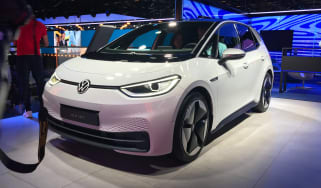 2020 Volkswagen ID.3 hatchback: base model starts at under £30k