Smoke from exhaust: what does exhaust smoke mean?
Getting smoke from your car exhaust? Our guide explains why you might not need to panic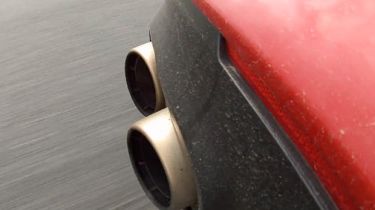 If you drive a petrol, diesel or hybrid car, your vehicle will have an exhaust pipe to expel waste gases from the engine. As the engine makes power through internal combustion, it generates emissions, including small amounts of smoke.
You may notice different colours of smoke occasionally coming from your exhaust – this smoke can be black, blue, grey or white, but there doesn't necessarily have to be a cause for concern. Gases can build up inside the engine once it's up to temperature, and the exhaust system allows them to escape in a safe and controlled way.
An occasional puff of smoke from the exhaust on hard acceleration isn't likely to be anything to worry about. But there are cases where smoke from your car's exhaust can be a sign of serious trouble. We'll explain more below...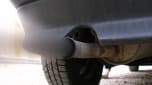 Diesel Particulate Filters: what is a DPF and which cars come with one?
Diagnosing a smokey exhaust: what to look for
Diesel engines can be particularly liable to smoke. If you take your diesel car on its first high-speed run on a motorway in a while, you may notice a dark, sooty cloud from your exhaust, which can be the result of a build-up of waste in the exhaust system. If you notice smoke of any colour from either a petrol or diesel engine more often, it could be a sign of something more serious. Read on to find out more about what could be causing the smoke from your exhaust.
What should I do if I see black smoke coming from my exhaust?
It may seem contrary to what you'd expect, but black exhaust smoke is possibly the kind to be least concerned about, particularly if you drive a diesel car. However, black smoke should be a very infrequent occurrence, so regular black smoke could point to a fault or a worn engine.
Black smoke often signifies there is too much fuel being burnt by the car's engine in relation to the amount of air – known as running rich. This can occur if your air filter is blocked, or there is a problem with your fuel injectors. It could also indicate an issue with the fuel-pressure regulator, meaning that the car is over fuelling.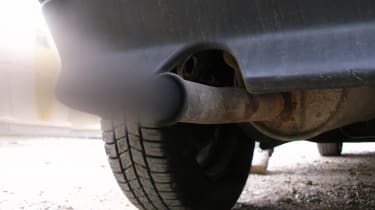 Turbocharged cars are more likely to experience black smoke as the turbocharger acts as a pump forcing more air into the engine. The car's computer system calculates the correct amount of fuel to supply in relation to this amount of air, so if the turbocharger is damaged or there is a 'boost leak' from a pipe (and some of the air is escaping before combustion), this could result in over fuelling and black exhaust smoke.
In diesel cars, black smoke could also signify a build-up of soot (a byproduct of diesel combustion) or a blocked diesel particulate filter (or DPF) within the exhaust system. Quite often, a longer drive on a motorway where the exhaust reaches higher temperatures will give the DPF a chance to clean itself, and this can manifest in the occasional puff of black smoke. If the filter becomes blocked or broken, you'll usually experience a warning light on the dashboard and a noticeable loss of power.
Partnership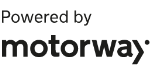 Need to sell your car?
Find your best offer from over 5,000+ dealers. It's that easy.
If black smoke becomes frequent or constant, whether on a petrol or a diesel car, it's vital that you refer your car for urgent repair. In this state, not only will your fuel consumption increase, you risk damaging sensors and components in the exhaust system, as well as the catalytic converter on petrol engines, all of which could be costly to repair.
What should I do if I see blue smoke coming from my exhaust?
Blue exhaust smoke, which comes in a variety of shades depending on thickness, is a sign that engine oil is being burnt. All engines burn a tiny amount of oil – this is why your engine's oil level will naturally go down, and one reason that it changes in colour.
However, in a healthy engine, there should not be enough oil burning to produce visible smoke. If you can see blue smoke – or smell its distinctive aroma – it's likely that a repair is necessary. The severity of the problem can vary, so it may not be an expensive repair, but as with any fix, the sooner you have it diagnosed and put right, the less costly it's likely to be.
The first thing to investigate is where the burning oil is coming from. A common culprit is the turbocharger, if fitted. The moving parts of a car's turbocharger are lubricated by an oil feed in order to reduce friction and maintain efficiency. If this feed leaks and the oil joins the flow of air being pumped into the engine, it will enter the cylinders and get burnt. If the fault is with the feed itself, the repair could be inexpensive. If the turbocharger itself is at fault, though, it will need rebuilding or replacing, and that can be costly.
Older or higher-mileage cars can emit smoke over time due to natural wear and tear. The cylinder walls, the pistons and their valves will all eventually wear and allow oil to pass where it shouldn't. Once this begins to happen, the engine will either need to be repaired, rebuilt or replaced. It is possible for oil entering the cylinders to be a sign of head gasket failure, too, but we'll discuss that further below.
What should I do if I see white smoke coming from my exhaust?
When a white cloud comes from your exhaust, it's vital to determine whether what you're looking at is actually smoke or just steam, which is perfectly normal in smaller amounts. While your car is parked moisture can build up in your car's exhaust, especially during the colder winter months. This can cause quite substantial white clouds to come from the exhaust as the car warms up. This will gradually fade when the engine and exhaust reach operating temperature.
If your car is fully warmed up and the exhaust is still emitting white smoke, there could be a fault. Constant thick white smoke is usually a sign that coolant is being burnt, and you definitely don't want that to happen.
The most traditional cause of this is head-gasket failure. The head gasket is a thin, shaped metal sheet sandwiched between the cylinder head and block – the top and bottom parts of most engines. It's there to form a seal between the two parts, and to prevent coolant leaking from the jacket that surrounds the engine.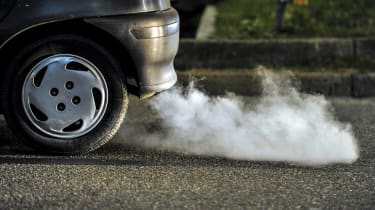 If the head gasket fails and coolant is no longer contained within the water jacket or the cooling channels that run throughout the engine then coolant can flow into the cylinder, where it will be burnt. Steam will then come from the exhaust at high pressure. As the wear increases, more coolant will flow into the cylinder, and the steam will increase – this can happen quite suddenly.
It's vital that you stop the engine as soon as you can if this happens. High amounts of coolant in places where it's not meant to be can cause serious, sometimes irreparable internal engine damage. What's more, if the engine runs out of coolant, it could overheat and lead to further damage.
This is why it's just as important to frequently check your engine's coolant level as it is to check that it has the right amount of engine oil.
If your car is showing the amber engine management light, check out our guide to the most common causes…
Money-saving tips for car buyers
Engine management light: top 5 causes of amber engine warning light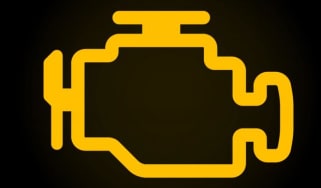 Engine management light: top 5 causes of amber engine warning light
Tesla Cybertruck finally delivered: specs, prices and UK availability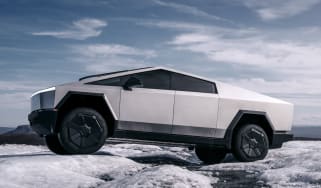 Tesla Cybertruck finally delivered: specs, prices and UK availability
Best new car deals 2023: this week's top car offers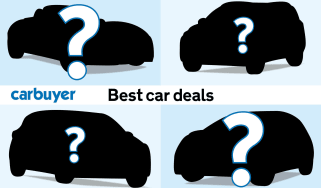 Best new car deals 2023: this week's top car offers