Cheap fun cars: our used sporty car picks from £1,000 to £10,000
We explore the used car market on the hunt for cheap fun cars under £10,000. From sports cars to hot hatches, there's lots of choice
In a market where even the cheapest sports car or hot hatch will set you back a decent chunk of your monthly pay packet in finance payments, it's hard not to look to the classifieds. For the price of a few month's repayments, you could own your very own cheap, fun car outright – but where to start looking?
To help you choose, we've picked 12 used cars that represent huge thrills for very little money, split into four budget brackets ranging from £1,000 to £10,000. Buying a used performance car is a lesson in looking for signs of abuse; while many cars on this list can take a hard life in their stride, securing a pampered car should help minimise issues down the line. If you're in the market, our guide to buying a used car could also help.
We've pointed out some common issues for each model, but it's always a good idea to seek the opinion of a specialist if you're unsure. Buy wisely, though, and there's no reason why any one of the options below couldn't serve as your everyday car.
Read on to see Carbuyer's favourite cheap fun used cars:
£1,000-£3,000
Toyota MR2 Mk3
A rear-wheel-drive, mid-engined two-seater sports car with sprightly performance, sharp handling and reasonable running costs, all for less than £3,000 – it's pretty hard to beat the value offered by the third-generation Toyota MR2. Built between 1999 and 2007, the last MR2 lost the earlier models' pop-up headlights, but gained a folding soft-top and a focus on driver thrills; the result is a sharp and agile sports car that's huge fun to drive. It's not as practical as some cars on this list (there's no real boot to speak of), but few can match its value today.
A well cared-for example with less than 100,000 miles on the clock can be had for around £2,500, although prices can dip as low as £1,500 for serviceable cars. Watch out for rust, check for signs of dampness in the interior and pay attention to service history – reliability is generally good, but some common issues exist, including engine problems caused by disintegrating pre-cats. We recommend a good set of correctly sized matching tyres all round, too.
Renaultsport Clio 172/182
The facelifted second-generation Renault Clio was always a good car to drive, but with a 2.0-litre petrol engine with as much as 177bhp (in 182 form) under the bonnet and a sportier chassis, the Renaultsport version raised the bar. Whichever version you choose, performance is strong: a 0-62mph time of around seven seconds and plenty of low-down power make swift progress very easy. On a twisty road the Renaultsport Clio's low weight, reworked suspension and communicative steering all help make it one of the most nimble and lively fast hot hatchbacks of its generation.
While well used, roadworthy examples can just about be found at the lower end of our budget, we recommend looking for a pampered one. These will start at around £2,000 and should have straight bodywork, fewer than 100,000 miles on the clock and a full service history. Engine issues aren't common on well maintained cars, but it's worth assessing the health of the suspension, bushings and gearbox mounts in particular.
Ford Mondeo ST220
If you need a car that's cheap to buy, practical and comfortable yet still thrilling when the mood takes you, there are plenty of go-faster family cars from the early Noughties vying for your attention, including the original Skoda Octavia vRS and Honda Accord Type R. A less obvious choice, though, is the Ford Mondeo ST220. With its 3.0-litre V6 petrol engine, the ST220 improved on Ford's already excellent family car (you can choose between hatchback, saloon or estate variants – the latter is particularly spacious in the back) by adding tauter suspension and more power. With 223bhp, 0-62mph takes around seven seconds and overtaking is effortless – although you'll pay for the privilege at the pumps. If 25-30mpg isn't palatable, the closely related Mondeo ST TDCi offers similar looks and handling but with a 2.2-litre diesel engine that returns around 46mpg.
Thanks in part to relatively high running costs pricing most ST220s out of everyday use, you shouldn't struggle to find a good example on the market. Around £2,000 buys a well used but properly maintained car, while pushing the top end of our budget sees condition improve and mileage drop. Known issues concern electrics, while dampers, bushings and the clutch could need replacing on older models.
£3,000-£5,000
Honda Civic Type R (EP3)
The Honda Civic Type R is a hot hatch in a class of its own, with a uniquely high-revving engine, sharp handling and a sublime manual gearbox complete with its lever mounted on the centre console. There's plenty of performance, with 0-62mph completed in just 6.6 seconds, while grip and handling is similarly impressive – although some may find the steering a little numb.
Many examples on the market will have been driven hard, but well maintained cars should be able to put up with a little abuse. The lower end of our budget buys a good early example with a sub-100k mileage, but for better later examples you'll have to get closer to £5,000. A full service history is essential, with evidence of a cambelt change particularly important. Watch out for worn synchromesh in the gearbox, too.
Suzuki Swift Sport
A great-value hot hatch when sold new between 2005 and 2011, the first-generation Swift Sport is now a complete performance bargain. Adding a fizzy 1.6-litre petrol engine and lively handling, Suzuki transformed the Swift into a critically acclaimed hot hatchback with subtle sporty styling touches – all while retaining the standard car's great build quality, reliability and practicality.
Today, prices for a rough-and-ready, high-mileage examples start at around £1,500, but you'll need at least £3,000 to secure a tidier, sub-100,000-mile car and as much as £4,500 for the very best later examples. The Swift Sport is generally reliable if looked after, but watch out for gearbox issues – input shafts are a weak point, though clutches can last up to 70,000 miles. Body panels are also expensive.
Mazda MX-5 Mk3
While its modern classic predecessors are readily available for much less, the third-generation Mazda MX-5 is a better – and far less rusty – proposition as a reliable and cheap fun car. With rear-wheel drive, a choice of a 129bhp 1.8 or 158bhp 2.0-litre petrol engines and relatively low weight, the newer car is just as fun to drive as its ancestors, but feels more modern. There was even a folding hard-top version – although we'd stick to the soft top.
You'll find a range of examples within our budget, with a good mid-mileage early 1.8-litre model costing around £3,500 and a good 2.0-litre pushing that figure higher. Reliability is generally excellent, with few real mechanical issues to worry about beyond usual wear and tear. Fabric roofs are worth checking over for signs of damage, including the frame and rear window. Watch out for signs of crash repairs and peeling lacquer on alloy wheels.
Read our full used buying guide for the Mazda MX-5 Mk3 here
£5,000-7,000
Skoda Fabia vRS Estate
The Skoda Fabia vRS Estate was unique in its class as a high-performance supermini-based estate when new and it remains as such as a secondhand bargain. Its 1.4-litre petrol engine is both supercharged and turbocharged for a total of 178bhp, while a seven-speed dual-clutch automatic gearbox was the only transmission option. It's not quite as sharp to drive as a Renaultsport Clio of a similar age, but it's still fast, fun and far more practical.
Prices for good, higher-mileage Skoda Fabia vRS Estates start at around £4,500, but you'll probably need to spend at least £5,000-£6,000 to secure the best. Finding one could be a challenge, too, as the estate is relatively rare – the classifieds are packed with its hatchback counterpart, though. Oil consumption is said to be high, so look out for well maintained examples, but otherwise the Fabia is a reliable – and fast – choice.
Volkswagen Golf GTI Mk5
After the disappointing Mk4 Golf GTI, the fifth-generation model represented a fantastic return to form for Volkswagen's iconic hot hatch. It got all the basics right – powerful 2.0-litre engine, poised front-wheel-drive chassis and sporty styling – while positioning the sportiest car in the standard Golf range as a classier alternative to more boisterous rivals. Good examples still look great today and make for fantastic everyday transport.
As little as £2,500 can buy a high-miler in decent health, but it makes more sense to aim for a pampered example with less than 100,000 miles if you want to minimise costs in the long run. You'll need at least £4,000 for this, but a price within our £5,000-7,000 budget range is more likely to secure the best. The Mk5 Golf GTI is generally reliable, but there are few foibles to watch out for alongside the usual age-related concerns: the engine is quite noisy but a rattle may be a faulty fuel pump, while uneven rear tyre wear points to suspension that needs adjustment.
Read our full Mk5 and Mk6 Volkswagen Golf used buying guide here
Peugeot RCZ
The Peugeot RCZ was the French firm's answer to the hugely successful Audi TT, but its wild styling and fine driving experience weren't a match for the cachet of its closest rival when it came to sales and depreciation. The good news is that this talented front-wheel-drive sports coupe is now available well within our budget; perfect if you want to stand out from the crowd. There's even a 163bhp diesel option if fuel economy is a concern, or the sporty RCZ R with over 260bhp if you're in a hurry. A 1.6-litre petrol with 156bhp is the most common example on the market, offering a good balance between cost and performance.
Today the RCZ represents good value, with low-mileage 1.6-litre petrol examples starting at around £5,000. You'll typically need a little more to secure a low-mileage diesel, while the range-topping RCZ R is significantly more expensive thanks to its rarity and enthusiast appeal. Facelifted cars tend to be more expensive and generally more reliable, but arguably aren't as good to look at. No RCZ is particularly prone to issues, but look for evidence of timing-chain replacement and make sure the gearbox shifts smoothly.
£7,000-£10,000
Audi S3
Closely related to the Volkswagen Golf GTI, but offering more power, four-wheel drive and extra luxury, the second-generation Audi S3 is a competent all-rounder with effortless point-to-point pace and an upmarket image. Overtaking is a breeze thanks to its 261bhp, while grip and traction are impressive – even if the car's not quite as engaging as the Renault featured below.
Good higher-mileage second-generation S3s start at around £7,000, but we'd suggest you spend a little more to find something more pampered – either a three-door or the five-door 'Sportback' – for around £8,000-10,000. The 2.0-litre TFSI petrol engine is generally very reliable, but some cars can suffer internal issues if neglected – as ever, check for signs of yearly servicing (or every 10,000 miles). Clutches can last as much as 80,000 miles, but it's important that DSG automatics have had their gearbox oil and filter changed at the 40,000-mile mark or sooner to avoid overheating.
Renault Megane RS
The Renaultsport version of the third-generation Megane was one of the best large hot hatches of its generation and went down a storm with performance-car enthusiasts. It was in its element on a twisting B-road; a 2.0-litre petrol engine with 247bhp was enough for 0-62mph in 6.1 seconds, while sharp, agile handling and a sublime suspension set-up belied the Megane's roots as a family hatchback. Two versions were available: Cup and Sport. The former has less standard kit but more in the way of sporty chassis tweaks, while the latter came with more creature comforts.
Prices start at around £6,500-£7,000 for earlier examples with higher mileages, but a budget of £8,500-£10,000 will secure something with a mid-five-figure mileage and good history. Look for a model with the Cup pack fitted – these are more fun to drive and hold their value better. Renaultsport cars have a good reputation for reliability, but it pays to look out for signs of track-based abuse. Those supportive Recaro seats can suffer from worn bolsters, which are an expensive fix.
BMW Z4 Roadster/Coupe
The first-generation BMW Z4 was a replacement for the underwhelming BMW Z3 and improved the recipe in just about every important way. Fashion-forward styling, a range of excellent engines and a much more focused driving experience made it a solid sports car at the time, and now an excellent used bargain. Whether it was the entry-level four-cylinder 2.0-litre or top-spec Z4M models with their powerful 3.2-litre six-cylinder, all Z4s offered a good combination of driving thrills with everyday usability and German luxury sheen.
Despite its age, the Z4 performs the enviable trick of looking newer and more expensive than it really is. You'll need less than £4,000 to secure a Z4 2.0i with mid to high miles, or around £5,000 for a pampered car, although we'd recommend pushing your budget to £7,000 and above to secure one of the very best 2.5 and 3.0-litre models. With 192 and 265bhp respectively, these six-cylinder versions offer performance in spades. For our blow-out budget, you'll have the pick of both Roadster and Coupe models, all with low mileage. Be sure to check for comprehensive service history, as Z4s require regular fluid top-ups; be ready to listen out for noisy interior trim on the move, too.
If you want to step up to the more comfort-orientated BMW Z4 Mk2, you can read our buying guide here
New Suzuki Across plug-in hybrid SUV starts at £45,599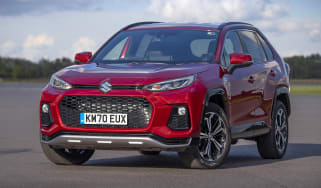 New Suzuki Across plug-in hybrid SUV starts at £45,599
2020 Volkswagen Arteon gets new petrol and diesel engines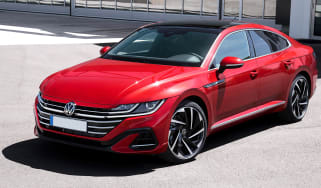 2020 Volkswagen Arteon gets new petrol and diesel engines
Updated Peugeot 5008 starts at £29,585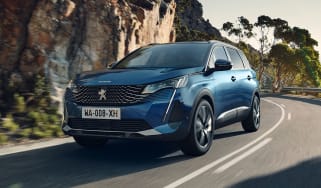 Updated Peugeot 5008 starts at £29,585
Cupra Formentor SUV review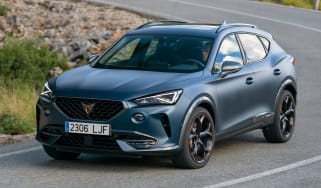 Cupra Formentor SUV review
2020 Volkswagen ID.3 hatchback: base model starts at under £30k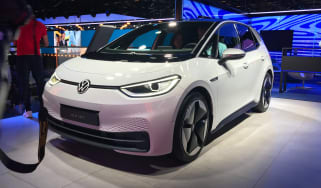 2020 Volkswagen ID.3 hatchback: base model starts at under £30k