New cars 2016: the year's most important cars
Our round-up looks at the most significant cars we've driven this year, as well as a couple that are yet to be released.
We're a good way through 2016 now, and so far it's been a bumper year for new car launches. We've put eagerly awaited models from Renault, Ford and Jaguar through their paces, and also been lucky enough to get our hands on a couple of supercars. So read on to find out the most significant models to hit the roads this year, and click on any of the links to be taken through to our full reviews or extended news stories.
Alfa Romeo Giulia saloon
Few brands inspire as much affection as Alfa Romeo, but often the cars produced by the Italian brand have been appealing yet somewhat flawed. That's not the case with the Alfa Romeo Giulia, though: this four-door saloon is a genuine rival to the standard-setting BMW 3 Series, and a staggeringly fast 503bhp Quadrifoglio model caters for those after a practical family car with supercar-rivalling performance.
Bentley Bentayga SUV
For those with deep pockets who need a large SUV, the recently-arrived Bentley Bentayga may just fit the bill perfectly. You'll need £160,000 if you want one, and have to be happy with fuel consumption in the low 20mpgs at best, but there are few cars of such size that can go from 0-62mph in just four seconds while cosseting their occupants in unparalleled luxury. The Bentayga is also a genuinely capable off-road car, too, even if its price tag may make you loath to take it on anything more strenuous than a poorly-surfaced road.
BMW M2 coupe
The BMW M2 is the smallest car in BMW's line-up to have been put through the full M Division performance programme and the general feeling is this junior supercar is something of a bargain. True, at around £45,000 it's double most people's budget for a new car, but given the fact it'll go from 0-62mph in just 4.5 seconds (and put a smile on your face at almost any speed), the M2 is genuinely worthy of its M badge, and offers a saving of around £13,000 over the larger BMW M4. Only an underwhelming interior lets things down slightly.
DS 4 Crossback SUV
The DS 4 Crossback is the latest car from Citroen's luxury-focused DS brand and it's essentially a raised DS 4 hatchback with chunkier looks. In the DS 4's favour are its luxurious interior and generous standard equipment, but rear-seat passengers will bemoan the fact the back windows only pop out at the edge, rather than wind (or power) down.
Fiat Tipo hatchback
The Fiat Tipo revives a name last seen in the UK in the 1990s, and it's a well-priced and well-equipped car. The Tipo Station Wagon estate is even more practical than the standard hatchback, but both cars are slightly more expensive to run than rivals, and neither is that enjoyable to drive.
Ford Edge SUV
The Ford Edge is a large five-seat SUV that was originally developed for the US market, before being tweaked for European buyers. It's a striking car with plenty of road presence, a huge boot and comfortable suspension, although a well-equipped Edge in top-spec Sport trim comes precariously close to £40,000.
Ford Focus RS hatchback
If the BMW M2 above seems a little too expensive, consider the Ford Focus RS. It's significantly cheaper, yet only fractionally slower. Standard four-wheel drive ensures putting the Focus RS' 345bhp down on the road is easy and there are few – if any – cars at this price point offering comparable performance. Five doors and a (small but usable) boot mean you could even have one as a family car.
Ford GT supercar
The Ford GT is a £300,000 supercar with 600bhp that you can't buy – at least for now. Ford asked potential buyers to submit proposals explaining why they should be one of the lucky 500 GT owners, and all spaces for the first two years' production have already been allocated, with just 10 coming to the UK. With a rich heritage dating back to Le Mans races in the 1960s, the Ford GT harks back to a bygone era, yet does so with the latest technology: Ford's boffins programmed 10 million lines of computer code into the GT, more than most fighter jets and airliners. UK road testers have yet to get their hands on the GT, but watch this space. Full story here.
Ford Ranger pickup
Pickup trucks have become posh recently and the latest Ford Ranger is easier to live with than many such vehicles from a few years ago. With super-tough US-inspired looks and the option of a punchy 3.2-litre diesel engine, the Ranger certainly isn't lacking in grunt, while a tow limit of up to 3,500kg means it's one of the more capable tow cars out there. Just make sure to tick the rear parking sensors options box, as the Ranger is a big car.
Honda NSX coupe
The Honda NSX has been spoken of as something of a bargain in supercar circles. True, at around £130,000, it's out of most people's reach, but the NSX has a similar engine configuration to the Ferrari LaFerrari and McLaren P1, which retail for around £1 million each. With a turbocharged 3.5-litre engine and three electric motors, the NSX showcases what can be done by blending traditional petrol power with the latest hybrid technology.
Infiniti Q30 hatchback
Infiniti is hoping the Q30 will make inroads in the UK premium hatchback market, where it competes with the Audi A3, BMW 1 Series and Mercedes A-Class. While Nissan's luxury arm has enjoyed success in the US, this hasn't been the case – so far – in Britain. Still, the Q30 looks different, feels special and is built in England, so if you feel like an alternative to established rivals from Mercedes, Lexus and Volkswagen, it's well worth a look.
Jaguar F-Pace SUV
The F-Pace is Jaguar's first=ever SUV and it's been a success right out of the blocks. With smooth, powerful engines, a great driving experience and undeniably stylish looks, the F-Pace has a lot going for it. Only a relatively high asking price and expensive options list hold it back from genuine greatness.
Kia Optima
The Kia Optima focuses on technology as much as comfort. With wireless phone charging, LED rear lights and a 176mpg hybrid model, the Optima saloon and its SW estate sibling are convincing alternatives to the Ford Mondeo and Mazda6.
Kia Sportage SUV
The latest Kia Sportage is more assertively styled than before, but it's still the practical, sensible and easy-to-live with SUV it's always been. This is a crowded market, though, and the Sportage competes with the hugely popular Nissan Qashqai and Renault Kadjar.
Lexus RX SUV
The Lexus RX goes up against other large SUVs like the BMW X5 and Audi Q7, only unlike those cars, it does without a diesel option. Instead, buyers can choose from a turbocharged 2.0-litre petrol and a petrol-electric hybrid. The latter ensures smooth, quiet and relatively efficient running, which is matched by the beautiful and quiet interior. The RX isn't as good to drive as its rivals, though, and the hybrid's claimed fuel economy of 53mpg can be hard to match in the real world.
Mercedes E-Class saloon
The latest Mercedes E-Class saloon and Estate show just how far interior design has come on in recent years. While the previous E-Class felt somewhat staid inside, the new model is a technological and luxurious tour de force. Fuel economy is another strong suit, as the most efficient model can return over 70mpg.
Mercedes S-Class Cabriolet
The S-Class Cabriolet is one of Mercedes' top-tier models, with a starting price of around £110,000. For that sort of money you expect (and get) almost unparalleled luxury – roof up or roof down – alongside stellar performance and big running costs. Despite being longer than the Ford Galaxy people carrier, the S-Class Cabriolet actually has very tight rear seats, though.
MINI Convertible
Working on the principle of 'if it ain't broke, don't fix it', the latest MINI Convertible is a gentle evolution of the car it replaces. It's a little more practical and the roof is slightly faster at opening or closing than it was before, but other than that it remains the same stylish, good-to-drive cabriolet it always has been, complete with a tiny boot.
MG GS SUV
Although it's an historic British brand, MG was bought by Nanjing Automobile (which later merged with Shanghai Automobile Industry Corporation – SAIC) back in 2005. The MG GS is the brand's first foray into the popular mid-size SUV class, and it undercuts the Nissan Qashqai by about £3,500. While the GS is pretty enjoyable to drive and has an eager 1.5-litre turbocharged petrol engine, there's no diesel option. The GS also only really makes sense in entry-level Explore guise, as its price advantage becomes smaller the further you go up the range.
Range Rover Evoque convertible
The Range Rover Evoque Convertible answers a question many may not have asked before: what happens if you make an SUV with a folding fabric roof? The answer, it turns out, is that you get a sleek and desirable SUV convertible, which is significantly more expensive and a fair bit slower than the car on which it's based.
Renault Megane hatchback
As the first family hatchback to feature on this list, the latest Renault Megane is arguably one of the more important new cars of 2016 – it's this sort of car that accounts for the majority of UK sales, after all. The Megane is great to look at, comes with a genuinely plush interior and brings a breath of fresh air to the class.
Suzuki Ignis hatchback
The Suzuki Ignis compact crossover is actually due in 2017, but it's already been revealed. As a chunky alternative to the Fiat Panda 4x4 and Nissan Juke, the Ignis is likely to get Suzuki's 1.0-litre turbocharged 'Boosterjet' engine as well as a 'mild-hybrid' option, which uses a beefed-up starter motor to aid acceleration. Full story here.
Tesla Model X SUV
The Model X is an all-electric SUV from Tesla. In many ways it's a similar proposition to the Model S, first launched in 2012: it has electric motors powered by thousands of adapted laptop batteries giving an approximate range of up to 300 miles, together with astonishing performance. Unlike the Model S, though, the X has 'falcon' rear doors. These rise up vertically, and can adjust their angle of ascent based on the tightness of your parking space.
Toyota Mirai saloon
The Toyota Mirai is either an expensive white elephant or one of the most important cars ever to go on sale. It's a hydrogen-powered car, meaning a tank of high-pressure hydrogen is fed through a fuel 'cell', whereupon its electrons split and are used to power the Mirai's batteries. This revolutionary technology means the Mira's only emissions are water vapour – although questions exist regarding the environmental impact of large-scale hydrogen production.
Toyota Prius
Back when it was launched in 1995, the Toyota Prius was almost as revolutionary as the Mirai above. Since then, we've got used to the idea of petrol-electric hybrids and – while almost every manufacturer now offers such a model – the Prius continues to be something of a yardstick against which other hybrids are measured. The latest Prius is more distinctive than ever before, although some may yearn for the old model's conservative looks. One thing that hasn't changed, though, is that the Prius still uses an unpleasant CVT automatic gearbox. Still, it's hard to argue with claimed fuel economy of 94mpg and exemption from both road tax and the London Congestion Charge.
Vauxhall Astra Sports Tourer estate
The latest Vauxhall Astra hatchback is one of the best cars Vauxhall has ever produced and the Sports Tourer adds a dose of estate practicality to the mix. With a good engine range, strong fuel economy, plenty of standard equipment and a decent driving experience, the Astra Sports Tourer is a thoroughly competent and appealing car. Vauxhall's trim levels remain as bafflingly numerous as ever, though, so go for SRi or SRi Nav to get the best amount of kit for your money.
Volkswagen Golf GTI Clubsport
To celebrate the Golf GTI's 40th birthday, VW has treated it to stiffer suspension and a power boost. The Golf GTI Clubsport comes with a 261bhp version of the standard GTI's 2.0-litre turbocharged petrol engine, allowing it to get from 0-62mph in just 6.3 seconds. Fearing this wasn't a big enough gift, Volkswagen subsequently released the 306bhp Clubsport S, which shaves a further four tenths off the 0-62mph time.
Volkswagen Tiguan SUV
The latest VW Tiguan doesn't look all that different from the car it replaced, but it's entirely new underneath. The interior has also been refreshed, so it's the subtly premium effort you'd expect from Volkswagen, while emissions and fuel economy have also taken a step up compared to the old model. Downsides? Well, the sports suspension that comes with the top-spec R-Line model is too firm to be comfortable and you could buy two entry-level Nissan Qashqais for the price of one top-spec Tiguan.
Stay tuned to Carbuyer for the latest news on the rest of the year's new car launches.
Engine management light: top 5 causes of amber engine warning light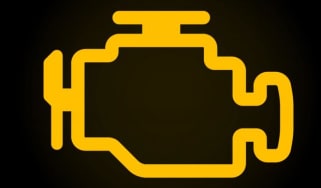 Engine management light: top 5 causes of amber engine warning light
Top 10 cheapest electric cars 2022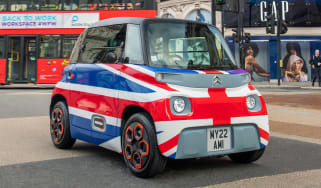 Top 10 cheapest electric cars 2022
Top 10 best electric SUVs 2022
Top 10 best electric SUVs 2022