The coolest family cars you can buy
Having a family doesn't mean you can't have a nice car - here are the coolest family cars to buy now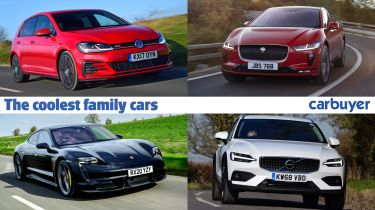 Having a family isn't all about children's birthday parties and tolerating cartoons. It also doesn't necessarily mean you have to swap your sports car for a bulky, bland people carrier. While those cars are practical, worthy and sensible, they're rarely cool or fun. There are, however, plenty of family-size cars that you'll be happy to park on your driveway.
We've mainly focused on hatchbacks, estates and SUVs, which give you plenty of space for buggies, toys and all the other clutter that accompanies family life. While you could have a lithe coupe with a child seat in the back, it'll be hard to have one as your main family car. All our picks have four doors or more, making it easier to get child seats - and their occupants - in and out. Almost all come with the newer ISOFIX seat-mounting points.
Just because they're cool, doesn't mean they're let off easily. A family car needs to be durable, capable of handling a barrage of crumbs and the odd jam or drink spill.
We've listed a few below, in ascending price brackets.
£1,000-£3,000
MINI Clubman (2007-2014)
A lot of people winced when the MINI Clubman returned, but it's another car that's got more appealing with age. As a sort-of-estate, it's much more suited to families than the MINI hatchback; there's space in the back of the Clubman for adults, and the hatchback only came with three doors. It's clear the Clubman was engineered for left-hand-drive markets because the one rear-side door opens onto the road if you're parked on the street. There were a selection of engines to choose from, with the most exciting being the 175bhp Cooper S - although those are few and far between at this price point.
Saab 9-3 (2005-2011)
It's hard to believe that Saab hasn't existed for a whole decade now. Saab was one of many brands failed by General Motors, but its cars were always a left-field choice compared to a BMW or Mercedes. The interiors were always a bit different, too, and all had a 'Night Panel' button inspired by fighter jets (it dimmed all the dashboard lights besides the lower half of the speedo). That the company isn't in business shouldn't be too much of a concern; Saab 9-3s seem to be quite reliable, and there are a few companies that sell genuine parts online. Some parts are also shared with Vauxhalls of a similar age.
£3,000-£5,000
Volvo XC90 (2003-2014)
Space for all the family and cool looks; there aren't many seven-seat SUVs that offer such a combination, but the Volvo XC90 manages it. The design isn't particularly fancy but it looks sophisticated and modern, even 20 years after its introduction. The interior feels plush and even adults will be comfortable in the rearmost seats. There isn't an XC90 that lacks power, and some are reasonably economical too. It truly is a lot of car for £5,000, and there is a whole load to pick from at this budget. Many even have five-figure mileages.
BMW 5 Series Touring (2003-2010)
The styling was divisive when it was launched, but the 'E61' BMW 5 Series Touring has aged really well. It was also super-modern inside, introducing a number of features including BMW's iDrive infotainment system, active cruise control, lane-departure warning and a head-up display. The most potent engines were the 550i (using a 4.8-litre V8) and the 5.0-litre V10 M5, which is a rare beast in estate form. We'd choose one of the punchy diesels, as even these offered up to 278bhp. One thing to note: with a 5 Series of this age, make sure you've got comprehensive breakdown cover…
Subaru Impreza Wagon (2000-2007)
The World Rally Championship may not be as popular as it once was, but the Subaru Impreza (and particularly the estate) will always have a place in our hearts. Most come with a thirsty 2.5-litre petrol engine and are four-wheel drive. The interior is clearly a product of the 2000s, but many cars came with air con, cruise control and electric mirrors and windows - so you won't miss out on now-essential features. Examples in the iconic blue paint are especially cool, while the subtler Subaru Legacy is also available.
£5,000-£10,000
Skoda Octavia vRS
The Skoda Octavia vRS holds its value really well, but you can still find examples of the outgoing generation with reasonable mileage for under £10,000. Like the Ford Focus ST, you've got a choice of hatchback or estate - both with massive boots and spacious interiors - and petrol or diesel. The petrol is quicker but the diesel offers a decent blend between performance and economy. All vRS models look much sportier than regular Octavias, thanks to bigger wheels, tinted lights and more aggressive bumpers.
BMW 3 Series (2011-2018)
Considering the BMW 3 Series range was only replaced a couple of years ago, it's remarkable that you can buy the previous car for under £10,000. A quick search in the classifieds brings up plenty of choice of spec and engine size, and our pick would be a Touring estate with the 320d diesel engine in M Sport spec. Even the entry-level cars get DAB radio, sat nav and remote services, so they're better-equipped than the previous 3 Series, which was on sale until 2010.
£10,000-£15,000
Dacia Duster
No-nonsense SUVs have their appeal, and the Dacia Duster offers more than most. Using plenty of Renault parts, you get a surprising amount of car for your money, and even a capable four-wheel-drive version can be had for around £15,000. The base-spec Access is too basic to be cool - few people want to be without a radio - but the Essential and Comfort specs offer everything you need without breaking the budget. The latter even offers sat nav, a reversing camera and a leather steering wheel, which is impressive given it costs less than the cheapest Fiesta.
Volkswagen Golf GTI
If you're not fussed by a rugged SUV, we'll point you in the direction of the last-generation Volkswagen Golf GTI, which can be easily picked up for under £15,000. For that price, you can buy a car that's barely five years old, and some even come with the optional Performance Pack that boosts power to 227bhp. It's not the fastest hot hatch on the block, but it is the original, and comes with the iconic tartan seats and red pinstriping that made their debuts on the first GTI. The Golf is a great everyday performance car, blending nippy acceleration with good practicality and comfort.
£15,000-£20,000
Peugeot 208
The Peugeot 208's recent transformation was huge. It's now among the best superminis on sale, for its mix of style, equipment and economy, and for super-low running costs there's also an e-208 electric version. The 208 and e-208 are expensive compared to rivals, and it's not the best car in its class to drive, but the amount of admiring looks you'll get might make up for that. It's just about big enough for a family, and has a slightly bigger boot than a Fiesta.
Mercedes CLS (2011-2017)
It may be heavily based on the Mercedes E-Class, but the swoopy CLS manages to be much cooler than its sibling. As you might expect, it sacrifices some of the practicality of the E-Class, but a family of four should still have plenty of room. The range of petrol and diesel engines are powerful - even the entry-level car hits 0-62mph in a respectable 8.5 seconds - but shouldn't cost a fortune to run. This is more comfortable than super sporty, though, and it's more relaxed than a BMW 6 Series Gran Coupe. There's an appealing Shooting Brake version (pictured) if you need a bigger boot.
£20,000-£25,000
Ford Fiesta ST
Our favourite hot hatchback is not a 400bhp rocketship but a 'warmer' version of the UK's best-selling car. The latest Ford Fiesta ST is one of the most fun cars on sale right now, and you don't need a huge power reserve on our tight and twisty roads. There's space for four adults and most of their stuff, and the Fiesta ST can even be reasonably good on fuel if you're not using all of its 197bhp. It may 'only' be a Fiesta but all STs get heated seats, smartphone mirroring and an upgraded stereo. A big draw of the latest model is that it can be had with five doors (only very few five-door STs have been built in the past).
Kia Stinger
It seems strange that a Kia could be considered a rival for the Audi A5 Sportback and a BMW 4 Series Gran Coupe, but the Stinger really is - and we think it's a cooler choice because it's not the obvious option. It has attractive styling, with its sloping rear end and wide tiger grille, and plenty of equipment on board - plus a big boot. There are normal petrol and diesel engines, but none are particularly economical so we'd go for the full-fat 3.3-litre V6 petrol engine with 365bhp. It's a bit sweeter to drive than the Audi S5, too.
£25,000-£30,000
Toyota C-HR
Most small SUVs are trendy but the Toyota C-HR has much bolder looks than any of its contemporaries. You could also mistake it for a coupe, so you can have family motoring without giving up completely on style. We'd opt for the more powerful 2.0-litre petrol-electric hybrid engine, which greatly reduces the acceleration time and makes the car feel much more spritely. It's about as practical as a family hatchback, but doesn't offer quite the versatility of other SUVs.
Maserati Quattroporte
The Maserati Quattroporte can't really compete with the Mercedes S-Class, BMW 7 Series and Audi A8 in terms of luxury, but it's undoubtedly the coolest large posh saloon on sale. The design is powerful yet suave, and the interior is full of quality materials - even if it looks outdated compared with the inside of a Mercedes or BMW. It's definitely one of the best big executive cars for keen drivers; a point backed up by the Ferrari-developed V6 and V8 petrol engines. For the ultimate cool Maserati, however, you'd be best served by the previous Quattroporte.
£30,000-£40,000
Volvo V60 Cross Country
The Volvo V60 is already one of our favourite mid-size estate cars, and the Cross Country version adds off-road ability and extra ground clearance to make it even cooler. Like the regular V60, the Cross Country has an interior that shares many parts with the larger and more expensive Volvo XC90, with most features controlled by the portrait touchscreen system. The taller ride height means it's even more comfortable over bumps than the standard car, and the one diesel engine is still reasonably economical.
Ford Focus ST
The latest Ford Focus ST is up there with the best hot hatches on sale, with superb handling and huge performance. It has a 2.3-litre engine that's similar to Ford Mustang's EcoBoost engine, and its 276bhp and a 5.7-second 0-62mph time. If that's a little too uneconomical for you, Ford sells a diesel version too - and there's also a super-practical estate version available with both engines. All have a mountain of technology on board, and the ST gets unique styling touches to mark it out as the flagship.
Range Rover
It may be the car of choice for plenty of celebrities and footballers, but there can surely be fewer cooler cars than a Range Rover. There's no other car that offers such a blend of luxury, presence and go-anywhere ability. While most owners will never venture too far off the beaten track, it's nice to know you could traverse some of the world's toughest terrain. There's an engine choice for you whether you want a reasonably economical plug-in hybrid or a thumping 5.0-litre V8 with over 500bhp. Even the entry-level Vogue should be plenty for most buyers but you can also add plenty of options onto the car.
£40-70k
Jaguar I-Pace
There's now a reasonable amount of choice if you're after a luxury electric SUV, but the Jaguar I-Pace is our pick of the bunch. In one fell swoop, it makes Jaguar's petrol and diesel models look very old-fashioned. It's a curious mix of hatchback and SUV, but the electric powertrain offers well over 200 miles of range in the real worlds. We also like the I-Pace because it's much better to drive than the Mercedes EQC or Audi e-tron. Jaguar is planning plenty more electric cars in the next few years; we'll hope they live up to the I-Pace.
Audi Q8
The Q8 isn't as practical as the Audi Q7 on which it's based (as it's only available as a five-seater), but it's more stylish. Part of the Q8's appeal lies in its imposing appearance, including a whopping grille and eye-catching LED headlights. Much of the interior is shared with the Audi A8 and that means there's plenty of technology to explore. Diesel-powered SQ8 and petrol-powered RS Q8 versions sit at the top of the range, but even the cheapest Q8 is powerful enough.
Tesla Model 3
Tesla was arguably the first company to make electric cars cool, and the Model 3 is its first crack at a more affordable car. It costs about the same as a well-specced BMW 3 Series, but accelerates much quicker thanks to its instantly available electric power; even the entry-level model takes just 5.3 seconds to hit 62mph from a standstill. The interior is pared-back and slick, with almost everything controlled by the tablet-like touchscreen. Those in the rear seats will still have room to get comfortable, and the boot is a similar size to the 3 Series hybrid.
Mercedes G-Class (1980-2018)
By all measurable aspects, the first-generation Mercedes G-Class is not a particularly good car - after all, it was on sale for 37 years, so it became a little out of date by the time it was replaced in 2018. But it's undeniably cool, with boxy, military-influenced styling and genuine off-road ability. For most, the performance from the 3.0-litre diesel will be plenty, and even from this engine you'll struggle to see 25mpg. There's also a 5.0-litre V8 petrol model.
£70,000 and above: dream family cars
Porsche Panamera Sport Turismo
The latest Porsche Panamera is hugely improved over its predecessor, and the arrival of the Sport Turismo estate makes it even more appealing. While you wouldn't probably buy the Sport Turismo for its extra storage space (20 litres more than the Panamera), the wider-opening tailgate and increased headroom are handy. There's no version that isn't push-you-back-in-your-seat fast, but the range-topping Turbo S E-Hybrid kicks out an astonishing 671bhp, making it one of the very fastest estates you can buy. It even offers a good few miles of electric driving, too.
BMW M5 Competition
The BMW M5 is the ultimate sports saloon, providing impeccable luxury with searing performance. A 4.4-litre twin-turbo V8 engine kicks out as much as 616bhp, giving you a scarcely believable 0-62mph time of just 3.3 seconds. But it's not just a point-and-squirt dragster; the way it corners is fantastic, and it doesn't feel like you're driving a large, two-tonne saloon. xDrive four-wheel drive is standard for all-weather traction, while the interior is spacious enough for your family and belongings.
Bentley Flying Spur
With the Mulsanne heading out of production, the Bentley Flying Spur is now the company's flagship saloon. It's incredibly opulent - nothing this side of a Rolls-Royce Phantom is - and the price reflects that. Because it's based on the latest Bentley Continental GT, the Flying Spur is even good to drive, but you might rather be a passenger with such a luxurious interior. Rear legroom is notably excellent, and the car is whisper quiet inside. Of course, you can customise it to your heart's content, too.
Porsche Taycan
The Taycan shows that Porsche can create an electric car that still feels like one of the company's iconic models. It's like having a glimpse of what cars will be like in a decade's time because it feels so advanced. The range-topping 750bhp Turbo S may be appealing, but it's super expensive and you won't feel like you missed out if you go for the lower-powered (and £55,000 cheaper) 4S. It still has up to 563bhp, and offers a range of up to 287 miles with a fully charged battery. Even a Porsche 911 doesn't feel much better to drive, and the Taycan offers enough space for four adults.
Audi RS4 Avant
Fast estates are always cool because they offer the best of both worlds, and the Audi RS4 provides exciting performance and plenty of space for pushchairs, furniture or the dog. Audi's 'S' model range might have moved to diesel engines, but the RS cars are still proudly petrol-powered. And there's plenty of power - the downsized V6 engine produces the same 444bhp as the old V8 engine. The latest RS4 is much better to drive and quattro four-wheel drive means you don't have to tiptoe in wintry conditions.