Best 7-seater cars
The best 7-seater cars carry around large families in comfort, and they needn't break the bank despite their load capacity. We have picked out the best 7-seater cars on the market.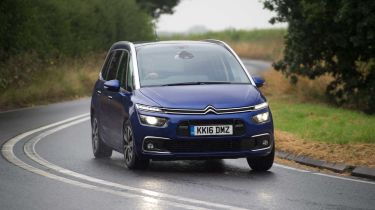 It wasn't until the 1980s that large families were offered a car in which seven people could travel together. The true pioneer of the MPV (Multi Purpose Vehicle) or people carrier, is often debated, but the Renault Espace is frequently credited as having popularised the breed. While that model is no longer sold in the UK, you can still buy the Ford Galaxy and Volkswagen Sharan – two cars that were directly inspired by the Espace.
However, seven-seaters have evolved to take on a far wider range of forms than before, encompassing SUVs as well. Buyers of large cars are flocking to SUVs, as they offer most of the practicality of a people carrier with the style and ruggedness of 4x4s. As they've become more popular, it means you can now get a seven-seat SUV to suit most budgets, whether you've got £22,000 or £102,000 to spend. The latter will buy you a top-spec Tesla Model X, which can manage 0-62mph in under three seconds in addition to accommodating seven people.
The expensive Tesla isn't exactly a mainstream choice, though, so our list of the 10 best seven-seaters concentrates on more attainable MPVs and SUVs. Some feature seven seats from the outset, while others require you to pay extra to take the seat count beyond five. You'll also find that some come with seven seats at expense of luggage room, while others have acres of boot space behind the third row.
Few SUVs are quite as spacious for seven as an MPV can be – that complicated four-wheel-drive system (if fitted) and bulky bodywork eat into space that MPVs reserve for passengers. Where the option of a sixth and seventh seat is given, they tend to be best suited to children or occasional use by adults – although there are exceptions to this rule.
In some cases, cars previously marketed as MPVs are being replaced by SUVs, as the latter become increasingly fashionable. A good example of this is the Peugeot 5008, the latest iteration of which takes the form of a stylish and rugged-looking SUV, abandoning the 'family van' look of the previous model.
One thing all seven-seaters share, though, is versatility. More important than the sheer amount of interior space on offer is how cleverly it's used. Some MPVs and SUVs are full of clever storage compartments and practical features that become indispensable in family life. And, in many cases, these virtues come without sacrificing too much in the way of driving pleasure, or pushing the price too high.
Read on for our full run-down of the best seven-seater cars on sale today.
The Grand C4 SpaceTourer is proof, if proof were needed, that it's possible to build a truly stylish seven-seat people carrier. The interior is appealingly minimalist and modern, as well as being light, airy and hugely practical. Three ISOFIX points in the second-row seats and a huge 632-litre boot (with the third-row seats folded) shows Citroen has clearly thought about how families use their cars.
There's also a huge amount of light (especially if you get the panoramic sunroof) and excellent visibility for everyone inside. You get a huge number of cubbyholes and storage spaces dotted around the interior, so there's loads of room to store the family paraphernalia needed for long journeys. Prices are reasonable, standard kit is generous and the most economical engine returns around 58mpg. The driving experience is relaxingly comfortable, if not particularly engaging, but all things considered, we rate the Citroen Grand C4 SpaceTourer as the best seven-seater car currently on sale.
The recently launched Skoda Kodiaq is the company's largest-ever car and a greatly impressive all-round package. What marks it out is the fantastic combination of style, practicality, fuel economy and value it offers. It's also good to drive – comfortable when it needs to be, but still engaging when the going gets twisty. Under the bonnet there's a familiar range of Volkswagen Group petrol and diesel engines that produce all the punch you could want, without breaking the bank when it comes to fuel economy.
The Kodiaq only comes with five seats as standard, though: for seven seats, you'll need to go for SE L trim or pay a £1,000 premium on SE. When fitted, the third seating row isn't really suited to long journeys or spacious enough for adults, but it's perfect for the school run and other short journeys. Also – and unlike some seven-seaters – the Kodiaq has a usable amount of boot space with all seven seats in place: about 270 litres. Meanwhile, if you drop all five rear seats, you get a maximum 2,005 litres of load space – enough for pretty much any eventuality.
The latest Volvo XC90 had a tough job on its hands when it was launched. The previous version remained on sale for a remarkable 12 years and in that time gained a dedicated following and redefined what large families could expect from a seven-seat car. Fortunately, this XC90 offers exceptional comfort, smarter styling, even greater practicality and a genuinely luxurious interior.
Two adults can sit in the third-row seats in relative comfort and with all seven seats in place, the 302-litre boot impresses. Fold down the third-row seats and you get 775 litres of luggage space. Drop all the seats and you won't have to hire a van to take a big load to the recycling centre, as it frees up a huge 1,951 litres of space. A host of advanced safety equipment adds further appeal – especially for family buyers. The XC90's only real drawback, however, is its price; at over £45,000, it's out of reach for many. That being said, even entry-level models are well equipped and you won't need to add many options.
When designing the latest Peugeot 5008, the French firm chose an SUV style for its seven-seat offering, and in doing so has created one of the most distinctive family cars you can buy. Active types will appreciate its tough, outdoorsy looks, while its high driving position promises excellent visibility for driver and passengers alike. The eye-catching design continues inside, however, the futuristic-looking dashboard has as much substance as style – the controls are easy to use and build quality is impressive.
There's loads of space in the five main seats, but the third row is rather tight and boot space suffers while they're in use. Kids will love them on short journeys, though. Every version is well equipped, with autonomous emergency braking and state-of-the-art connectivity, but prices rapidly increase as you ascend the model range. You can expect over 50mpg from most of the diesel engines and the 128bhp version makes the car very relaxing to drive. It's worth noting, though, that four-wheel drive isn't an option – this is no mud-plugger, despite its off-road looks.
The Volkswagen Sharan is now the standalone MPV model in the VW Group line-up after the SEAT Alhambra was discontinued in early 2020. Like its near identical sister car, the Sharan has sliding rear doors, meaning access to the interior is better than many cars on this list, especially in tight spaces like car parks, and while its design looks rather uninspiring, the driving experience is more impressive. Inside, the three second-row seats slide and recline individually and can also accommodate an ISOFIX-compatible child seat apiece.
While it's more expensive than the Grand C4 SpaceTourer, the Sharan is also considerably larger. A 300-litre boot (rising to a warehouse-like 2,297 litres with all seats folded) as well as a multitude of interior storage spaces and a properly versatile array of seating configurations make this a seriously practical family car. Add to this its impressively powerful and economical diesel engines (given the car's significant bulk), plus the strong-performing petrol engine, and you have a thoroughly competent seven-seat MPV.
The Nissan X-Trail comes with five seats as standard, but spend an extra £1,000 and you get a seven-seat SUV with a generous boot and 'staggered' seating, meaning each row sits slightly higher than the one ahead of it, improving visibility and passenger space.
Like its smaller Qashqai sibling, the X-Trail has a modern, practical and well built interior, while the optional four-wheel-drive system will be a welcome addition if you want to venture off road occasionally – although the X-Trail is less competent in this area than the Land Rover Discovery Sport. Still, the X-Trail enables you to get behind the wheel of a seven-seat SUV for under £30,000 and offers a comfortable and relaxing driving experience, together with a raised driving position and rugged good looks.
The Sorento is Kia's largest and most practical car, boasting a very spacious interior and a 605-litre boot when all seven seats aren't in use. Some potential buyers may be disappointed by the limited engine line-up, but the 197bhp 2.2-litre diesel suits the Sorento very well, providing plenty of power to haul the full-size SUV around.
Combine that power with the four-wheel-drive system that's standard on all models and you have a car that always feels comfortable and safe, even if it isn't the most fun to drive. While the Sorento isn't as cheap as it used to be, fit and finish have improved. Alongside all this, you get plenty of standard equipment, including Bluetooth, air-conditioning, DAB radio and rear parking sensors, too. You also get three ISOFIX child-seat mounting points across the second row, as well as the maximum five-star Euro NCAP safety rating.
While the Volkswagen Tiguan has been a big success, families were forced to spend their money elsewhere if more than five seats were a must. The Tiguan Allspace, though, extends the Tiguan concept just enough to fit an extra pair of passengers without it becoming as cumbersome as some full-size SUVs. However, it's still far more comfortable with just five on board. The third row of seats is a little on the cramped side, and boot space dwindles with all seven seats in place. For occasional use, though, those extra seats come into their own.
The rest of the package lives up to the usual high Tiguan standards, with superb interior build quality and one of the smartest dashboards in the business. There's a wide choice of petrol and diesel engines, too, plus a choice of front or four-wheel drive. The 148bhp 2.0-litre diesel is a great all-rounder, managing 46.3mpg in front-wheel-drive guise with a manual gearbox, while all models offer an impressive balance between handling and ride quality.
The Discovery Sport fills a gap that Land Rover had left in its line-up for years. Namely, a car for those who don't want anything quite as big as a Discovery, but sometimes have to carry seven. Clever features abound, such as a second row of seats that slides back and forth to maximise legroom or load space, or to provide third-row occupants with a little extra room. However, space for seven does involve a bit of a squeeze and the rearmost seats are best suited to younger passengers and short journeys.
There's little doubt that they add to the Discovery Sport's versatility, though, making it a very well rounded family SUV. It also combines impressive road manners with off-road capabilities that don't come naturally to many of the Land Rover's rivals – it'll wade through 600mm of water and can be taken off the beaten track with some confidence. With around 40mpg possible from the most economical version, some rivals are less expensive to run, but few have a broader range of talents.
The Ford Galaxy is favoured by families and chauffeurs alike, which is indicative of its broad range of qualities. Its forte is space, and there are few cars that deliver so much room and practicality. The seven seats are all full-size - adults will be perfectly happy in the third row - and all move independently, so the Galaxy is an incredibly versatile proposition.
Even with all seven seats occupied, there's still 300 litres of boot space, and flipping the third row down frees up another 1,000 litres of space to fill. The Galaxy has one of the biggest boots of any car on sale, and it's much bigger than the sleeker, sportier Ford S-MAX. True, the S-MAX is better to drive and is still spacious, but the Galaxy offers a decent enough experience for the driver. All cars get alloy wheels, DAB radio and parking sensors, while Titanium and Titanium X add extra luxuries.
Best people carriers and MPVs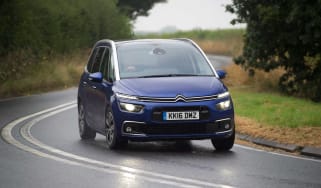 Best people carriers and MPVs
Best road-tax-free cars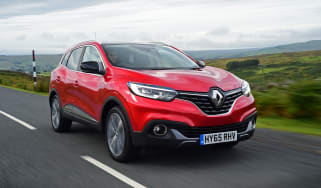 Cupra Formentor SUV review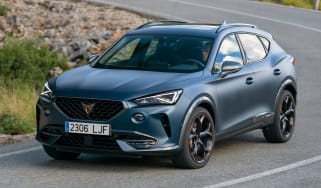 Cupra Formentor SUV review
2020 Volkswagen ID.3 hatchback: base model starts at under £30k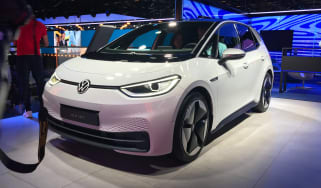 2020 Volkswagen ID.3 hatchback: base model starts at under £30k
Audi Q8 gains plug-in hybrid versions with 28-mile electric range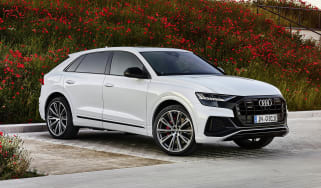 Audi Q8 gains plug-in hybrid versions with 28-mile electric range