Best hybrid SUVs
Hybrid 4x4s can be as cheap to run as family hatchbacks, yet also offer the extra space and pace many covet. Our top 10 examines the best.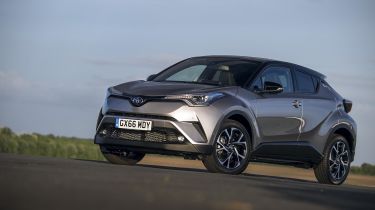 The rugged looks, improved visibility and off-road ability SUVs provide used to mean high running costs, but hybrid technology has seen them get significantly more economical in recent years.
A very small number of car makers offer a diesel-electric setup, but most hybrid 4x4s use a petrol engine and an electric motor to provide power. Whichever fuel is used, these systems can work together to provide maximum acceleration when you need it, but can also run independently. This means you can save silent, fuel-free electric drive for the town, while on fast cruises the petrol engine drives the car, recharging the batteries at the same time.
Many of the SUVs on this list are plug-in hybrids (PHEVs), which means you can charge their batteries up at home or at a public charging point. This allows you to complete short journeys without using a drop of fuel and adds great appeal, but be warned that it also tends to push the purchase price up.
Even without plug-in functionality, hybrid 4x4s offer far better economy than their predecessors and they also tend to emit relatively little CO2, making them cheaper to run. Perhaps even more significantly, company-car drivers' Benefit-in-Kind (BiK) liabilities are based on CO2 emissions; this means the extra cost of hybrid SUVs over their petrol or diesel counterparts can often be offset against your obligations to Her Majesty's Revenue and Customs.
These are the top 10 best hybrid SUVs on sale right now. Once you're done, why not read our guides to the best used hybrid cars and best hybrid family cars?
Get the latest electric and hybrid car news, reviews and analysis on DrivingElectric.com
The Toyota C-HR hybrid is a real treat. Its radical styling really sets it apart from its hybrid rivals, but despite appearing about the same size as a Nissan Juke, it's actually comparable with the Nissan Qashqai. It lacks the interior space of the Qashqai, but we think that's a fair trade-off for those coupe looks.
Under the skin, the C-HR hybrid owes much to the Toyota Prius, sharing its 1.8-litre petrol engine, motor and gearbox. That's a great starting point, because not only is the Prius one of our favourite hybrids, it's also one of our favourite economical cars. So while the C-HR hybrid is sharp to drive, it also boasts headline figures of 58.9mpg and 86g/km – hard to beat for a 'normal' hybrid. As of late 2019, a more powerful 2.0-litre hybrid already in use in the Toyota Corolla is available, and this still manages 54.3mpg.
We're entering premium territory here, but if you have the right credentials (i.e. plenty of cash) the Volvo XC90 T8 Twin Engine hybrid should definitely be on your radar. The T8 model has a 2.0-litre petrol engine and a punchy electric motor, producing 385bhp between them. That's enough poke to get the large XC90 from 0-62mph in just 5.8 seconds, but regularly charge the batteries and drive it like a saint and you could see fuel consumption rise to Volvo's claimed 100mpg.
CO2 emissions of 63g/km aren't quite low enough to get the best BiK rating, but the T8 XC90 is exempt from the London Congestion Charge. You'll need around £67,000 if you want the hybrid setup though – quite a jump over the cheapest XC90.
The MINI Countryman Cooper S E ALL4 has a slightly awkward name, but it's a very good car. This small SUV is family-friendly, very cheap to run and still manages to be fun to drive. Fitted with a version of the 1.5-litre petrol turbo engine found in the BMW i8 supercar, there's also an electric motor for a total of 221bhp. Not only is the Countryman PHEV quick – getting from 0-62mph in 6.8 seconds – it can drive on electricity alone for up to 29 miles.
This gives it an official economy of 156.9mpg and CO2 emissions of just 43g/km, qualifying it for one of the lowest BiK company-car tax brackets. On the road, it's hard to notice this Countryman is any heavier than regular models, with sharp steering and little body lean in corners.
Besides a high price (something that affects most plug-in hybrids), the Ford Kuga PHEV does plenty right to make it worthy of your consideration. It's among the best family SUVs for keen drivers, and the 35-mile electric range is more than enough for most daily commutes. The Kuga prioritises electric running well, too.
There's still a big boot (although slightly reduced compared to petrol and diesel models), and a tech-filled interior, especially as the plug-in hybrid powertrain isn't available on the entry-spec Zetec trim. The MINI Countryman PHEV is about 2.5 seconds quicker from 0-62mph, but the Kuga never feels like it lacks power.
Honda no longer offers a diesel version of the CR-V, in response to falling diesel sales, so the most economical version is this hybrid model. It uses a 2.0-litre petrol engine, a small battery and an electric motor, and can start up and cover short urban distances without waking the engine at all. The clever i-MMD system replaces the frustrating CVT gearbox and, alongside a 0-62mph time of 8.8 seconds, it feels very smooth and nippy.
Inside, the hybrid CR-V is quieter than the petrol model, and all trim levels feature Honda's driver aids package. However, the extra weight means it rolls in corners more than the petrol, which isn't a car for keen drivers anyway, plus it's not particularly economical for a hybrid. Honda claims 40.9mpg, which isn't much of an improvement over the 1.5-litre petrol's 38.2mpg, and high-mileage drivers will be better off with a diesel from one of the car's rivals.
If you're conflicted as to why anyone considering a vehicle as extravagant as a Range Rover might want an eco-friendly hybrid, the financial stats for the Range Rover Sport 400e reveal all. It's the cheapest Range Rover for company-car drivers by miles, thanks to a Benefit-in-Kind tax rate of less than half the rate for an equivalent petrol-only model. A chunky battery pack also gives owners a 31-mile electric range, making further savings for drivers with a short commute or school run.
The picture is muddied a little by the thirsty nature of the 400e's 297bhp 2.0-litre turbocharged petrol engine. Pairing it with a 114bhp electric motor means the official figures show consumption of 86.9mpg, but once the batteries are flat, you'll struggle to better mpg in the late 20s. At that stage, the small engine needs to be worked hard to move the 400e's bulk, which spoils the otherwise-excellent refinement. The battery pack reduces boot space, too. In all other respects, the luxurious appeal of the 400e is as strong as its petrol counterpart, making those tax advantages very hard to resist.
Some of the models on this list are expensive, premium 4x4s, but the Kia Niro proves hybrid SUVs are within the reach of most car buyers. There's nothing radical about the way the Niro looks – or drives for that matter – but under the conventional styling lies a competent, spacious family car with a 1.6-litre petrol engine and an electric motor, producing 138bhp between them.
Claimed economy is decent at 58.9mpg, while CO2 emissions of 88g/km mean low Benefit-in-Kind (BiK) liability for company-car drivers. Just make sure you avoid the larger alloy wheels, as these can push up CO2 emissions quite a bit. The Niro plug-in hybrid and e-Niro are even greener, but are pricier too.
The previous Toyota RAV4 was a little forgettable but Toyota has completely changed the new RAV4 so it's more noteworthy this time around. The styling is now sharp and aggressive, with pointy headlights, a wide grille and pumped up wheel arches. The popularity of the C-HR has clearly played a part in the new RAV4's design. It's only available as a 'self-charging' hybrid (you don't have to plug it in), combining a petrol engine and an electric motor. Up to 50mpg is claimed, and it's appealing to company-car drivers with its low CO2 output and tax rate.
Despite that impressive economy, the brisk RAV4 hits 62mph from a standstill in either 8.1 or 8.4 seconds, although the standard CVT gearbox does kill any chance of driving excitement. Inside, the RAV4 is well-made and well-equipped, but the eight-inch touchscreen lags behind the screens in rivals. The graphics are outdated and there are confusing sub-menus, and now supports Apple CarPlay and Android Auto. The RAV4 also impresses with its space and practicality. A range-topping plug-in hybrid version is due later this year, which is likely to be even more economical.
Lexus has joined the premium small SUV class, as it looks to steal sales away from rivals with the hybrid-only UX. It's the company's smallest-ever SUV, but its styling is like a shrunken version of the NX and RX - features like the eye-catching spindle grille are replicated on the UX. It has a lower, sportier driving position than many similar SUVs, and you won't confuse it for a go-anywhere off-roader, but it looks stylish.
Up to 53.3mpg is possible, which is better than many diesel SUVs, and the low CO2 output means it's appealing to business users. Acceleration to 62mph isn't super-quick but it'll feel suitably brisk for most buyers, while it also beats rivals when it comes to the interior. High-spec materials cover every surface, and a whole heap of safety kit is thrown in as standard. Lexus' fiddly infotainment system frustrates, while the boot is very small; spec four-wheel-drive and it's even smaller than the boot of a Ford Fiesta.
Few SUVs are as elegantly styled as the Volvo XC60. And in T8 Twin Engine guise, few are as economical. Volvo posts a claimed fuel economy figure of 113mpg, which, as with all plug-in hybrids, will vary enormously depending how, and how far, you drive on a typical journey. A 28-mile electric-only range helps to drive CO2 emissions down to a company-car-tax-busting 52g/km.
Despite these impressive figures, the XC60 T8 is a quick car, taking just 5.3 seconds to cover 0-62mph. Inside, it's practical, extremely comfortable and beautifully designed. Its infotainment system is one of the best in the business, and a range of advanced safety kit is offered.
Cupra Formentor SUV review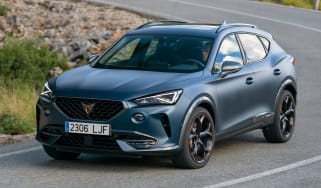 Cupra Formentor SUV review
2020 Volkswagen ID.3 hatchback: base model starts at under £30k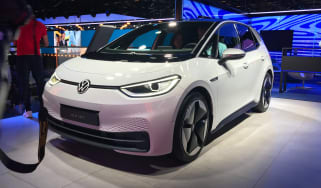 2020 Volkswagen ID.3 hatchback: base model starts at under £30k
Audi Q8 gains plug-in hybrid versions with 28-mile electric range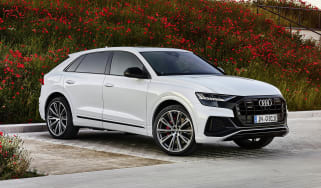 Audi Q8 gains plug-in hybrid versions with 28-mile electric range