Best used cars
If you're after a used car, we've selected a range of excellent models that hold strong appeal on the secondhand market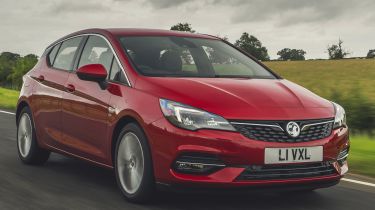 Deciding between a new or used car is more difficult than ever thanks to PCP finance deals, which have made brand new cars much more affordable. There is a certain allure to owning a new car but buying used will often cost less overall and allows you to avoid the initial period of depreciation that first owners experience - the value the car loses as soon as it's driven away from the showroom.
At Carbuyer, we focus primarily on offering advice to people thinking of buying new cars, but we also appreciate that many motorists prefer to buy used cars and avoid lengthy finance contracts. We've compiled a list of cars that offer the best value for money on the used market, including some which can save buyers thousands of pounds versus buying new.
The rate at which a used car loses its value – its rate of depreciation – can vary enormously between models and it's not always easy to predict how a car will perform in this regard. Some cars, however excellent they might be, perform poorly on the used-car market and have to be priced accordingly to attract buyers. While that's bad news for the people who bought those cars brand new, it can work out well for subsequent owners who make big savings as a result.
It means that buying used can be a very cost-effective method of car ownership, and you don't always have to forgo the latest technology. Cars tend to be facelifted or upgraded about four years into their lives, so you might be able to get a used car with the same specification as a brand-new one.
If you're looking to buy a used car on finance, it's worth noting that you'll probably be paying a lot more in interest than you would on a new car. In some cases, this can be as much as 20% APR. You should also check a used car much more thoroughly than a new one - have an HPI check carried out to make sure it hasn't got outstanding finance on it, make sure the mileage looks about right, check that the car has an up-to-date service history and look for any signs of damage. Reputable garages will let you get the car checked by the AA or a similar company, and many will sell cars with a new MOT, service or a warranty.
Used-car buyers have never had more choice – both in the variety of cars and the range of places you can buy a used car with confidence. Check out online sellers such as our sister site BuyaCar.co.uk for some great deals and more used car reviews.
Don't forget to check out our guides to getting a good deal on a used car and questions to ask when buying a used car to give you an edge during negotiation. But for now, here's our list of the top 10 best used cars to look at.
You'll often see the Vauxhall Astra trading places with the Ford Focus in the monthly best-sellers list, and not without reason. Both cars have become household names, and forces to be reckoned with in the family hatchback class. Of the two, though, the Astra is arguably the strongest all-rounder. While the Ford Focus has the edge as a driver's car, the Astra has an attractive interior and a strong level of standard equipment – every model has air-conditioning, cruise control, DAB radio and Bluetooth phone connection, and our favourite Tech Line model has sat nav, too.
There's a wide choice of engines available, with up to 64.2mpg being claimed from the most fuel-efficient diesel. Those who make lots of short urban journeys, meanwhile, will appreciate the 1.0-litre and 1.4-litre petrols, which can manage 47.9mpg. A facelift in 2016 gave the Astra a more modern look, and these examples now look great value – you'll find a well equipped three-year-old example with a fairly low mileage for well under £9,000, and part of the appeal is the huge choice of cars that are out there.
Now discontinued, the Skoda Yeti still has a loyal following and makes excellent family transport. The Yeti is really an SUV, with raised ride height for easy access and a good view of the road, but it looks noticeably less chunky than much of its competition. The car is spacious, light and airy inside, with plenty of passenger space. An innovative Varioflex system means the rear seats can be slid forwards and backwards for more legroom or boot space, or removed entirely to turn the Yeti into a van.
Three-year-old models with a turbocharged 1.2-litre petrol engine start at around £10,000, but adding an extra £1,500 to that figure should be enough to secure you a diesel model, complete with four-wheel drive. The Outdoor model isn't too much pricier, and comes with more rugged looks that may appeal. The SE model is our favourite, as it includes dual-zone climate control, rear parking sensors and a bigger screen for the infotainment system. Its replacement, the Skoda Karoq, is an equally good used buy but prices are much higher.
The Lexus IS has always been something of an 'alternative' choice to the established compact executive trio of BMW 3 Series, Audi A4 and Mercedes C-Class. However, those who turn their backs on the Germans in favour of Japan tend to be very pleased with their choice, and Lexus enjoys very enviable customer loyalty – frequent first-place finishes in our annual Driver Power owner satisfaction survey give clues as to why.
As for the IS, it's an extremely well finished, beautifully engineered and very comfortable saloon, and the latest versions are very distinctive to look at. Some rivals are sharper to drive, but the Lexus excels on motorways thanks to its smooth ride and almost-silent engines. You'll not find a diesel in the line-up, a fact that may put high-mileage drivers off, but the fuel-efficient IS 300h hybrid version claims 44.8mpg. Used prices tend to slightly undercut rivals and you'll find a well equipped two-year-old example with an average mileage for around £20,000.
Buying used means you might be able to park a premium car on your driveway for much less than buying one new. The BMW 4 Series Gran Coupe is a swoopier four-door version of the 3 Series, or a more practical version of the 4 Series coupe, and comes with all the equipment you'd expect from a mid-size BMW.
You'll enjoy heated front seats, keyless start, cruise control with brake function, auto wipers, sat nav, and front and rear parking sensors, among other luxuries. There's not a slow version in the line-up, and some of the higher-powered models will embarrass the fastest hot hatchbacks. The 4 Series Gran Coupe also has a bigger boot than you might expect, and four-wheel-drive versions even make good tow cars.
The Kia Cee'd is an excellent family hatchback that's quietly competent in almost every area. It's spacious, feels well built and, even if it's not the best car to drive in its class, is just at home pootling around town as it is cruising quietly on the motorway. Secondhand values aren't a Cee'd strong suit, so bagging a bargain shouldn't prove difficult.
A three-year-old diesel with average mileage can be yours for about £8,000, representing a saving of more than 50% on the car's cost when new. The best news? Kia's seven-year/100,000-mile warranty is full transferable on the used market, so you can buy with long-term peace of mind. Look out for cars in the 3 trim level, which get touchscreen sat nav, dual-zone climate control, alloy wheels and climate control. The turbocharged three-cylinder 1.0-litre petrol and 1.6-litre diesel engines are worth tracking down, depending on whether you'll use the car around town or for higher-mileage driving.
The Ford Focus was Britain's third best-selling car when new. While it suffers from heavy depreciation, it earns a place on this list mainly thanks to the vast number available on the used market, as well as its overall competence. The Focus can seat five in relative comfort, makes a great town car, is a smooth motorway cruiser and offers an involving driving experience on winding B-roads.
We recommend looking for a Focus in Titanium trim, as this comes with a multimedia infotainment system as well as some upgraded trim details. Look for the 1.5-litre diesel (which replaced a less efficient 1.6-litre diesel in 2014) or one of the turbocharged EcoBoost petrol engines and you should be able to pick up a three-year-old example with average mileage for about £8,000. The only drawback of Focus ownership is the car's practicality; cabin storage isn't great and the 316-litre boot is smaller than that of many other cars in the class.
The SEAT Leon offers a very similar package to the Focus above, but adds a dash of extra style and a bit more interior space to the family hatchback class, while the driving experience is still impressive. Secondhand values for the Leon are also similar to the Focus, so expect to be able to find a 2013 model for under £6,000.
Seek out cars in SE Technology trim or with the Technology Pack if possible, and go for one of the 2.0-litre diesel engines or the turbocharged 1.4-litre petrol, all of which offer decent performance and economy. These higher-spec models will add £1,000 or so to the price of a secondhand Leon, but you'll still be looking at a hefty saving from what the original owner paid. Boot space stands at 380 litres and there's decent room for rear-seat passengers, meaning the car has the edge over the Focus in practicality terms.
Although other SUVs had worn the 'H' badge before, the CR-V was the first to be designed and built by Honda, and has been a huge global success since its 1995 debut. Key to its success is that it follows the same user-friendly ethos as the rest of the Honda range – it's always been an SUV that prioritises everyday usability over go-anywhere prowess. This now-replaced version offers a choice of four-wheel drive or more economical front-wheel-drive versions, with 64.2mpg possible - although you won't see figures this high in the real world.
Every model is relatively well equipped and entry-level examples can be quite shrewd secondhand buys, as the SE model and above tend to be more sought-after and the sat-nav found on Navi models isn't the best – an aftermarket unit or mobile phone app will do just as good a job. All have cruise control, air-conditioning and alloy wheels, but basic CR-Vs do without parking sensors. There's no seven-seat version, but a big 589-litre boot makes Honda's a truly practical family SUV.
The Dacia Duster is the least expensive way to own an SUV and it's actually one of the slowest-depreciating cars on the market. That makes it an easy used car to recommend, as secondhand buyers are likely to continue to benefit from solid residual values. Build quality is also strong and while the dashboard feels dated, and the interior is functional rather than stylish or luxurious, the Duster has always been great value.
It suffers from plenty of body lean if you try to take corners at any speed, but the upside is that the soft suspension makes longer journeys comfortable. The 109bhp diesel engine suits the character of the Duster best, because it's capable of pulling harder than the petrols from lower in the rev range. Entry-level Access trim is about as sparse as is possible, but £8,000 ought to secure you a three-year-old diesel model in mid-range Ambiance spec.
If you like the idea of a car with eco credentials and you don't need to do very long journeys, the all-electric Nissan Leaf is well worth a look – partly because despite the model costing over £25,000 when new, three-year-old Leafs are available for just £11,000. With a range of around 120 miles, the Leaf isn't as impractical as it might seem, while the driving experience is comfortable and silent and motorway journeys are a real possibility.
Look out for models with the optional on-board charger, as this allows the battery to be recharged in four hours rather than 12 – assuming you can find a charging station or install a charging point at home. One other thing to bear in mind; the Leaf and its batteries can be bought together new, but most owners chose to lease the batteries in order to benefit from a lifetime battery guarantee and a lower initial purchase price. If you buy a secondhand Leaf with leased batteries, you'll have to continue the repayments. These come in at around £70-£110 a month, depending on your annual mileage and the length of the contract.
Facelifted 2020 Volkswagen Tiguan now on sale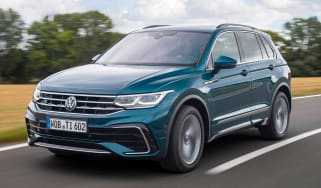 Facelifted 2020 Volkswagen Tiguan now on sale
Refreshed 2020 Peugeot 3008 SUV: prices announced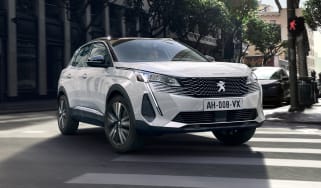 Refreshed 2020 Peugeot 3008 SUV: prices announced
Cupra Formentor SUV review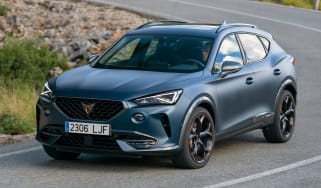 Cupra Formentor SUV review
2020 Volkswagen ID.3 hatchback: base model starts at under £30k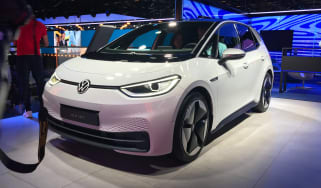 2020 Volkswagen ID.3 hatchback: base model starts at under £30k
Audi Q8 gains plug-in hybrid versions with 28-mile electric range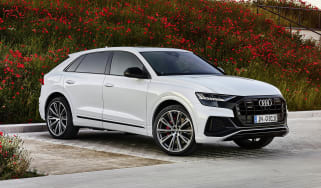 Audi Q8 gains plug-in hybrid versions with 28-mile electric range