Best infotainment systems: the ultimate guide to in-car tech
We rate 10 of the top infotainment set-ups on the market
Around 73 per cent of British adults don't understand how to use all of their car's features, according to research by BookMyGarage.com. That may sound like a case of 'don't know, don't care', but at the same time 54 per cent bought their particular vehicle because of the systems it offered.
So, if people are tempted by hassle-saving gadgets but can't work out how to use them, what's the point? We teamed up with tech site Alphr.com to put the kit to the test to establish whether it's user-unfriendly or simply that owners have all the gear but no idea.
We broke our test down into five sections, rating infotainment systems on their usability, performance and connectivity, and their sat-nav, plus their cost. We then chose the 10 most searched-for car makes, and combined this with the most searched-for infotainment systems, to give us our top 10 models to test.
Each car got a score out of five for each section of the test – and here's how we did it...
Usability
Two seconds looking away from the road is said to increase your risk of an accident by around 24 times, so being able to use an infotainment set-up quickly and safely is vital. We assessed how long it took to operate various functions, such as tuning a DAB radio station, and how many steps there were to access different features.
Performance
A system that's just slow to respond can prove equally distracting to drivers, plus the interface can be infuriating rather than helpful. We tested how quickly the screens loaded, their colour quality and brightness, the cars' Internet connection speed, audio quality and voice commands, which can be infamously problematic.
Connectivity
Having multiple options to connect your phone or multimedia device is no use if they don't work – so we put them all to the test. We looked at how easy they were to link to various phones, and whether the onboard computer would remember the connection when we left the car. We also tested any onboard apps or systems, such as Mirrorlink.
Satellite navigation
If you've decided to specify an infotainment system, sat-nav will probably be one of the features you use most. We ran the same test route with each of the cars to see how accurate and quick the routes were.
Cost
Probably the most important question is whether it's worth specifying an infotainment system. We looked at what you get for your money and how much add-ons cost.
Audi MMI - 4.4/5
Audi's MMI system has been updated and it might take a little getting used to the new layout, but once you've learned where everything is and under which menu, it's actually a very easy system to use. We tried it in the latest Audi Q7 SUV.
There's a rotary controller with reprogrammable fast keys for the main functions, as well as a touchpad that lets you input letters using your finger. It's much easier than using a QWERTY keyboard on a touchscreen, but it didn't recognise the letters we were writing as quickly as BMW's iDrive system.
Partnership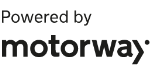 Need to sell your car?
Find your best offer from over 5,000+ dealers. It's that easy.
A nice touch is the use of Google Earth for the navigation, which boasts great graphics and plenty of detail. The route we programmed was fast and easy to follow, too. There's a good colour contrast on the screen, while the home screen itself is very clear and easy to make sense of. The audio system is excellent, too, although it can get a bit harsh towards the top end.
BMW iDrive - 4.5/5
Like Audi's MMI system, BMW's iDrive is controlled via a wheel, a collection of buttons, fast keys and a touchpad, and we think it's the most intuitive infotainment system on the market as tested in this BMW 3 Series test car.
The fast keys can be programmed not just for your favourite radio stations, but the functions you use the most, such as calling a particular person or taking you to a certain destination. This saves a great deal of time and also means distractions while you're driving are kept to a minimum. Overall, the iDrive system performs very quickly, and screens load in no time at all.
When you're using the sat-nav (now standard on all BMW models), it's better for you to follow the guidance rather than your own instinct. The traffic knowledge is fantastic and directs you away from congestion, even if you're familiar with the route.
Ford SYNC 2 - 3.8/5
Ford's SYNC 2 system is available across much of the range, including the Mondeo we used here. It is controlled solely via a central touchscreen, which is divided into four sections - sat-nav, entertainment, climate and phone. This makes it simple to use as each section is always available to get into from each corner of the screen. However, if you go into the navigation screen, different route options and preferences are located all over the screen, so it's not the quickest to use in that respect.
A strong point of the Ford's system is the connectivity options available. There's Bluetooth and two USB ports, but you can also tether your phone to the car to turn it into a Wi-Fi hotspot.
The whole system is let down by its performance, though. The screen itself is slow to respond when you touch it, and scrolling through a music playlist took among the longest of the ten cars we tested. The audio itself was impressive and offered a good all-round sound, but the screen, again, let the whole thing down by being a bit dull and grey.
Jaguar InControl Touch - 3.6/5
As soon as you get in the car, the Jaguar's sleek and bright touchscreen - tested here in the XE saloon - looks great and is easy enough to view, but once you begin to use it, it becomes a case of style over substance.
Like Ford's SYNC 2 system, InControl Touch features four clear options on the home screen to choose from, and the whole system is generally easy to use, but it suffers from slow responses and some unclear options on particular features. For example, navigation settings is represented by a collection of small square boxes.
The slow responses are balanced out slightly by the reasonable cost, while the standard model boasts an eight-inch touchscreen, satellite navigation and DAB radio.
On some models, you can link the system to your smartphone via an app to check things like the fuel economy and whether or not the car is locked.
Mazda MZD Connect - 4.0/5
The Mazda's system is one of the simplest on test, but that also makes it one of the easiest to use. In our Mazda CX-3 test car, as well as the rest of the range, it's controlled either via a touchscreen or rotary controller situated between the two front seats, while there are dedicated buttons for key features like sat-nav and media located around the wheel. it's very easy to find the feature you want while driving along, and reduces the need to take your eyes off the road, too.
The system itself is intuitive and quick to respond to actions, while the screen is clear and sound quality good. All of the devices we used connected easily via the USB port, but the Bluetooth connection struggled and the full suite of functions wasn't always available.
It's worth pointing out that while our CX-3 test car came with a seven-inch colour screen with Aha and Stitcher music apps as standard, lower-spec SE models only get an FM radio and CD player.
Mercedes COMAND - 3.3/5
Mercedes' COMAND system generally works well, but it looks much more dated than the rest of the cars in this test. The screen isn't very bright, although the blacks are very crisp which makes it easy to read in low light.
The satellite navigation system was one of the best on test in our Mercedes GLA test car, as it was the only car that managed to find the specific house we were searching for, while the estimated arrival time was accurate and traffic updates were helpful.
Voice commands worked well in the Mercedes, although you need to know the phrases and these can be a bit long-winded. Once you know them, it saves valuable time by keeping your eyes on the road. The system was let down by its high price where it's an option on some Mercedes models, and it struggled to connect with all of the devices we used in our test.
Nissan Connect - 3.3/5
Like the Mercedes COMAND system, Nissan's Connect touchscreen infotainment system looks and feels very dated compared to some of the other cars in this test. It's generally easy to get your head around, but the whole thing is let down by poor screen graphics, below-par audio quality and weak connectivity - we couldn't even skip music tracks when we tried in our Nissan Qashqai.
Where the Nissan improves is value for money. It comes with apps like Google Search, and the combination of touchscreen and physical buttons around the outside make it quick to select the function you want.
The sat-nav is quick and simple to use, although the estimated time of arrival wasn't quite accurate when were using it. It only takes four steps to enter a destination, though, and there's an icon purely for finding the nearest petrol station while on a route which is handy.
SEAT Full Link - 4.8/5
The SEAT Full Link system doesn't look like the most interesting or expensive system, but it's actually the best in this test according to our scores. The standard system is operated via a touchscreen which is clear and easy to operate, but there are also eight buttons around the outside for each function.
To get the Full Link system as in our SEAT Leon test car, you just need to pay £150. For this, you'll get SEAT's own phone integration, Apple CarPlay, Android Auto or MirrorLink. Both the Apple and Google systems are excellent, and we think it's worth paying the reasonable £150.
Screen quality isn't quite as good as VW's similar Discover system, the audio goes very loud with strong bass and vocal quality.
The satellite navigation is very easy to operate, while the whole system is intuitive and quick to use. It shows that simplicity is key to a good infotainment system and gets the best score in this test.
Vauxhall Intellilink - 4.3/5
Vauxhall has really stepped up its infotainment game with the new Intellilink system, tested here in the latest Astra. It comes with features you'd previously have expected to only be available on premium cars - even standard models come with a seven-inch touchscreen, DAB radio, Bluetooth, Apple CarPlay and Android Auto.
If you're willing to pay £700, you can upgrade to an eight-inch touchscreen which comes with sat-nav and more features, but this is standard higher up the range.
The whole system is touchscreen, although there's four buttons along the bottom for particular functions. It's easy to use on the whole, but there a couple of quirks that would take a bit of getting used to. Sat-nav routing is very good and searching via postcode is very easy, but adding a full address is quite long-winded.
The Vauxhall's party piece is the OnStar concierge service. It's free for the first 12 months and costs £79 a year after that, and includes things like 4G web, while you can add internal Wi-Fi, too.
The Intellilink system represents great value for money, especially when you compare it with other systems on the market.
Volkswagen Discover - 4.1/5
The VW Discover system shares a lot with the SEAT infotainment set-up, combining a touchscreen with eight physical buttons around the outside. The VW's screen is larger in our Golf GTD test car, and the colours are dark and deep which makes it easy to read even in bright sunshine.
Our Motorola and Nokia phones connected well via Bluetooth and USB, but our iPhone 6 and Blackberry showed errors. The screens were very quick to load and the system was fast to boot up in the first place.
The routes the sat-nav takes you on can seem a bit strange, but it found the fastest route every time - just trust it. Live traffic updates were faultless, too. It's worth noting that models from 2016 will come with Apple CarPlay as standard on Discover Nav Pro systems, or just £100 everywhere else across the range.
Best new car deals 2023: this week's top car offers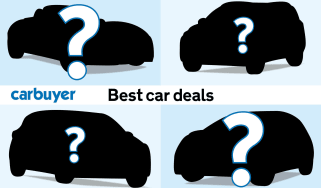 Best new car deals 2023: this week's top car offers
New 2024 Porsche Panamera – new looks, interior, and Turbo E-Hybrid model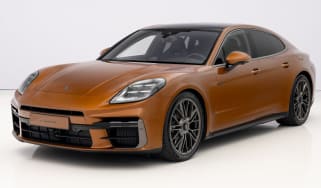 New 2024 Porsche Panamera – new looks, interior, and Turbo E-Hybrid model
New Nissan Juke goes electric – next-generation crossover previewed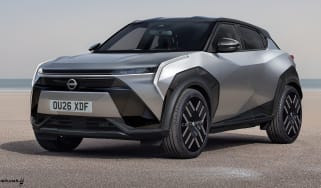 New Nissan Juke goes electric – next-generation crossover previewed