BMW car configurator guide: specifications, options and trim levels explained
Your complete guide to the official online BMW car configurator and the process of building your new BMW car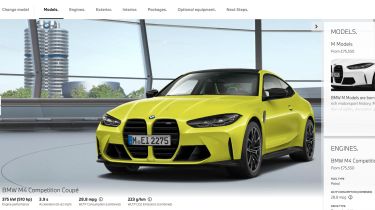 BMW has a broad range of cars and the brand's website aims to make it easy to understand the various combinations of bodystyles, engines and optional extras. The idea is that it's easier for you to choose the car that's right for you but with so many choices, it can still be tricky to know where to start. Our guide to BMW's range and online car configurator will help you find the perfect specification before you place your order.
In this feature, we'll look at every model in the BMW range and explore the brand's online car configurator, showing you exactly how to build a BMW to your exact specification. We'll also explain BMW's trim levels and option packages, and explain those mysterious model designations that you might encounter on your BMW-buying journey.
How to use the BMW configurator
BMW's online car configurator has more options than many but still manages to simplify the process of choosing your perfect specification. To find it, click the 'Models' tab on the BMW homepage, and click 'Build and price' on the car you'd like to configure.
Select that model and you're taken to a list of trim levels and engine and gearbox options. Simply click through the options until the combination you want is shown – it's helpful that BMW lists the start price and important information such as acceleration, fuel economy and CO2 emissions figures for each engine and gearbox combination offered.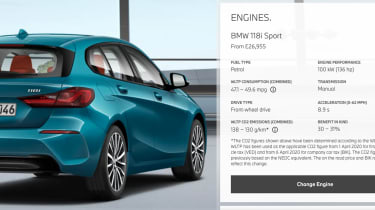 Scrolling down the page allows you to choose the exterior paint colour and alloy wheels that you'd like, although these do tend to cost more than the standard specification. Below this is where you choose your car's upholstery and trim finishes.
Finally, you can select any additional option packages. This is one way that BMW makes it easy to add the features you want – each package contains a number of themed options, which can save you money over choosing each component separately. For example, the Comfort Pack provides a heated steering wheel, a powered tailgate and keyless entry on models where this equipment isn't fitted as standard.
Once you've worked to the bottom of the options list, you have now 'built' your BMW. Click 'summary' at the bottom of the left hand menu and your finished car is displayed, along with a list of the options you have selected.
At the bottom of the page, there's a handy 'save configuration' option, which creates a bespoke brochure for your exact model as a PDF. You can then use that when visiting your BMW showroom. Alternatively, you can select 'buy online' – doing so is discussed below.
The BMW Configurator "buy online" option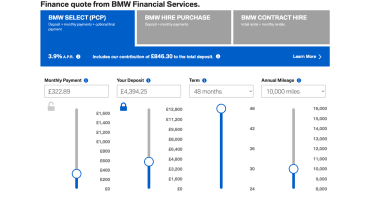 Once you've configured your BMW, you have the option of passing the details directly to your chosen dealer and beginning the process of turning your dream car into a reality.
This part of the process is relatively straightforward – the first step is to nominate a dealer from a map of UK BMW outlets, after which you will be shown the finance options for your chosen specification. The default choice is BMW's SELECT PCP scheme, which enables you to vary your monthly payment by choosing how much to put down as a deposit, as well as the length of the finance arrangement.
Partnership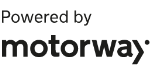 Need to sell your car?
Find your best offer from over 5,000+ dealers. It's that easy.
Hire purchase and contract hire are also offered – the latter of which doesn't give you the option of owning the car outright. You can also select 'no finance' using a slider above the PCP option. When you have chosen your payment method, 'select and continue' takes you to a page where you can enter your details in order to open a dialogue with the dealer's 'digital sales desk'. It's described as an 'account', and going further will require your consent for BMW to send you personalised marketing material.
Which BMW should I choose?
Here's our quick guide to the BMW model range. We've included information on the model lines and other unfamiliar terms that you might encounter in the configurator are explained too. With our help, you should be able to find the right BMW for you.
BMW model range
One reason for BMW's continued popularity is that there are so many different cars available. Many models are offered in a number of bodystyles, and there are SUVs available in many of the most popular sizes. To make it easy to understand, the cars and SUVs share the same numbering system; the X3 uses many of the same parts and engines as the 3 Series, for example.
BMW saloons and estates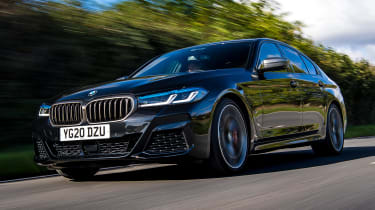 The BMW 3 Series saloon is one of the most popular compact executive cars you can buy, and the same is true of the estate version, which BMW calls the Touring. The BMW 5 Series saloon is another perennial favourite among families and business users alike. It offers a similar blend of comfort and driver appeal to the smaller 3 Series but adds extra power and luxurious features, and can also be had as an estate. The BMW range is crowned by the 7 Series saloon, which is among the most high-tech and luxurious cars you can buy at any price. Engine options range from an economical plug-in hybrid to a whisper-quiet V12 petrol that provides massive performance.
BMW SUVs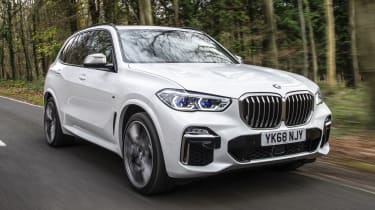 BMW started its SUV range with the X5 but these days there are seven to choose from - X1 all the way up to X7, and more are planned. The odd-numbered ones are straightforward, chunky-looking SUVs, while the even-numbered models are coupe equivalents that aren't quite as practical but aim to be more stylish. The X5 and X7 can be ordered with seven seats, while the iX3 is the brand's first electric SUV and is based on the X3. Four-wheel drive can be specified on all SUV models but entry-level versions are usually only two-wheel drive.
BMW coupes and convertibles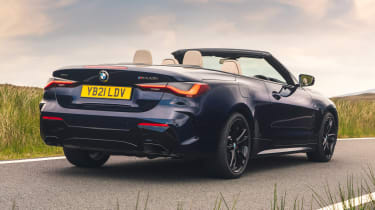 BMW still caters for buyers looking for a svelte coupe or convertible. The smallest of these is the 2 Series, which is rear-wheel drive and aimed at keen drivers. It comes in coupe and convertible form, plus a four-door Gran Coupe saloon that's more closely related to the front-wheel drive 1 Series.
The 4 Series is effectively the badge used for the coupe and convertible versions of the 3 Series, and there's a five door hatchback version of the 4 Series Coupe, again called the Gran Coupe. The 8 Series has replaced the old 6 Series and, like the 2 and 4 Series, can be ordered as a coupe, convertible or Gran Coupe.
BMW hatchbacks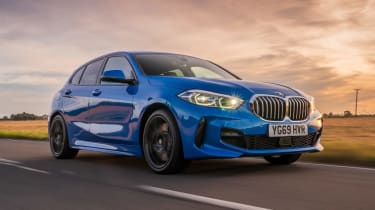 Many people's first taste of BMW ownership is the 1 Series hatchback. It may be the most affordable model but still features the quality and premium feel that you'd expect from a BMW. Above that is the 2 Series Active Tourer, which offers spacious, MPV-style accomodation for five. Should you need more room, there's the seven-seat 2 Series Gran Tourer equivalent.
BMW M cars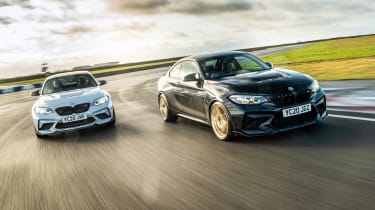 The majority of BMW models are available in flagship M Performance guise. These are the most powerful and sportiest versions of each particular model, and usually feature extra technology or materials like carbon fibre to elevate them above the rest of the range. In some countries, BMW offers M and M Competition versions, and UK buyers are usually only offered the M Competition ones. All of BMW's M Performance cars, be it the M2 or the X6 M, come with a quick-shifting automatic gearbox.
BMW plug-in hybrid and electric cars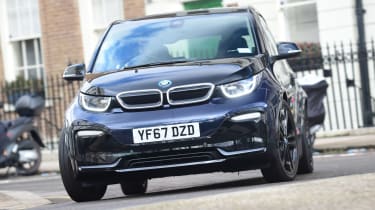 It's a shame that the futuristic-looking i8 plug-in hybrid is no longer available but BMW does offer one of the broadest range of alternatively fuelled cars of any manufacturer. Economical plug-in hybrid engines, which combine petrol and electric power, can be ordered on an increasing number of BMW cars, such as the X1 xDrive25e SUV and the 330e Touring estate.
Its fully electric programme is ramping up as well, with the city-friendly i3 now joined by the i4 (based on the 4 Series Gran Coupe), the iX3 and the iX. 
BMW trim levels and options
SE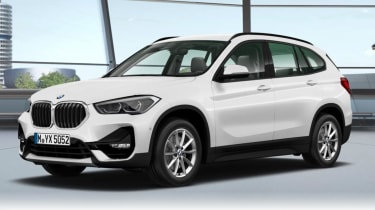 Most BMW model lines open with the SE model, which historically stands for 'special equipment'. It brings together most of the must-have features that buyers demand today, including climate control, alloy wheels, remote control central locking, automatic wipers and lights, all-round parking sensors and a Bluetooth connectivity system.
Sport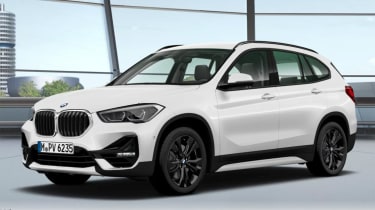 While Sport is a more dynamic equivalent to the SE package – often supplementing the parking sensors with more supportive sports seats and a lowered suspension system – some model ranges start with the Sport trim. It's worth remembering that Sport models don't have any more power or performance than their SE stablemates, and that they miss out on the distinctive body kits and bigger wheels fitted to M Sport models.
M Sport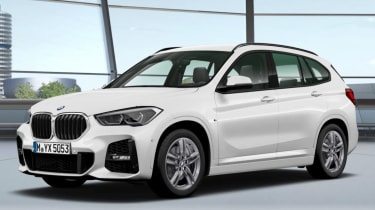 The M Sport models in BMW's range channel some of the looks of the aggressive 'M' models, such as the M3, M5 and X5M. They stand out thanks to muscular body kits that include deep front spoilers and side skirts, while wheels and tyres are bigger. The suspension is also lower and firmer; some people can find M Sport models a little uncomfortable. However, their popularity and ease of sale on the used market means that M Sport models tend to hold on to their value, and can prove no more costly to finance than an SE. Add their fun-to-drive nature, and M Sport models are a good choice.
xLine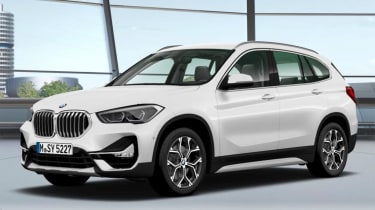 xLine is used on some of BMW's SUV models, and these aim to look more rugged than SE by incorporating traditional 4x4 visual clues, like panels at the base of the bumper designed to look like an off-roader's bash plates and black cladding around the wheel arches to shrug off minor dings and scrapes.
BMW jargon buster
BMW Connected Drive - BMW Connected Drive is the umbrella term for all BMW's connected and online technologies. Every current BMW has access to certain Connected Drive features, including BMW Emergency Call, online services and real time traffic information, as well as support for features unlocked by the BMW Connected+ smartphone app. These can include remote operation of the door locks, headlights and horn from your smartphone, as well as the ability to check your fuel level and find the car easily when parked. You can also connect Amazon Echo products to the system, to allow voice control access to your car from connected devices in your house.
Competition - BMW M Competition cars are the most powerful models in their respective ranges and are designed with performance in mind. They also feature chassis, interior and brake upgrades over non-M Performance versions.
Dakota, Vernasca and Merino - BMW uses various types of leather inside its cars. Dakota may be fitted to cheaper models, Vernasca is often fitted to mid-size models and Merino - BMW's softest and most special leather upholstery - tends to be reserved for high-end models.
Display Key - BMW Display Key takes the form of a glossy, lozenge shaped gadget that's similar in shape to the usual BMW key, and its enlarged form allows space for a small colour screen. This can display information such as current fuel level and lock status and – depending on equipment fitted – allows you to set the interior temperature ahead of a journey. Naturally, it can be used as a conventional key too.
Drive Recorder - a system that uses all the car's cameras to collate and store footage, which may come in handy in the event of a collision or if your car is stolen.
Driving Assistant - Driving Assistant and Driving Assistant Plus are safety packages that BMW offers, which comprise hazard alert and semi-autonomous driving systems. The Driving Assistant package includes lane departure and lane change warnings, stationary traffic warning and speed limit information with no-overtaking warning – both of which are provided by a traffic sign recognition camera. The Driving Assistant Plus system adds active cruise control with the ability to follow traffic to a halt, automatically restarting the car when the traffic begins to flow again. It also provides steering and lane keeping assistance, as well as warnings for traffic crossing the road ahead.
EfficientDynamics - BMW EfficientDynamics is the blanket name applied to the brand's engineering and design programme that aims to increase fuel-efficiency and reduce exhaust emissions. It includes measures such as eDrive electrified power systems, optimised aerodynamic streamlining to reduce wind resistance, electric power steering and brake energy regeneration – both of which result in reduced energy loss from mechanical drag.
Gesture control - the touchscreen interface and the accompanying control wheel are easy to use but gesture control allows you to operate some of the car's features just by moving your hand. For example, a clockwise circular motion close to the screen will turn the volume up.
Gran Coupe - four-door versions of BMW's coupes, with a sleeker design than the brand's traditional saloons.
iDrive - BMW's infotainment system, called iDrive, covers sat nav, media and telephone functions, your car's settings and more. It has been around for over 15 years now but continuous updates have made sure it's one of the best systems to use. One of the things that elevates it above nearly all rivals is the rotary dial and buttons down by the handbrake; this makes the system easy to control on the move. 
Intelligent Personal Assistant - BMW's voice control system has advanced to become a digital assistant that can set the sat nav or climate control without you touching a button. To activate it, just say 'Hey BMW'.
Laserlights - BMW's upgraded headlights use lasers instead of LEDs or xenon bulbs, and can illuminate up to 600m in front of the car. They have an eye-catching blue tinge to them, and use less space and energy than traditional headlights.
Live Cockpit Professional - this is the name for BMW's upgraded infotainment system. It tends to include a bigger screen and more features, such as the Intelligent Personal Assistant mentioned above.
M Sport - BMW's sporty trim level features a racier appearance, gloss black trim, bigger wheels and exclusive leather upholstery. It comes with most of the same engines you'll find on SE and Sport versions, so provides no extra power but doesn't increase running costs. You may also see models called M235i or M340d - these sit between normal M Sport cars and the range-topping M Performance models.
M Performance - BMW's M Performance models, like the M3 and M5, are the ones most sought after by enthusiasts. They use BMW's very best chassis and engine technology, and offer huge power figures, breathless acceleration and quick cornering.
Run-flat tyres - some BMW models feature run-flat tyres and these can be driven on even when you have a puncture. It means you'll be able to get to a garage to change the tyre, rather than being stuck at the roadside. However, run-flat tyres tend to offer a firmer ride than normal ones.
sDrive - BMW uses sDrive to signify when its SUV models are two-wheel-drive, rather than having four-wheel drive (see xDrive).
PDC - Park Distance Control, or parking sensors. While some BMWs have PDC at the rear only, or all-round in some models, Parking Assistance is the next step up. It includes front and rear sensors, a reversing camera and also a self-parking mode that will operate the steering when using parallel and lateral parking spaces. The Parking Assistant Plus upgrade adds a surround view and remote 3D view.
Touring - the name BMW gives to its estate models. It currently sells the 3 Series Touring and 5 Series Touring.
xDrive - BMW xDrive is the name of BMW's four-wheel drive system, which is available not just on the brand's SUVs but on an increasing number of its saloon and estate models too. It uses sensors to make sure that power is always sent to the set of wheels that are best able to apply it when road and weather conditions get tricky. Its aim is to increase traction – and with it, safety, driving enjoyment and performance.
320d - BMW's badges take on a few different forms but the most recognisable is three numbers then a letter. The first number is the model of the car (3 Series in this case), then the two following numbers are the engine designation - but '20' no longer necessarily means a 2.0-litre engine and so on, like it did previously. The letter at the end will be either i, d, or e, for petrol, diesel and plug-in hybrid engines respectively.