Cheapest 7-seater cars 2022
If you need seven seats without breaking the bank, these are the cars to explore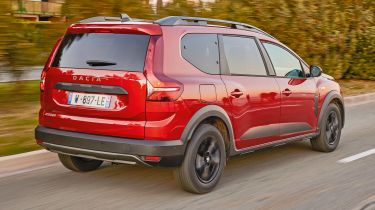 Car buyers looking for seven seats no longer need to stick to a bland-looking people carrier. Seven-seat SUVs have become more popular, as buyers look for cars that combine practicality and an outdoorsy feel, while more traditional MPVs have gained more stylish designs to try and keep up. Even gloriously, unashamedly practical van-based MPVs like the Peugeot e-Rifter have a real sense of style these days.
But with fancy looks often comes a similarly dazzling price tag. A seven-seat car is often among a carmaker's most expensive models anyway, simply because of the extra metal and seats required. Our list of the cheapest seven-seater cars should appeal if you're keeping an eye on your budget.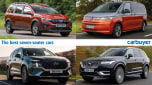 Top 10 best 7-seater cars 2023
Many of the van-based MPVs on sale have now dropped their diesel engines to become electric-only, which is why they're languishing at the bottom of this list. Don't discount them straight away, especially if you can recharge at home, because they offer the potential for far lower running costs than petrol and diesel models. 
Of course, if you're looking for an affordable car with seven seats, you could also look to the used market. Our sister site BuyaCar has a wide selection of tempting models, starting from under £10,000.
While you're here and interested in practical cars, we have other guides to the best cars with three ISOFIX points and the best eight-seater cars. Check them out once you've finished reading about the cheapest seven-seater cars currently on sale.
The Dacia Jogger has elbowed its way into the seven-seat market, and has all the ingredients to be a success. Its wheel arch extensions and roof rails give it a chunky, SUV-like stance, and it comes with seven seats as standard along with a good amount of standard equipment. The pair of rearmost seats don't weigh very much, so can be installed or taken out with ease, and you're left with a huge 699-litre boot if you leave them at home. Unusually, the third row of seats is spacious enough for adults.
Dacia is well-known for its sharp focus on value, but it's hard to believe that the Jogger starts at under £15,000. For context, that's less than half than what you'll pay for most of the cars on this list, but the base Essential model still features LED headlights, rear parking sensors and air conditioning. Even the range-topping Extreme SE model costs less than what you'd pay for the cheapest Volkswagen Polo.
Imagine the Volkswagen Golf as a people-carrier, and you have the Volkswagen Caddy. For better or worse, most of the interior parts are shared with the Golf, and the styling bears some resemblance to Volkswagen's iconic family hatchback too. It even drives in a similar way, so isn't intimidating and won't lean over too much if you attempt to take a corner.
You'll need the longer Caddy Maxi to get the full seven seat layout, and there are two trim levels. It's tempting to upgrade to the mid-range Life version, but even the unnamed base specification comes with Bluetooth, DAB radio, cruise control and heated mirrors. The next-generation Ford Tourneo Connect is heavily based on the Caddy, and Ford's more mainstream badge could result in a cheaper price.
Ford's cheapest seven-seater has been around for quite some time now and will soon be replaced with an all new Tourneo Connect MPV model. Similar to other van-based MPVs the Tourneo benefits from sliding doors, which means everyone from children to less mobile passengers should find getting in and out a little easier.
Partnership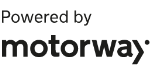 Need to sell your car?
Find your best offer from over 5,000+ dealers. It's that easy.
Large windows help when manoeuvring in a tricky spot and the heated windscreen is standard equipment on the entry Zetec model – perfect for getting you going on a cold winter's morning. A big advantage for those that need versatility is that in the seven-seat Tourneo the third-row of seats folds flat to the floor and the middle row can be folded forward into the footwell, creating a large loading space. Perfect when you need to move large items instead of people.
If you want to switch to a fully electric vehicle but keep finding the options out of budget then Nissan may have the answer for you. The e-NV200 is the cheapest electric seven-seater on the market. The boxy styling may not be as appealing as some of the SUV seven-seaters on our list, but has the advantage of maximising interior space.
The platform is shared with Nissan's commercial NV200 model, which means the e-NV200 has an airy cabin and good visibility all around. Reassuringly, a lot of the technology is shared with the long-standing Nissan Leaf. Here the instant power of the electric motors is even more impressive as you move off from a standstill. You won't win any races but it's a great companion for getting away smartly at a roundabout and in start-stop city traffic.
The Volkswagen Touran comes with seven seats as standard, but the final two are really meant for occasional use. They're not that spacious and rob boot space, but having them there adds an extra layer of versatility to the Touran. It's a car that sells on its practicality and interior quality; its similarity to the Golf will be a draw to anyone who needs a little more space than the Golf offers.
Smaller and cheaper than the Volkswagen Touran Allspace, the Touran is still a worthy, if unexciting, family car. One of its trim levels is even called SE Family, with a panoramic sunroof and a voice amplifier. Spend a bit more on R-Line trim and you get sporty styling and extra convenience features.
SEAT's largest SUV got off to a great start by sharing its underpinnings with the Skoda Kodiaq and Volkswagen Tiguan Allspace. Besides being one of the less expensive seven-seat SUVs, it's also one of the sharpest-looking, introducing the angular design language currently used by SEAT and Cupra.
The Tarraco is good to drive for a family SUV, and its familiar entry-level engines are economical. Rows one and two are very spacious, and the third row is fine for adults on short journeys. With adaptive cruise control, digital dials, parking sensors and Apple CarPlay/Android Auto, the cheapest SE trim is better-equipped than similarly priced rivals, and should suffice for many buyers.
The Peugeot 3008 has been one of our favourite SUVs since its launch, and the seven-seat 5008 version doesn't fall too far short. Besides a longer rear end, the styling is pretty similar, and so's the interior. You get Peugeot's digital cockpit, plus the latest phone connectivity and a reassuring number of safety systems.
We'd avoid the panoramic sunroof; while it looks impressive and floods the cabin with light, it does restrict headroom for those in the second row. As is often the case with seven-seat SUVs, the rear seats are probably best reserved for children as they're a little compact. It's economical considering its bulk, and Peugeot has focused on making it comfortable on long drives.
Recently facelifted, the Skoda Kodiaq is still one of our favourite large SUVs, even though it's a little disappointing that the Kodiaq is now more expensive to buy. Seven seats are standard except on the cheapest trim, and the boot is vast if you fold down the third row into the floor.
The Kodiaq is well-equipped, featuring Skoda's range of 'Simply Clever' touches that should make daily life a little easier. Build quality is greatly improved over older Skoda models. It's even good to drive, and there's a range-topping Skoda Kodiaq vRS if you simply must have seven seats and hot-hatchback performance. The availability of four-wheel drive endears the Kodiaq to customers who tow regularly.
Van-based MPVs like the Vauxhall Combo Life would previously have been further up this list, but many of them have recently become electric-only. They're more expensive than before, but electric cars do offer cheap running costs if you can charge at home on a competitive tariff. The Combo-e Life also offers 100kW fast-charging - making it easier to complete longer journeys. 
A full charge enables up to 174 miles of zero-emission driving. Impressively, the Combo-e Life is just as practical as the diesel-engined version, with a boot that expands to 2,700 litres with the second and third row of seats folded down. If you need something even bigger, the Vauxhall Vivaro-e Life is barely any more expensive in its cheapest guise.
The Citroen e-Berlingo is mechanically identical to the Combo-e Life and the Peugeot e-Rifter, offering more style than the Vauxhall without the much more expensive price tag of the Peugeot.
These vans make it easy to get in and out of the back seats, thanks to wide sliding doors - which also come into their own in tight car parks. All of these models do little to hide their commercial origins, but that's a plus point for space, as even people sitting in the third row of seats won't complain about a lack of room.
Read our guide to the best large SUVs