Used Mazda CX-5 review: 2017 to present (Mk2)
"Mazda's mid-size SUV is attractively styled and pleasing to drive and own"
Pros
Smart looking
Reasonable running costs
Refined and fun to drive
Cons
Less roomy than some rivals
Mediocre petrol engines
Sat-nav issues
Anyone who craves the space of an SUV but would prefer not to be seen driving one should check out the Mazda CX-5. Although classified as a mid-sized SUV it's still quite a large vehicle, but it disguises its bulk with svelte styling and an overall visual simplicity – some rivals are far flashier and festooned with 'look at me' design details.
It's the same story inside the Mazda CX-5 – the cabin looks classy despite not having an abundance of design flourishes, and achieves its premium ambience via the principle of 'less is more'. The same doesn't apply to the CX-5's equipment levels, because all models have a high standard specification in terms of both luxury and convenience items, as well as hi-tech safety gear. Cabin space is perfectly acceptable rather than outstanding, and the same is true of boot space.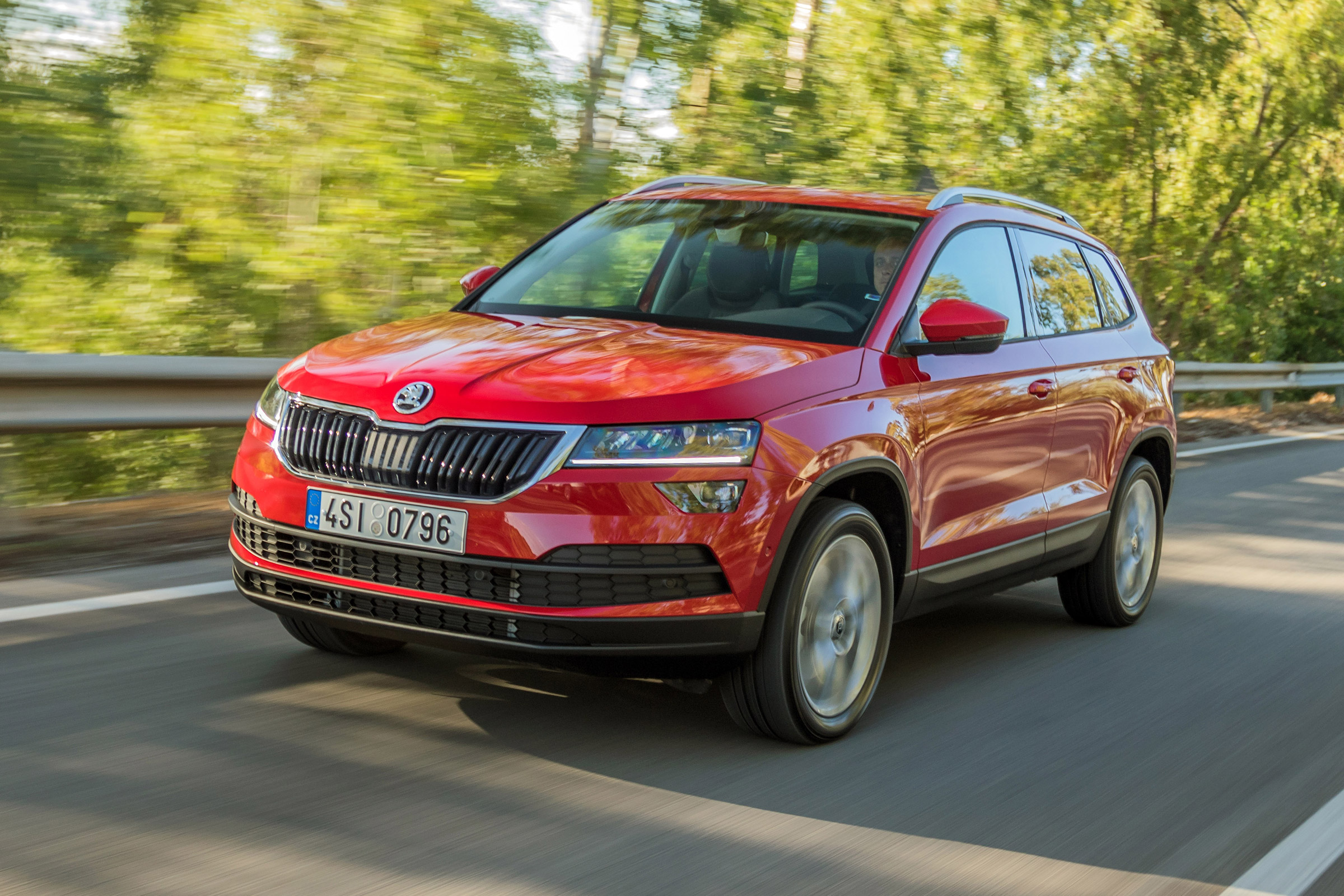 Top 10 best used SUVs 2022
A well-insulated cabin blesses the Mazda CX-5 with low tyre/road and wind noise, and while its two petrol engines can exhibit a touch of harshness when revved as hard, the turbodiesels are hushed and refined during everyday driving, not to mention economical.
The CX-5 is one of the most enjoyable cars in its class to drive, with precise steering and suspension that provides a reasonable compromise between good ride quality and lively handling. And to an extent that driving behaviour makes the car seem less SUV-like than some rivals.
More reviews
In-depth reviews
You're able to choose between front-wheel drive and four-wheel drive with the Mazda CX-5, but unless you really need the extra traction of the latter – if you frequently drive on muddy country lanes, for instance – then the front-drive version is cheaper to run. You can also pick between a six-speed manual gearbox and a six-speed automatic. The former is cheaper to run, but the auto better suits the car's character.
In our 2021 Driver Power survey of owner satisfaction the Mazda CX-5 ranked 3rd out of 75 cars. Owners praised the car's interior design, build quality, seat comfort, responsive brakes, ride quality and fuel economy. To that list we would add reliability; to date the CX-5's record for dependability is excellent.
What's the history of the Mazda CX-5 Mk2?
Having enjoyed considerable success with the original CX-5 – both in sales and in terms of boosting Mazda's reputation for producing desirable cars – in July 2017 Mazda introduced the second-generation model to UK showrooms. The CX-5 Mk2's styling was sharper and more modern than its predecessor's, but its overall shape, and purpose, remained the same. Initially there were only two trim grades to pick between, SE-L Nav and Sport Nav, both very well equipped, and three engines – a pair of 2.2-litre turbocharged diesels with 148bhp and 173bhp (the latter was later raised to 181bhp), and a 2.0-litre petrol with 163bhp. The more powerful of the diesel engines was available only with four-wheel drive, while the petrol was front-wheel-drive only – the other diesel could be configured either way. Both diesels offered the option of a six-speed automatic gearbox, but it wasn't available on the petrol model until July 2018.
Towards the end of 2018 there were revisions to the CX-5's trim grades, which now comprised SE-L Nav+, Sport Nav+ and the new GT Sport Nav+, and standard equipment levels were further improved in the middle of 2019. An update in January 2021 included the addition of another petrol engine to the range, a 2.5-litre unit producing 191bhp. Of greater relevance to most potential owners was an upgraded infotainment system with a larger screen and improved operation.
Early in 2022 the CX-5 was subject to a minor facelift externally and higher-quality cabin materials.
Which is the best Mazda CX-5?
Unless you have a compelling reason or desire to have a petrol engine, pick a diesel. There's really no need to opt for the more powerful versions (173bhp and 181bhp) of the 2.2-litre turbocharged diesel because the 148bhp model provides adequate performance for a family car (even such a big one) and is more economical. The caveat here is if you regularly tow a trailer or caravan – the 181bhp 2.2-litre automatic is rated to tow a braked trailer up to 2,100kg, which is 100kg more than its stablemate, and because it has more torque (or pulling power) will do so more easily.
All the diesel engines have the sort of strong muscle that makes them effortlessly fast in the 30-70mph range, where typically most of us do our daily driving. And because you can scoot along rapidly with so little fuss from the engine, the CX-5 feels refined and relaxing.   
If you simply must have a petrol engine, avoid the 163bhp 2.0-litre unit. Unlike the petrol engines of many rivals, this one doesn't have a turbocharger and therefore feels slow and lacklustre unless you really thrash it. The 191bhp 2.5-litre feels much livelier – it will nip from zero to 62mph in 9.3 seconds compared with 10.4 seconds for the 2.0 – and requires less effort to access its performance, but 35mpg fuel economy may well rule it out of the equation for many people.
The 148bhp diesel delivers 57mpg when only the front wheels are driven, 52mpg when the rear wheels are too. Manual or automatic gearbox is a tougher choice, despite the maths favouring the manual – it gives you seven more miles to the gallon. However, the automatic changes gear smoothly and complements the easygoing power delivery of the diesel engine. If you're an urban dweller or spend time in heavy traffic congestion, the auto is worth the small financial sacrifice.
As for a trim grade, you won't go wrong whatever you choose, because all models are very well equipped. Even the earliest examples of the SE-L Nav entitle you to dual-zone climate control, sat-nav, Bluetooth smartphone connection, DAB radio, cruise control, automatic LED headlights and rain-sensing wipers, alloy wheels, power-folding door mirrors and a safety system that automatically applies the brakes at town speeds if it detects you haven't noticed an obstacle ahead. 
Beyond that it's a question of what you can comfortably afford. The powered tailgate of the Sport Nav is a handy feature, and you might enjoy its heated seats and steering wheel. From late 2018 all grades featured improved safety equipment, including adaptive cruise control, lane-departure warning and lane-keeping assistance, and a system to help you safely reverse out of parking spaces or your driveway. If you can stretch to an SE-L Nav+ from the middle of 2019 onwards, you'll find it has Apple CarPlay and Android Auto compatibility.
What are the alternatives?
Rivals include the Citroën C5 Aircross, Honda CR-V, Nissan Qashqai, Peugeot 3008, Renault Kadjar, SEAT Ateca, Skoda Karoq, Toyota RAV4, Vauxhall Grandland and Volkswagen Tiguan, as well as the Audi Q3, BMW X3 and Volvo XC60.
The CX-5 is more pleasurable to drive than all but the Audi and BMW. In most other regards, though, its rivals are close enough in all-round ability that your decision will probably be swayed by which one you best like the looks of.
Mazda CX-5 Mk2 video review
Running costs, MPG, CO2 emissions and insurance
Reasonable servicing costs, economical diesel engines with CO2 emissions low enough that annual VED (road tax) isn't too much of a burden, and generally high levels of reliability mean that the Mazda CX-5 is relatively painless to run.
Service intervals are variable, because an on-board computer analyses data on your driving style and determines when a service is due. However, the default setting is a service every 12,500 miles or annually, whichever comes first. Original owners of the CX-5 had the chance to purchase a three-year fixed-price servicing plan for £650-£670, and if you're buying a sufficiently new CX-5 you may be lucky enough to inherit the balance of that plan.
If that's not the case then budget for about £200-300 for a minor service at a Mazda dealer, or £300-320 for a major service. At 75,000 miles there's a biggie that will set you back in the region of £450. Shop around at reputable independent garages – as many people do when their car is out of warranty – and you should be able to have your CX-5 serviced more inexpensively.
The CX-5 has a three-year/60,000-mile warranty that includes its paintwork, as well as a 12-year anti-perforation corrosion warranty. 
How much do used Mazda CX-5s cost?
There's a reasonable selection of used Mazda CX-5s on dealer forecourts, so you shouldn't be stuck for choice. The car's reputation as a reliable, premium product that's good to drive, tends to keep values a bit higher than those of many rivals. 
Early model (2017), high-mileage diesels can dip as low as £14,500, but are more likely to hover around the £19,000 mark. Petrol-engined CX-5s aren't in as much demand, so low-mileage examples are down near the £20,000 mark.
If you have between £20,000 and £25,000 to spend you'll be looking at diesel CX-5s with modest mileage in a variety of trim grades, and if you can raise your ceiling to £30,000 then there's a wealth of models to choose from.
Of course, the used car market does fluctuate, so for the most up-to-date CX-5 prices you should head to our sister site, Buyacar.
What's it like for fuel economy, emissions and tax?
Fuel economy king of the Mazda CX-5 range is the 148bhp 2.2-litre turbocharged diesel. In a front-wheel-drive, manual-gearbox model it returns 57mpg, but that figure drops to 50mpg for an automatic, 52mpg for a manual four-wheel drive, and 49mpg for a car equipped with both four-wheel drive and an automatic. 
If you drive a lot of miles a year those differences are sufficiently large to hit you hard in the pocket, but if you only do, say, 10,000 miles annually, you might decide that the extra cost of running an automatic is worth it for the convenience it brings.
Available only in conjunction with the four-wheel drive transmission, the more powerful 181bhp turbodiesel delivers a commendable 54mpg (falling to 51mpg with an automatic gearbox), while the 2.0-litre petrol achieves 44mpg and the 2.5-litre just 35mpg.
The range of CO2 emissions for the CX-5 spans from a low of 128g/km for the most efficient version of the 148bhp diesel, up to 186g/km for the least efficient 181bhp diesel teamed with four-wheel drive and an automatic gearbox. As regards annual VED, or road tax, all models attract a flat fee of £155.
How much will it cost to insure?
While insurance costs will depend upon your personal circumstances, the insurance groups for the CX-5 are very reasonable, starting at group 15 for the entry-level petrol engine and rising to group 21 (out of 50) for the range-topping diesel derivative.
Reliability and common problems
Dig hard enough and you're sure to find a handful of owners whose CX-5s have given them problems, but generally Mazda's SUV is a very reliable car. The sole significant widespread grumble centres on the sat-nav (standard across the range) which for some owners refused to accept a whole UK postcode and was therefore tricky and time-consuming to programme.
Are there any common problems and things to look for?
The most consistently troublesome element of the CX-5 is the sat-nav. Many owners complain of not being able to enter full UK postcodes, meaning that they have to tap out a complete address instead. A software upgrade should by now have sorted out this issue in most affected cars, but when inspecting a used example make sure you give the postcode input a go.
From mid-2018 onwards Mazda's Soul Red Crystal paint was available on the CX-5 – it's notoriously difficult to colour-match if damaged, so beware cars with dents or scratches, even minor ones. Because the CX-5 is popular as a family car, check the interior for scuffs and bits of broken trim, and make sure the rear seats fold flat as they should do and aren't damaged. There are a couple of reports of the powered tailgate malfunctioning, but this is by no means a common problem.
What about recalls?
There's been one recall for the CX-5, for cars built up until June 2018 – this recall also affected the Mazda3 and Mazda6 models where it relates to cars built from January 2012. It involved a valve designed to make the engine stop smoothly when you switch it off – it could become gummed up and stall the engine or prevent it from starting. 
A precautionary measure, the recall entailed the valve being cleaned or replaced and the engine's ECU being reset. Affected cars should already have had remedial work completed – the recall was issued back in July 2019 – but it's worth checking.
What do owners think?
Mazda CX-5 owners are on the whole a happy bunch, a fact reflected in the fact that in our 2021 Driver Power survey for owner satisfaction, the CX-5 placed an impressive 3rd out of 75 cars. Meanwhile in the car brand category of the survey, Mazda was 4th out of 29 car brands.
Owners rated the driving experience of their CX-5s highly, and also praised their car's build quality, interior design and the comfort of the front seats.
Engines, drive and performance
Although the CX-5 places considerable emphasis on making the driver happy during their time behind the wheel, it's also designed to feel comfortable and relaxed, in keeping with its role as a family car. Its engines are largely quiet and smooth, tyre and wind noise are subdued, and the suspension is set up to iron out road surface imperfections rather than whip too sportily around bends.  
What's the Mazda CX-5 like to drive?
A big part of the appeal of any SUV is the high driving position and from the front seats of the CX-5 you have a commanding view of the road ahead and of the surrounding scenery. Forward visibility is a little hampered by the thick windscreen pillars, but that's the (crash safety-related) curse of many a modern car. 
Because Mazda has striven to make the CX-5 pleasurable to drive, the CX-5's suspension treads a fine line between comfort and the occasionally annoying firmness required to make it feel sprightly behind the wheel, although existing owners seem content enough with the compromise. Even during those times when you might wish the suspension were softer, you couldn't describe the ride quality as harsh or bone-jarring, and on models with 17-inch diameter alloy wheels the sensation isn't as pronounced as on those with 19-inch wheels. 
That slight firmness of the suspension pays dividends through corners, where the CX-5 doesn't suffer as much body roll as some rivals. The CX-5's eager and precise steering helps, too, its quick responses making the big Mazda seem nimbler than you'd expect of a car this size.
While the automatic would be our choice of gearbox if we could afford the slightly higher fuel costs, the gear lever of the CX-5's six-speed manual gearbox slips smoothly and accurately between ratios and is a joy to use.
What engine should I choose?
The Mazda CX-5 range is underpinned by a refined and quiet 2.2-litre turbocharged diesel engine, known as the Skyactiv-D, that is available with three different power outputs – 148bhp, 173bhp and then, replacing the latter, a 181bhp version. Outright power isn't what these engines are about, however: their pulling power, or torque, is more important, as it impacts their performance in the 30-70mph range where most of your day-to-day driving takes place. 
And each has plenty of pulling power, making overtaking easy and motorway cruising a relaxed affair, while enabling you to achieve a brisk pace on winding backroads without having to pretend you're a racing driver. The other significance of a beefy torque output – 380Nm for the 148bhp engine, 420Nm for the 175bhp model, and 445Nm for the 181bhp version – is that it gives the CX-5 more muscle when it's fully laden. While the 148bhp car has the least pulling power you seldom feel disadvantaged compared with driving the other models. The exception to that observation is when you're towing a heavy caravan or trailer.
While we're unable to recommend choosing the 163bhp 2.0-litre Skyactiv-G petrol engine over any of the diesels, at least it's quiet and refined when cruising. The trouble is that to bring it briskly up to cruising speed you must rev it hard, and when you do so it sounds far less sophisticated. Consequently, you tend to be sparing with the throttle pedal, but do that and performance becomes sluggish and frustrating. The 2.5-litre petrol engine has more power – 191bhp – but its slight performance advantage doesn't compensate for its heavy fuel consumption and gruffer manners.
Interior, comfort and safety
Mazda's designers exercised restraint when styling the CX-5's interior, avoiding excessive visual flourishes in a bid to create a cabin that exudes a premium ambience and a timeless look.
The CX-5 has less cabin and boot space than some of its rivals, but in reality it seats four in great comfort, with plenty of room for heads, knees, feet and shoulders. A third passenger on the back seat puts the squeeze on shoulder room, but the CX-5 isn't alone in this.
All models feature a range of safety assistance systems as standard, and the CX-5 was awarded the maximum of five stars when it was subjected to the Euro NCAP crash tests when it was new.
What's the Mazda CX-5 like inside?
Apart from the fact that you sit quite high in the CX-5, one of the striking features in the front is a broad console that separates the driver and the passenger into their own cosy cockpits. That console is home to the gear lever (whether manual or automatic), electric, finger-operated switch for the handbrake, and to the rotary control knob and other switchgear for the multimedia infotainment system. The 7.0-inch colour screen for the infotainment system is in the form of a tablet perched on top of the dashboard – it looks as though it should descend out of sight when not in use, but it's a permanent fixture.
The soft-touch plastics Mazda has used for the dashboard and door panels don't seem quite as high quality as those used by Audi, BMW and Volkswagen, but they're pretty close and add to the impression that the CX-5 is a prestige car. Leather upholstery is optional on the SE-L Nav and SE-L Nav+ models and standard on the rest, and it further lifts the cabin ambience. Black leather is the popular choice, but lighter colours that contrast with the black dash and door trims lend the CX-5's interior an even more luxurious feel, although are harder to keep clean.
What's on the equipment list?
When launched in 2017 the CX-5 had just two trim grades, SE-L Nav and Sport Nav, both of which are handsomely equipped. 'Entry level' seems an inappropriate term for the SE-L Nav, specified as it is with 17-inch alloy wheels, dual-zone climate control, electric front windows, a multimedia infotainment system featuring a 7.0-inch colour display, DAB radio, Bluetooth smartphone connection and satellite-navigation, as well as automatic headlights and windscreen wipers, power-folding door mirrors, and a wealth of active safety assistance systems. 
The Sport Nav ups the ante with the addition of leather upholstery, powered tailgate, reversing camera, electric sunroof, an eight-way power adjustable driver's seat, heated front seats and steering wheel, keyless entry, and a head-up display that projects key information about the car directly on to the windscreen in colour.
From the middle of 2018 Mazda went all out on the safety systems front. From that point on, standard on all CX-5s is adaptive cruise control (it maintains a set distance between you and the car in front, mirroring any changes in speed), blind-spot monitoring and warning, rear cross-traffic alert that warns of passing traffic when you're trying to back out of a parking space or your driveway and don't have clear vision, autonomous emergency braking at both low and medium speeds if you fail to spot an obstacle ahead, lane-departure warning and lane-keeping assistance, and automatic high-beam dipping. 
As equipment levels gradually improved Mazda added a '+' symbol to the end of the existing trim grades and introduced a new one, the GT Sport Nav+. Launched in January 2019, the GT Sport Nav+ is available exclusively with the highest-powered diesel engine and four-wheel drive. It features wood veneer inlays, ventilated and heated front seats, and heated outer rear seats. Upgrades to the spec of the SE-L+ include Apple CarPlay and Android Auto compatibility, steering wheel audio controls, automatic door locking once the car's moving, and European mapping for the sat-nav. A premium Bose audio system is one of the highlights of the Sport Nav+ updates. 
At the beginning of 2021 the CX-5 range received an upgraded infotainment system with a larger screen, clearer resolution, improved operation, and an expanded range of on-the-move connected services via the MyMazda app.
Practicality and boot space
In a contest against a tape measure the Mazda CX-5 will appear lacking in terms of cabin space compared with some of its rivals, but if you accept the fact that for longer trips it's a four-seater rather than a five – unless, that is, you're hauling kids in the back – its missing millimetres aren't likely to be a problem. 
Same goes for the boot. It's not huge, it is adequately large for most people. A 40:20:40 split folding rear seat provides enough versatility for most folk, especially as the seat backs are easily folded and lay flush with the boot floor.
How big is the Mazda CX-5?
Although it doesn't look huge, the CX-5 is nevertheless quite sizeable, so it's as well to check the dimensions of your garage before buying one. Mazda's largest car is 4,550mm long, 1,840mm wide and 1,680mm high. 
How much space is there for passengers?
The rear doors of the CX-5 open to 90-degrees, a boon for any parent trying to get a child seat into the back, or for those with limited mobility who will appreciate having a wide space through which to climb aboard. 
Two rear-seat adult occupants will have no complaints about the accommodation. There's ample headroom for all but the very tall, a good amount of kneeroom as well as space for your feet, and no worries about where to put your shoulders. A central adult passenger will fit, but it's a squeeze. Furthermore, the middle seat is narrow and poorly shaped, and you'll have to splay your legs to place them either side of a substantial central tunnel.
Storage space in the CX-5 is modest, with large door bins, a reasonably sized glovebox, a lidded cubby between the front seats, and a pair of cupholders on the centre console. But there are no other cleverly little stowage spaces, and some early models don't even have a compartment beneath the boot floor.
How big is the boot?
With the rear seat fully in place the CX-5 has 503 litres of luggage space, which is smaller than that of some rivals, but still able to swallow a couple of large suitcases along with a couple more medium-sized bits of luggage. Fold all the seats flat – easily done with a tug of a couple of levers – and the seats fold flat to the same level as the boot floor and increase luggage space to 1,620 litres, which should be big enough for most folks' haulage needs.
The rear seat is split in a ratio of 40:20:40 and that narrow central section can be folded individually when you need to carry something long and slender but still want to transport two rear passengers.