Best economical 4x4s, SUVs and crossovers
SUVs and 4x4s have practical interiors, look sporty and stylish, offer great visibility and make great family cars. What's more, some of the latest models are also extremely economical.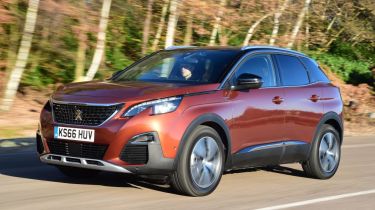 The phrase Sports Utility Vehicle, or SUV, has become common in today's new-car market. The phrase tends to conjure up images of big, tough, tall 4x4-type vehicles, and this category of car has long been one of the most competitive on the market because everybody loves their road presence and go anywhere, do-anything attitude.
Very few people are in love with their running costs, though. A big, four-wheel drive SUV takes a lot of mechanical effort to move, and its engine will probably consume enough fuel to give even the fittest of wallets severe shortages of breath. Fortunately, never willing to miss out on a sales opportunity, car manufacturers have realised that not everybody needs an SUV's powerful all-terrain capability – especially when forgoing this leads to lower running costs.
For the most part today's SUVs are fairly heavily road-biased; the beaten track being by far their most common habitat. Increasingly, though, they are becoming available with no real rough-terrain capability at all, with many being offered with two-wheel drive variants. While this could be seen as defeating the point of the SUV, the truth couldn't be more different, because every other attribute remains intact. Though tackling off-road trails is no longer on the menu, you still get the high driving position and commanding view of the road, the same road presence and the same desirable image.
What's more, you're saving money thanks to the higher fuel efficiency while retaining a big, useful boot and space for all the family. Think of the modern, fuel-efficient two-wheel drive SUV as a taller, more butch looking estate and you wouldn't be far from the mark. Don't despair if you don't want an estate car, though – there is another way.
The crossover is a fairly recent phenomenon and could be just what you're looking for. These are closely related to regular family hatchbacks, but feature styling that draws on SUV influences, often with rugged-looking body panelling, a raised ride height and chunky alloy wheels. Cars like these tend to be far lighter, further increasing fuel efficiency and saving you yet more money.
To make matters more complicated, there are crossovers that offer four-wheel drive, but these are still usually far less expensive to run than their full-fat SUV counterparts.
Read on for our top 10 list of the best economical SUVs, 4x4s and crossovers you can buy today.
The Peugeot 3008 is a sophisticated SUV that's capable of excellent economy. It also features bold exterior styling and a smartly designed interior, setting it apart from its nearest rivals. It's also good to drive and its efficiency is one of the strongest strings in its bow; the car is capable of around 55mpg with the 1.5-litre BlueHDi diesel engine. You can buy a more powerful 2.0-litre version too but the smaller engine will be sufficient for most buyers. Its CO2 emissions place it in a mid-range BiK banding, making it affordable for company-car drivers, although the entry-level petrol model squeezes into a similar banding and is cheaper to buy.
The plug-in hybrid is the most expensive 3008 but it offers the best economy, with an official figure of over 220mpg and the lowest emissions of up to 30g/km. It's a safe car, too, though it's a shame that some of the most sophisticated safety gear is only available as an optional extra. It's a practical family car, though, with loads of space, both for passengers and their possessions, and a high level of standard equipment. For these reasons the 3008 goes straight to the top of the compact SUV class.
Toyota models have often been criticised for having dull styling, but that could never be said of the C-HR, with flared wheelarches and sharp lines that really help it stand out. It's also bigger than it looks, taking on models like the SEAT Ateca, despite looking similar in size to a Nissan Juke. Interior space is surprisingly good, even if rear passengers have almost no view out.
Efficiency is taken care of by a hybrid powertrain shared with the Toyota Prius. Its extra bulk means efficiency slips slightly but fuel economy figures of between 54mpg to around 57mpg, with mid-range CO2 figures of 110-118g/km, result in low running costs. Even though the C-HR's hybrid status no longer qualifies for exemption from the London Congestion Charge, it still makes a good choice as a company car, with its low emissions figure earning it a mid-level BiK rating.
Sharply styled, hugely practical and as pleasant to drive as any other Skoda, the Kodiaq is one of the best large family SUVs on sale. You can choose from a range of proven VW Group engines – a 1.5-litre TSI petrol producing 148bhp, or a 2.0-litre TDI with 148 or 187bhp.
For lower-mileage drivers, the petrol model, which is capable of around 39mpg, will make the most sense. Most will want a diesel, though, and the pick of the bunch is the 148bhp version that can officially manage 48mpg. Choosing four-wheel drive with this engine drops economy to around 40mpg. The 148bhp diesel uses selective catalytic reduction (SCR) to clean up its emissions, so you'll need to remember to keep the AdBlue topped up.
The Outlander PHEV has been the UK's best-selling plug-in hybrid in past years, winning over customers with its combination of low running costs, an affordable price (on par with the diesel version) and the fact it looks just like a traditional SUV, rather than a quirky eco car. Despite lots more alternative-fuel vehicles arriving to challenge the Outlander's throne, up to 140mpg fuel-economy and low CO2 emissions of under 50g/km still look good.
You'll need to keep its batteries topped up and exploit its fully electric mode to get close to those figures, though. For this reason, the Outlander PHEV works particularly well if your commute falls within around 25 miles or you do lots of short, urban journeys. Spend all your time up and down the motorway, and the diesel might work out cheaper to run.
It's not offered with a plug-in hybrid, or even a hybrid, powertrain, but the Renault Kadjar can be very efficient thanks to its 1.5-litre diesel engine. According to official figures, this engine can officially return over 57mpg and its reasonable CO2 emissions put it in a mid-level BiK banding, meaning it will appeal to business drivers and private buyers alike.
Like most economical SUVs though, it can be tricky to replicate this figure in the real world, with around 50mpg more realistic – and still impressive for a large family car. The Kadjar is certainly popular, thanks to an attractive design, sharp handling and a bigger boot than the closely related Nissan Qashqai.
The Kia Niro is the South Korean manufacturer's first-ever hybrid SUV and unlike the quirky Toyota Prius hybrid, it takes the shape of a fashionable small SUV. This boxy shape means it can't quite match the outright economy of some models on this list, but its official economy figure of over 58mpg still impresses, making it a near rival for the similarly frugal Toyota C-HR. Overall costs are also brought down by the Niro's relatively low list price.
Families are likely to be attracted to the Niro by its light and spacious interior, 427-litre boot and even the fact it can tow 1,300kg – enough to haul a caravan. It's worth choosing the 'advanced driving assistance pack', because this increases its Euro NCAP safety rating from four to five stars. Plug-in hybrid and even electric versions are also available, bringing better fuel economy and range but extra cost too.
The Nissan Qashqai helped to create the current fashion for 'soft-roaders' with SUV styling coupled to the road manners and economy of mainstream hatchbacks. It's been around for 10 years now with one major facelift under its belt, but still the Qashqai holds true to those principals – and its powertrains haven't changed much either.
All petrol and diesel choices are pretty frugal, so that's no bad thing. In fact, if you pick the 113bhp 1.5-litre TDI you can achieve highly creditable economy figures of up to 53mpg according to the official figures. Even the petrol engines offer official consumption figures of over 40mpg, making all Qashqai options affordable at the pumps.
There's reasonable performance on offer from all the Qashqai powertrains, too, and while the diesels lose out a little on refinement they make up for it with added low-end muscle. Indeed the model is pretty good to drive, with handling that's secure and not too much body roll, although Mazda CX-5 or Ford Kuga is more fun.
Fitted with BMW's latest plug-in hybrid technology, the MINI Countryman Plug-In Hybrid can travel for up to 26 miles on electricity alone, thanks to its 7.6kWh battery pack. Its electric motor powers the rear wheels and provides nippy, silent motoring around town before the petrol motor kicks in at higher speeds, in hybrid mode or when you require more power. With both the 1.5-litre Cooper petrol engine and electric motor working together, the Countryman S E ALL4 is surprisingly brisk, getting from 0-62mph in 6.9 seconds.
While it's the most expensive model in the Countryman lineup, commanding a significant premium over a petrol or diesel model, its pure-electric range of over 30 miles is enough to cover most daily commutes. Claimed efficiency figures of over 150mpg and sub-50g/km in CO2 emissions mean it's affordable to run.
Citroen is on a roll, building far more interesting and desirable models than a decade ago. The Citroen C3 Aircross is a perfect example, with a cool crossover design to rival models like the SEAT Arona and Kia Stonic, along with a comfortable interior and lots of personalisation options. Regardless of which engine you go for, efficiency is guaranteed, too, with every version returning 45mpg or more according to official figures.
The 1.2-litre PureTech petrol is a good all-rounder, returning around 47mpg with stop-start fitted. For sheer economy, the 1.6-litre BlueHDI posts returns over 60mpg, but it's also more expensive to buy, so you'll have to weigh up how many miles you'll drive and how long you plan on keeping the C3 Aircross before selling it.
Somehow the Vauxhall Grandland X hasn't attracted the cachet of more desirable rivals, perhaps in part because it's a little less fun to drive than many, and perhaps because it's clumsily named. It's a shame, because for economy-conscious drivers the Grandland X has a lot going for it.
Even the 1.2-litre petrol variant manages to return over 45mpg on the combined cycle, while the bigger 1.5-litre diesel takes the figure over 54mpg. There's a range-topping punchy four-wheel-drive hybrid variant, too, which comes as standard with the auto box and will manage up to 204mpg and up to 30 miles using only electric power. All are relatively hushed performers and with a soft ride, the Grandland X is as comfy and refined on a run as it is economical, with light steering making it easy to drive around town.
Refreshed 2020 Peugeot 3008 SUV: prices announced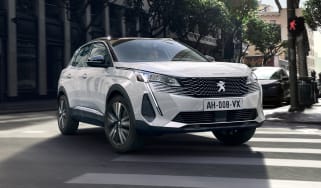 Refreshed 2020 Peugeot 3008 SUV: prices announced
Best medium size and family SUVs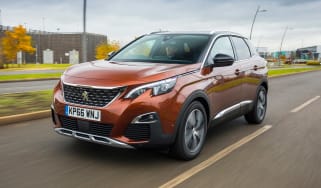 Best medium size and family SUVs
New 2020 Kia Stonic SUV: prices and specs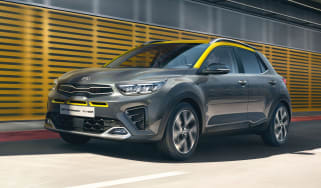 New 2020 Kia Stonic SUV: prices and specs
Updated Peugeot 5008 starts at £29,585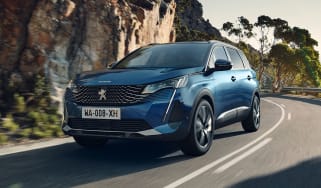 Updated Peugeot 5008 starts at £29,585
Cupra Formentor SUV review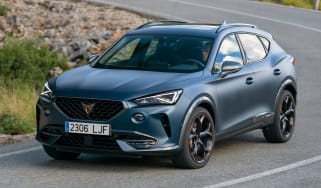 Cupra Formentor SUV review