Ford car configurator guide: specifications, options and trim levels explained
Your complete guide to the official online Ford car configurator and the process of building your new Ford car
So you want to buy a Ford, or at least understand more about the complex network of models, bodystyles, engines, trim levels, specifications and optional extras that make up the Ford model range? If that's the case, you've come to the right place, as our guide to Ford's online car configurator is the essential accompaniment to your Ford-focused shopping trip.
Below, we'll explore the Ford range and how to navigate it within the online car configurator hosted on Ford's UK website that lets you build your Ford the way you want it. We'll also provide insight into the line-up of trim levels Ford offers, explain the key bits of Ford jargon you'll encounter and look at which options are available and worth selecting on your new Ford car…
Using the Ford car configurator
Speccing a car can be a complicated business, but the Ford online car configurator goes a long way towards making the process clear, flexible and easy to navigate. It's one of the simplest online car configurator tools that you'll encounter, with well presented information and a smart colour-coded user interface.
Once you've chosen your prefered model line, be it Fiesta, Focus, Galaxy or Edge, Ford invites you to make your selections in seven different categories - Model (trim level), Bodystyle, Drive (engine and gearbox), Colour, Trim (interior materials) and Extras (optional extras). As you make your choices, the image and specification details on the right-hand side of the window update to show how your car is progressing – and so does the price above.
There are exterior and interior pictures of the car, which can be expanded to fill the whole screen, while all the options, trim levels and paint colours have their own individual images, so you can see what you're selecting. The option prices are also listed, where appropriate, to help you keep the car's price under control.
To change items on your car, you simply jump back to the relevant stage in the configuration process using the colour-coded buttons on the left. Once you're finished, there's a summary page with an image of your car and a full specification. Ford gives you a unique URL so you can easily retrieve your specification in a web browser or share it with friends and there are options to configure a finance plan, request a test drive or get a valuation on your part-exchange car. Full brochures and price lists can also be downloaded on this summary page.
In general, the Ford car configurator is impressively easy to use, both on desktop and mobile devices. It's not the flashiest online configurator system out there in terms of its features and graphics, but the clear presentation, fast loading times and easy navigation more than make up for that.
Below, you'll find our guide to the Ford model range, including information on the various Ford model lines and trim levels with our recommendations on which models to choose. We've also compiled a jargon buster explaining all the commonly used Ford terminology that you'll encounter when using the configurator. It should all help you spec a new Ford car that suits you down to the ground...
Ford model range
Like most mainstream car manufacturers, Ford claims to have a car for everyone within its sprawling model range. The line-up is built around two of the most popular cars in the UK now and over the past decade and more: the Ford Fiesta and Ford Focus. Below, we explain the range structure and where the different model variants fit in.
Click the links to go to our full review on each model.
Ford small cars
The cheapest new Ford is the Ka+, a city car the props up the rest of the range. There's one five-door bodystyle and a single petrol engine available in this small car that counts the Volkswagen up! and Hyundai i10 among its rivals.
Above the Ka+ sits the supermini that needs no introduction: the UK's best-selling car, the Ford Fiesta. The Fiesta comes in three or five-door bodystyles with a wide range of petrol and diesel engines, plus numerous trim levels. The scope of choice for buyers reflects the huge number of Fiestas sold every year. Rivals for the Fiesta in the supermini class include the Volkswagen Polo, Renault Clio and Vauxhall Corsa.
Our recommendations:Ford Ka+ Zetec 1.2l Ti-VCT 85PS 5drFord Fiesta Zetec 1.0 Ecoboost 100PS 5dr
Ford family cars
Moving up to larger family cars, Ford has a couple more household names in its arsenal. The Ford Focus is another big seller with a wide range of engines and trims. There are five-door hatchback and estate versions on offer, while rivals include the Volkswagen Golf and Vauxhall Astra, but also more expensive premium-badged hatchbacks like the BMW 1 Series and Mercedes A-Class.
The Ford Mondeo is large family car with space to comfortably hold four large adults and a lot of luggage. It's also a well known name, but the Mondeo and cars of its ilk have seen their sales decline in recent years as buyers looking for this kind of capacity turn to SUVs. The Ford Mondeo comes in five-door hatchback and estate guises, with petrol, diesel and hybrid engine options. Its rivals include the Mazda6, Peugeot 508 and Volkswagen Passat.
Our recommendations:Ford Focus Titanium 1.5 Ecoboost 150PS 5drFord Mondeo Titanium Edition 2.0 TDI 150PS 5dr
Ford SUVs and crossovers
Ford EcoSportFord KugaFord Edge
SUVs and crossovers are a big growth area in the UK car market at the moment, with their chunky looks and elevated ride height continuing to attract buyers. Ford offers a line-up of three, opening with the compact EcoSport. The EcoSport has similar dimensions to the Ford Fiesta, but as you'd expect from a small SUV, it's a bit taller. There's one five-door bodystyle and a choice of TDCi diesel or EcoBoost petrol power, but there's no all-wheel-drive option. Rivals include the SEAT Arona, Nissan Juke and Peugeot 2008.
The Ford Kuga is Ford's mid-sized SUV, considerably larger than the EcoSport and offered with either front or four-wheel drive. It's a rival for the Peugeot 3008, Volkswagen Tiguan, Honda CR-V and many others in this competitive class. All Kugas have five doors and a range of petrol and diesel engines, with manual or automatic gearboxes.
Topping the Ford SUV line-up is the Edge, a large, family-friendly model. All versions of the Edge have the same five-door bodystyle and all-wheel-drive technology but the 2.0-litre Duratorq TDCi diesel engine comes in two states of tune (178 or 207bhp) and with a choice of manual or PowerShift automatic gearboxes. Rivals for the Edge include the Peugeot 5008, Kia Sorento and Skoda Kodiaq.
Our recommendations:Ford Ecosport Titanium 1.0 EcoBoost 125PSFord Kuga Titanium 2.0 TDCi 150PS Ford Edge Titanium 2.0 TDCi 180PS
MPVs
Ford C-MAXFord S-MAXFord GalaxyFord Tourneo Connect
The MPV sector is another that has suffered in recent times as the popularity of SUVs has grown, but Ford retains a wide range of options for buyers wanting the maximum practicality. The Ford C-MAX opens proceedings; it follows the tall, versatile MPV formula, and is roughly Focus-sized. There are two bodystyles to consider with the five-seater, five-door C-MAX and the extended seven-seater, five-door Grand C-MAX making up the choices. Engines-wise, there are petrol and diesel options with the TDCi diesel available with manual or PowerShift automatic gearboxes. Alternatives to the C-MAX include the Renault Scenic and Citroen C4 Picasso.
Ford has not one but two full-size MPVs to offer. The S-MAX and Galaxy seven-seaters share a platform, a five-door layout and lots of technology, but while the Galaxy is more your traditional practicality-focused MPV, the S-MAX takes a slightly more sporting approach, with a sleeker silhouette and a sharper driving experience. Alternatives to the pair include the SEAT Alhambra.
Like many other manufacturers, Ford also calls on its van range to offer customers affordable and spacious people-carrying options. The Tourneo Connect and Tourneo Custom are essentially versions of the Transit Connect and Transit Custom vans, with windows and seats added. If you want maximum space and durable construction from your MPV, they could be very good options. The Tourneo Connect is a five-seater, but there's an extended Grand Tourneo Connect that's available with five or seven seats. The Tourneo Custom comes in a huge range of configurations with seats for up to nine passengers.
Our recommendations:Ford C-MAX Titanium 1.5 TDCi 120PSFord S-MAX Titanium 2.0 TDCi 180PS Ford Galaxy Titanium 2.0 TDCi 150PSFord Tourneo Connect 1.5 TDCi 120PS>
Ford performance cars
Ford has a long and impressive record of developing performance cars and the current crop stand comparison with the best fast Fords from years gone by. For the first time in decades, UK buyers can visit a Ford dealer and sample the Ford Mustang, an American icon that comes with a 345bhp 2.3-litre turbocharged engine EcoBoost engine, or a huge 5.0-litre V8 for those who want to get to the Mustang's iconic muscle-car roots.
There's no ignoring the flagship of the Ford range, though - the Ford GT. It's a thoroughbred mid-engined supercar with a highly tuned 3.5-litre Ecoboost V6 engine that develops 650bhp.
Our recommendations:Ford Mustang 5.0 V8 GTFord GT coupe
Ford trim levels
Style
Style is usually the entry-level trim level in many of Ford's model ranges. It's designed to deliver a low starting price so buyers should only expect to get the essentials in terms of equipment.
Zetec
Zetec is a well known Ford trim level and is often the second rung on the ladder above Style. Zetec models of the Focus and Fiesta have become popular as they offer a sportier look than the entry-level variants, usually by adding features like alloy wheels, front foglamps and a leather-trimmed steering wheel inside. You would also expect to find more comfort and convenience features than in a Style model, but there's still a focus on keeping Zetec variants affordable. Generally we find Zetec to be a good compromise between style and cost.
Titanium
You'll encounter Titanium variants of Ford cars across the model range. This trim level is designed to signify a step up in luxury from the models below, with more advanced technology and higher-quality materials included as standard. Ford has been known to offer Titanium X, Titanium Nav and Titanium Edition variants which bring even more to the base Titanium specification. If you want a Ford with a classy feel that still won't break the bank, Titanium models are a good option.
ST-Line
ST-line is the top trim level for sportiness in the mainstream Ford hierarchy, one rung below a full-blown ST model, which would have a significant power boost. The ST-Line is designed to give the look of an ST without the extra running costs associated with a performance model. Large alloy wheels, redesigned bumpers, side skirts and lower sports suspension are to be expected and that latter feature means ST-Line Fords handle that bit more sharply than the standard cars. Also look out for ST-Line X variants, which usually include more in the way of technology features and interior trim upgrades.
Vignale
Vignale is a trim level and more. It was created by Ford to help it challenge premium manufacturers and is designed to deliver the ultimate in terms of luxury within the Ford range. As such, Vignale models are the luxury flagships in the Ford model lines, where they appear with a leather-lined cabin and a specification packed with the latest Ford technology that leaves little to the imagination. Naturally, all this tends to be reflected in the price and Vignale models often cost as much as alternative cars from premium brands.
Ford jargon buster
Engines and gearboxes
Ti-VCT Ford's Ti-VCT engines use Twin Independent Variable Camshaft Timing (Ti-VCT) to improve performance, fuel efficiency and emissions. The Ti-VCT engines can alter the timing of the intake and exhaust camshafts independently to achieve the best results in different driving situations. The technology is usually used in non-turbocharged engines.
EcoboostFord's Ecoboost engines use advanced turbocharging technology to achieve improved performance. It allows Ford to fit more efficient, smaller-capacity engines to its cars without sacrificing performance or pulling power – in theory at least. We've been very impressed by Ford Ecoboost units, but if you work them too hard, the fuel economy advantage can bleed away.
TDCiTDCi is Ford's diesel engine technology and stands for Turbo Diesel Common-rail injection. All the current diesel engines being offered by Ford use this technology, although the 2.0-litre version specifically is known as the Duratorq TDCi engine.
Common-rail fuel injection is widely used in diesel engines across the car industry. It allows the engine to make multiple high-pressure injections of fuel into the cylinder to closely control and enhance the combustion process. The end result is improved performance when you need it and better economy when you don't.
PowerShift
Ford's PowerShift gearbox is a twin-clutch semi-automatic with six gears. The dual-clutch system is designed to allow faster, smoother shifts, which can be made automatically or when prompted by you using steering-wheel shift paddles or the main gearlever. There's no foot-operated clutch in cars equipped with the PowerShift gearbox.
Safety
Active Park AssistFord cars with Active Park Assist can park themselves in parallel parking bays at the side of the road. You press the button and the sensors locate a suitable space as you drive past (one that's at least 20% longer than the car itself). Then, the car steers you into the bay, while all you have to do is operate the accelerator, gears and brake.
Cross Traffic AlertPart of the Blind Spot Information System on some Fords, Cross Traffic Alert can detect vehicles approaching from the left or right as you reverse out of a parking space. It warns the driver, who may have a restricted view to the sides of the car caused by other parked cars, of the danger by illuminating a light in one of the wing mirrors, depending which direction the car is approaching from.
Active City StopFord's Active City Stop is a system that's often referred to as Automatic Emergency Braking (AEB). At speeds of under 30mph, it becomes active and scans the road ahead. If a car in front unexpectedly comes to a halt and it detects an impact is imminent, the system can automatically apply the brakes, either reducing the severity of the accident or avoiding it completely.
Pre-Collision AssistLike Active City Stop, Ford's Pre-Collision Assist safety feature scans the road ahead for potential obstacles. It functions at speeds of up to 50mph and if a car or pedestrian is detected in the road, it first warns you of their presence. If you fail to respond, the system will automatically apply the brakes to either avoid or reduce the severity of the accident.
Adaptive Cruise ControlA step up from traditional cruise control, Adaptive Cruise Control lets you select the speed at which you want to travel then automatically maintains it. If sensors detect a car ahead, the system will slow your car to keep a pre-set distance from that vehicle. Once the road ahead becomes clear, it'll accelerate up to the desired speed again.
Curve ControlFord's Curve Control is designed to help you maintain control of the car if you enter a corner too quickly. If understeer is detected and the system thinks you might be losing control, it reduces engine torque and applies braking to individual wheels to help rectify the situation.
Traffic Sign Recognition (TSR)The Ford Traffic Sign Recognition (TSR) system automatically reads temporary and permanent road signs and displays an icon on the instrument cluster to inform you of relevant information from the current speed limit to no-overtaking signs.
Technology and comfort features
SYNCSYNC is Ford's infotainment technology. Depending on the model and whether is has SYNC, SYNC 2 or SYNC 3 installed, navigation, stereo, mobile-phone pairing, voice control and more can all fall under its remit. SYNC 3 is the latest incarnation of the SYNC technology and it includes an eight-inch touchscreen interface with pinch and swipe gesture commands. There's also full Apple CarPlay and Android Auto integration. Ford has lagged behind its main rivals on infotainment technology in recent years, but the SYNC 3 system is a big improvement and well worth specifying.
EcoModeWith EcoMode on board, your Ford can monitor your driving behaviour and its effect on your car's fuel consumption. The system tracks inputs that affect speed, gear selection, braking and anticipation on short and long journeys, then gives you a rating. Take steps to drive in a more economical fashion and that rating will improve.
MyKeyMyKey is a Ford innovation that gives you control over certain parameters when you lend your car to a friend or one of your children. The car's owner keeps the unrestricted admin key for themselves, giving the MyKey to whoever's borrowing the car. Using the in-car menu system accessible with the admin key inserted, the owner can set limits for the car's speed and the volume of the stereo – it's also possible to add a seatbelt reminder. Anyone with the MyKey will then have to abide by these pre-set limits.
Easy-FuelFord's Easy-Fuel system is a clever means of preventing anyone from putting the wrong fuel in their Ford. Lift the fuel filler flap on a Ford equipped with Easy-Fuel and you're faced with a capless nozzle. If it's a diesel car, a petrol pump won't fit in the nozzle and visa-versa. It's simple, clever thinking from Ford.
Ford Mustang Mach 1 limited edition coming to the UK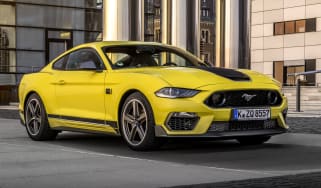 Ford Mustang Mach 1 limited edition coming to the UK
Ford Fiesta diesel engines axed from range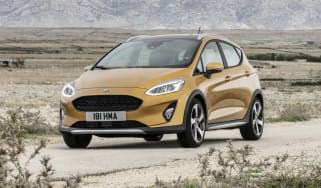 Ford Fiesta diesel engines axed from range
New 2020 Kia Stonic SUV: prices and specs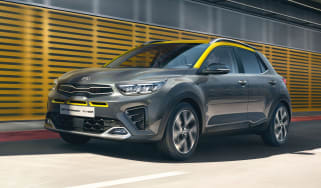 New 2020 Kia Stonic SUV: prices and specs
Updated Peugeot 5008 starts at £29,585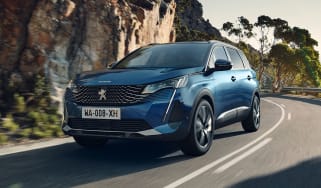 Updated Peugeot 5008 starts at £29,585
Cupra Formentor SUV review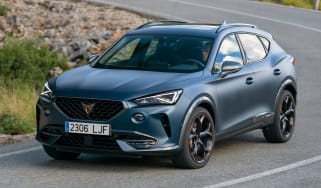 Cupra Formentor SUV review