New cars 2017: a complete guide
Looking to buy a new car in 2017? Here are the dates and details for the most anticipated new car releases of the year.
Carmakers never rest. Design and development teams are constantly pushing forward with new ideas and features and a brand-new car is seemingly launched every single month.
This is great news, because today's motorists have never seen so much variety. Right now there are around 300 models to choose from on the UK car market – every single one of which needs to be kept up-to-date by its maker in order to stay competitive. And when a car has been on the market for long enough, typically between five and seven years, an all-new model will be rolled out to replace it, often with a bold new look and an ever more impressive list of standard features.
As well as keeping existing models fresh, carmakers are always looking for new niches to tap into. Most recently we've seen a lot of action in the SUV class, with many families eschewing traditional hatchbacks in favour of tough-looking off-road-styled crossover vehicles. This has seen many famous names introducing cars quite unlike anything they had offered before.
Increased interest in low emissions and alternative power has also fuelled the development of new cars, and carmakers are increasingly augmenting their line-ups with electric, plug-in hybrid or fuel-cell powered cars instead of relying on petrol and diesel. Some of these share their looks and structure with existing models, while some are new from the ground up and designed to make the very best of the latest technology.
Such a busy industry can be very hard to keep tabs on, and it's easy to lose track of which new models we can expect to see over the coming months. To make it easier, we've assembled a simple list, arranged alphabetically by brand, of all the new cars expected to launch during 2017.
We've included all types of car, so if you're planning to buy a city car or a supercar, a practical SUV or even your first all-electric model, our list tells you what all the major carmakers will offer by the end of 2017.
Read on for a rundown of every new car scheduled for release in 2017.
Page 1: Abarth, Alfa Romeo, Alpine, Aston Martin, Audi, BMW, Citroen, Ferrari
Page 2: Ford, Honda, Hyundai, Infiniti, Jeep, Kia, Land Rover, Mercedes
Page 3: MINI, Nissan, Peugeot, Porsche, Renault, Skoda, Smart, TVR and Vauxhall
Abarth 500X
More and more people are buying SUV models, and that includes customers after high-performance cars. Manufacturers are only too happy to oblige, and the Abarth 500X is one model aimed at tempting buyers away from a hot hatch or sports saloon. Larger brakes, gunmetal alloy wheels and mesh grilles give the Abarth 500X plenty of attitude, and a version of Fiat's 1.4-litre turbocharged petrol is expected to offer around 200bhp. Costing in the region of £25,000 when it arrives in summer, the fastest 500X will take on the Nissan Juke Nismo RS and MINI Countryman Cooper S.
Alfa Romeo Stelvio SUV
Like the Abarth 500X, the Alfa Romeo Stelvio is a high-riding Italian car with a clear focus on performance. A key player in Alfa's new range, the Stelvio shares its underpinnings with the excellent Alfa Romeo Giulia saloon, which bodes well for the car's handling. The range-topping Stelvio Quadrifoglio will also get the same 503bhp petrol engine as the fastest Giulia. A 2.2-litre diesel engine will be far more common, however, with a number of power outputs likely to be offered. A 2.0-litre petrol is also expected. Prices will begin from around £35,000 and the first UK customers should expect delivery in late 2017. The Alfa Romeo will be a new rival to models like the BMW X3, Porsche Macan, Jaguar F-Pace and Audi Q5.
Alpine coupe
The Renault Alpine is another resurrection for Renault: the first Alpine was a rear-engined sports car with rallying heritage, while the Alpine GTA of the eighties was one of the most distinctive cars of its era, and a genuine rival to Porsches of the time. With the new Alpine, Renault is seeking to re-establish its sports-car credentials by building a mid-engined model, while the Alpine is likely to be one of the lightest cars in its class, too. This focus on weight-saving should mean the Alpine will have a relatively small engine, yet still be capable of 0-62mph in around 4.5 seconds. If Alpine is able to achieve this blend of economy and performance, the beautiful yet flawed Alfa Romeo 4C coupe will have a worthy rival. Although full specifications have yet to be released, order books are already open, and the Alpine can be reserved via a dedicated smartphone app.
Aston Martin V8 Vantage
It's been a big year or so for Aston Martin. First, Mercedes-AMG invests in the company, then it launches the DB11 – the successor to the iconic DB9 – and now it's replacing the V8 Vantage. As before, the Vantage will use a petrol V8 engine, but this time it will be sourced from its new partners at Mercedes-AMG. It's the same twin-turbocharged 4.0-litre V8 that's found across the Mercedes-AMG range, including the GT supercar. It's likely to have around 500bhp and manage 0-62mph in around four seconds. It'll also borrow Mercedes' excellent COMAND infotainment system. On sale in Autumn 2017, it'll start at around £90,000, with a more expensive Vantage convertible set to follow.
Audi A5 Sportback
The Audi A5 range is in the process of being renewed. The new A5 coupe is already on sale, and it'll soon be joined by the 2017 Audi A5 Sportback. As before, it's a four-door version of the A5 (or a hatchback version of the Audi A4, if you prefer). It'll feature the same smart styling and upmarket interior found throughout the A4 and A5 ranges. The engine range comprises two petrols and three diesels, offering varying blends of economy or performance. The most efficient 'Ultra' models promise 68mpg. At the other end of the spectrum sits the Audi S5 Sportback, with a 349bhp engine good enough for 0-62mph in 4.7 seconds.
Audi A6
It's a big year for the executive saloon class, with the Mercedes E-Class, BMW 5 Series and now the Audi A6 all being replaced with new versions within a 12-month period. Unsurprisingly, the new A6 won't be a revolution when it comes to exterior design, but there will be plenty of innovation under the skin. It'll get all-new engine and gearbox technologies, including electric turbochargers (which means the turbochargers are spun up by electric motors rather than exhaust gases, improving engine response), and it will be based on a new platform. This will help it to lose 100kg over the outgoing version, improving efficiency and performance. It will also make it sharper to drive, even if you don't need to, thanks to the next generation of self-driving tech that will feature. Expect the new A6 to go on sale in Summer 2017, priced from around £35,000.
Audi A6 Allroad
We've been drip-fed a number of concept cars that hint at what the next A6 will look like, including the Prologue Allroad that was shown at the 2016 Shanghai Motor Show. As expected, it resembles an estate version of what we think the Audi A6 will look like, but with jacked-up suspension and some rugged bodywork. Quite how close this is to the production version, we can't be completely certain, but it's likely to be pretty close. Under the skin, the Prologue Allroad features a 724bhp petrol-electric hybrid system that probably won't make it into the production model, but a version of it could power the next RS6 Avant performance version of the A6 estate. Prices for the next-generation Audi A6 Allroad are expected to start at around £47,000 when it goes on sale next year.
Audi A8
While we haven't seen any official pictures of the forthcoming new Audi A8 luxury saloon, we do know that it'll be heavily influenced by the Prologue concept car that was unveiled at the 2014 LA Motor Show (pictured). Details are also sparse just now, but it will definitely feature some very advanced self-driving tech – in particular, the car will be able to take complete control of itself and even allow the driver to take their eyes off the road (where the law allows). Initially it'll only be available with a 3.0-litre diesel engine, but more powerful V8 petrols and diesels will join it. There's likely to be some hybrid tech at some point, too, while a high-performance S8 will also arrive at some point to rival the Mercedes-AMG S63, Jaguar XJR and the BMW 760Li.
Audi Q5
If there's one model in Audi's range feeling its age, it's the Audi Q5. That'll change by the end of 2016 with the introduction of an all-new model. The looks are still under wraps at the moment, but it's likely to feature the large grille and bold shoulder lines found elsewhere in Audi's range. It'll be lighter than the current car – and both cheaper to run and better to drive as a result. The interior will feature the same technology found in the latest Audi A4, including the excellent Virtual Cockpit digital instrument display. The engine range will be biased towards diesel, and the 148bhp 2.0-litre TDI is likely to be the most popular. Prices are likely to start around £31,000 for front-wheel-drive models and £33,000 if you want Audi's quattro four-wheel-drive system.
Audi R8 Spyder
It might be on sale from next month, but first deliveries of the Audi R8 Spyder probably won't arrive until early 2017, so that justifies a place on this list. Oh, that and the small matter of a 533bhp 5.2-litre V10 sitting behind the seats. It'll do 0-62mph in just 3.6 seconds before topping out just shy of 200mph. These numbers make it one of the fastest drop-tops in the world, although not quite as quick as the R8 coupe (blame the Spyder's extra weight and less aerodynamic shape for that). The roof takes 20 seconds to go up or down and can be operated while the car is moving at speeds of up to 31mph. The R8 Spyder also comes with Audi's clever Virtual Cockpit, which allows the driver to switch between viewing the instruments, sat nav and media on a crystal-clear digital display behind the wheel. You will have to pay for all this performance and kit, though: £129,990 to be exact…
Audi SQ2
Even though the standard Audi Q2 has only just arrived, Audi is already gearing up for the car's high-performance SQ2 sibling. Considering the fact that it's based on the same platform as the Audi A3 hatch, we'd be surprised if it used anything other than the hot S3's 306bhp 2.0-litre turbocharged four-cylinder petrol engine combined with four-wheel drive. This will mean buyers will have the choice of six-peed manual or dual-clutch automatic gearboxes. There's also room in the range for an even more powerful RS Q2, which could use the awesome 376bhp turbocharged 2.5-litre five-cylinder engine from the RS3.
Audi TT RS
If you want similar performance to the ballistic Audi R8 Spyder but don't quite have £130,000 knocking around in your back pocket, then the Audi TT RS could be for you. Thanks to its 395bhp turbocharged five-cylinder petrol engine, quattro four-wheel-drive system and a seven-speed dual-clutch automatic gearbox, it'll do 0-62mph in 3.7 seconds – just 0.1 seconds slower than the R8 Spyder. Despite this huge performance, it will set you back only £52,000. Not cheap, by any means, but less than half the price of the convertible R8. The TT RS goes on sale in November 2016, with first cars arriving early in 2017.
BMW i5 SUV
The BMW i5 continues BMW's focus on building ultra-efficient cars with plug-in and hybrid power, first seen in the i3 electric car and i8 coupe. While little information is currently available about the i5, it's thought the car will be a crossover-style five-seater plug-in that closely resembles BMW's current range of 'i' cars. The i5 reinforces how seriously BMW is taking efficiency – the German brand aims to make a wide range of vehicles with zero CO2 emissions over the coming years.
BMW X2
It's not too much of a stretch to imagine what the BMW X2 will look like. Just picture a BMW X1 with the same coupe-like rear end as the BMW X4. As such, the X2 will be more daring in its styling and more overtly sporty. That means it'll likely be less roomy inside, with that sloping roofline cutting into rear headroom. The X2 will be based on the same underpinnings as the BMW 2 Series Active Tourer and MINI Countryman, meaning it'll be front-wheel drive as standard, with four-wheel drive an option. Engine-wise, expect three versions of a 2.0-litre diesel and a 2.0-litre petrol. A plug-in hybrid system could also feature, as it will in the X1, marrying a petrol engine with an electric motor.
BMW Z4 roadster
The current BMW Z4 (pictured) is a popular choice for those seeking a stylish two-door sports car thanks to its sleek looks and engaging driving experience. While the only images available of the new Z4 (which may be called the Z5) are of a heavily disguised test car, it's clear that the low, long bonnet of the current car remains, while at the rear a new sharper and squarer boot hints at a more purposeful design. Interestingly, BMW seems to be moving away from the heavy metal folding hardtop currently featured in the Z4. A BMW insider told us the new Z4 will be built with lightweight construction techniques similar to those used for the ultra-efficient BMW i3 electric car and BMW i8 coupe.
Citroen C3
Citroen hopes that 2017 will be the year the Citroen C3 triggers the public's imagination. The company's Fiesta rival has always been rather overlooked in the crowded supermini class, so it's starting from scratch with an all-new replacement car. Taking inspiration from the Citroen C4 Cactus, 'Airbump' protection panels will be a key styling cue of the C3, as will two-piece headlamps and multi-tone colour schemes. Inside there'll be a sleek, minimalist dashboard with a seven-inch display, incorporating up-to-date features like Apple Carplay integration. Citroen will also introduce an industry first in the new C3 – a ConnectedCam system intended to record incidents or collisions. The range will be powered by 1.2-litre petrol and 1.6-litre diesel engines, initially available only with a six-speed manual gearbox.
Citroen Grand Cactus SUV
If the forthcoming Citroen Grand Cactus is as good as the C4 Cactus, Citroen will be on to a good thing: the C4 Cactus was our 2015 Carbuyer Car of the Year thanks to its innovative styling, excellent fuel economy and comfortable driving experience. Citroen is hoping to build on this success with the Grand Cactus, which is likely to feature a raised SUV-style design, hybrid technology and seven seats. Although it's possible the Citroen Grand Cactus will have a different name when it goes on sale, it's clear that Citroen is going through something of a resurgence right now, building practical and desirable cars that stand out from the crowd.
Dacia Sandero
Dacia has already made quite an impact on the UK car market, offering a lot of car for little money, and improvements to its range for 2017 seem likely to attract an even greater number of cost-conscious customers. Its entry-level offering, the Dacia Sandero, already offers a Fiesta-sized model for the price of a city car, and improvements to its fit, finish and feature list in 2017 should see it further encroaching on sales of more well-known brands. Externally, the updated Sandero is distinguished by sharper-looking headlights and LED running lights on higher trim levels, adding styling influences to the grille and front bumper from the successful Dacia Duster SUV. Internal surfaces will benefit from higher-quality materials and the use of satin-chrome metallic finishes on certain touch points, increasing tactile appeal.
Dacia Logan MCV
The commodious Dacia Logan MCV instantly carved its own niche in the UK market on its introduction in 2012, providing carrying capacity comparable that of a Ford Focus Estate at a price considerably lower than that of the least expensive Ford Fiesta. And although the car was basic in the extreme in terms of features, there was nothing much wrong with the fundamentals, with modern engines and class-rivalling safety equipment. By now it's well deserving of an update though, and for 2017 it gets one. The nose styling is tidied up and brought in line with the Duster SUV, while the interior is spruced up with higher-quality materials. Storage space for small items will be improved, too, while technology gets a boost with a reversing camera and hill-start assistance becoming available.
Ferrari GTC4Lusso T
The new Ferrari GTC4Lusso T has a pretty confusing name, but there's nothing confusing about its appeal. The big V12 engine from the regular GTC4Lusso has been replaced by a smaller V8, and as a result its price tag is expected to be substantially less than the current car's £230,000. That's not all: the GTC4Lusso T is rear-wheel drive rather than four-wheel drive and it's lighter as a result. The engine has been lifted from the stunning Ferrari 488 GTB, albeit detuned, but it'll still achieve a 0-62mph time of 3.5 seconds on the way to a 198mph top speed. The new car has four surprisingly spacious seats and that 'shooting brake' bodystyle provides a decent-sized boot.
Continue to page 2 to discover more of 2017's most exciting cars, including new models from Ford, Land Rover and Mercedes.
Speed awareness course: how much does it cost, how long does it take and how do you do one online?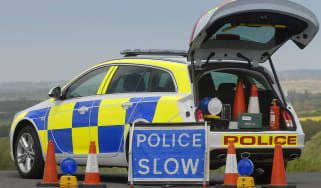 Speed awareness course: how much does it cost, how long does it take and how do you do one online?
New car delivery times: how long will you have to wait?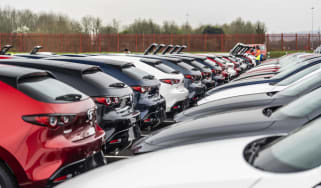 New car delivery times: how long will you have to wait?
Best new car deals 2022: this week's top car offers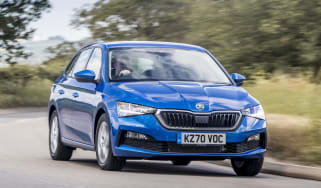 Best new car deals 2022: this week's top car offers