Best tow cars
Choosing the best tow car can be tricky, so read our rundown of 10 great models. We've selected a range of cars with excellent towing credentials to suit most budgets and requirements.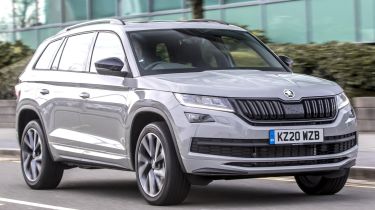 While many motorists never have a need to tow trailers with their cars, those that do need to buy the right car in order to tow safely and legally. Whether you need extra space for a tip run or the best cars for towing a caravan for your holidays, there are cars whose impressive towing capacities are paired with design considerations that help make the business of towing as simple, safe and unintimidating as possible.
If you're buying a car with regular, heavy-duty towing in mind - perhaps a caravan or horsebox - it's likely you'll be looking for an SUV or large estate car with a powerful diesel engine, great stability and a suitably large maximum towing capacity. If occasional, lighter loads are more likely, you can exercise some creative licence with your choice of tow vehicle: most small superminis or family hatchbacks can manage a 1,000kg braked trailer, for example.
Whichever car you choose for towing, you should make sure that you are equipped for the task by checking that your driving license entitles you to do so. The UK Government provides a guide to towing regulations to keep you towing safely and legally.
Read on for our list of the best tow cars on sale in Britain.
The Skoda Kodiaq was the overall winner of the 2018 Tow Car of the Year award, along with taking top spot in the £33,000-£38,000 category and first place in the class for four-wheel-drive models weighing up to 1,800kg. A resounding victory then, proving just how adept the 2.0-litre TDI diesel with 187bhp, four-wheel drive and an automatic DSG gearbox is at hauling a caravan safely and smoothly up and down the country.
With a maximum towing capacity of 2,000kg, it should easily be able to cope with pulling a large family caravan, motorboat or even another car on a suitable low loader.
If money's no object, the Volvo XC90 is a consummate tow car and surely a pin-up in the Caravan & Motorhome Club offices. It took the honours in the over-£50,000 class, thanks in part to the blistering performance of its clever 2.0-litre petrol and electric motor plug-in hybrid powertrain, with almost 400bhp.
Even with a huge 1,973kg caravan hooked onto its tow bar, it still managed to zoom from 30-60mph in 7.3 seconds. Unhitch the trailer and it'll sprint from 0-62mph in a sports-car-like 5.3 seconds. Of course, it's not all about speed: the XC90 qualifies for cheap company-car tax and can travel for up to 25 miles on electricity alone, making it a silent and zero-emission companion until the petrol motor chimes back in.
If you're looking for a great family car to tow with, the Insignia Grand Sport should more than suffice. The 1.6-litre diesel version with 134bhp took top honours in the £24,000-£26,000 category, beating SUVs with its combination of low fuel consumption and emissions, along with a respectable towing limit.
It's ideally suited to company-car drivers who also want to take the family camping at the weekend, or who enjoy sports that require a trailer to carry equipment.
The Audi A6 Allroad 3.0-litre TDI with four-wheel drive looks and feels as if it was designed for towing from the outset. Not only does it have a powerful and smooth engine to whisk your caravan up to its cruising speed, but once at your chosen velocity, you'll feel completely confident in its brakes and handling.
It can manage a braked trailer weighing up to 2,500kg, or a 750kg unbraked trailer, which will be more than enough for the vast majority of buyers who regularly tow. The A6 Allroad is also hi-tech and luxurious, while the 565-litre boot will swallow all the things you could possibly need for a trip away. The smaller and cheaper Audi A4 Allroad can tow two tonnes without a problem.
If you're happy to splash out a little, the Volvo XC60 is the Caravan Club's top tow car in the £38,000-£50,000 class. It's not hard to see why, because its eight-speed automatic gearbox and four-wheel drive are the perfect combination when it comes to smoothly speeding up and slowing down a caravan with the minimum of fuss.
Fitted with a 188bhp 2.0-litre diesel, the XC60 can tow up to 2,400kg, which should be more than enough – even if you have a horsebox. Pulling a caravan it managed to double its speed from 30-60mph in 12 seconds, representing a typical overtaking manoeuvre or accelerating along a slip road. Fuel economy of 54.3mpg and emissions of 136g/km should also mean the Volvo can get you to Cornwall or Scotland without having to visit every motorway services along the route.
Recently updated, the Dacia Duster is a competent SUV that remains a great-value choice – it's bigger and more rugged than pretty much any other SUV at a similar price. With a diesel engine and four-wheel drive, the Dacia Duster can tow a braked trailer up to 1,500kg, while petrol and front-wheel-drive versions manage 1,400kg.
When you're not towing a caravan or taking a trailer-load of rubbish to the tip, the Duster performs admirably as a practical, no-frills everyday SUV, all for nearly half the price of its closest-sized rivals – just don't expect the last word in polish or refinement.
A list of the best tow cars wouldn't really be complete without a Land Rover, and the Discovery Sport is our pick thanks to its reasonable price (by Land Rover standards) and seven-seat versatility. The Discovery Sport also has near-unbeatable grip thanks to its excellent four-wheel-drive system, which caravanners will welcome if the weather turns for the worse and you're faced getting the outfit moving on a muddy campsite.
The Discovery Sport will serve extremely well up to a towing limit of 2,200kg, providing all the comfort and versatility a family could need. If you need a higher towing limit, the Land Rover range is happy to oblige and the bigger, more powerful Range Rover Sport extends that figure to 3,500kg, although it's significantly more expensive to buy and to run.
A new pickup truck award was created for the 2018 Tow Car of the Year awards and quickly snapped up by the Volkswagen Amarok. Perhaps its 3.0-litre V6 TDI diesel with 221bhp make it a shoe-in, giving the VW impressive towing performance. Its size undoubtedly helped, too, giving the Amarok rock-steady stability over windy and hilly roads.
A maximum towing weight of 3,100kg means you can tow almost anything, all while the load bed hauls additional kit. A convenience-boosting electric tow bar is also offered as an option.
The Tesla Model X is still one of the few electric cars that can tow, and its hugely powerful electric motors mean towing a large caravan or trailer won't be a problem. Its 2,270kg towing capacity is impressive, not only for an electric car. When you plug in a trailer's electronic unit, the Model X automatically disengages selected features like the rear parking sensors and the automatic steering assistance, while it also has a system that prevents the trailer swaying from side-to-side.
Not many electric or hybrid cars can tow large loads because the weight of the trailer could overwhelm the car and drain the battery too quickly. It's worth checking out our guide to towing with an electric or hybrid car before deciding to buy an alternative-fuel vehicle.
The SsangYong Korando is a budget SUV, but its traditional underpinnings make it ideal for towing. In fact, it won the Caravan & Motorhome Club Tow Car Awards in the under-£24,000 category. For its price, a maximum towing ability of 2,000kg is exceptional and judges were impressed by the Korando's high-speed stability and ability to swiftly change lanes without issue.
The Korando has been updated since its award, with new styling and a 1.6-litre diesel engine instead of a 2.2-litre. SsangYong offers a Pioneer spec, which is actually aimed at caravan owners, and it has that large towing capacity whether you pick the front- or four-wheel-drive model. Both come with an automatic gearbox.
Best new car deals 2020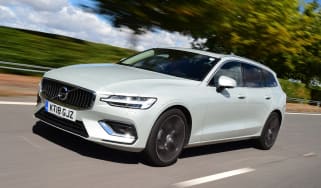 2020 scrappage schemes: the complete guide
2020 scrappage schemes: the complete guide
The UK's top 10 best-selling cars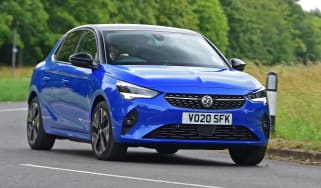 The UK's top 10 best-selling cars