Cheap cars to insure
Finding a car with a low insurance group rating can save you hundreds of pounds each year. We pick 10 of the best cheap cars to insure.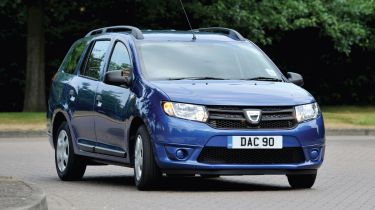 Car insurance is one of the biggest annual expenses associated with car ownership – and as because it's a legal requirement that to have insurance it's not one you can avoid. However, there are some very capable and desirable cars on the market that cost remarkably little to insure.
The cost of insurance partly depends on which 'insurance group' your car is classified in. The Association of British Insurers (ABI) and the Lloyds Market Association work together to decide on the specific insurance risk that a new car presents. They look at factors including vehicle price, repair costs, engine power and security measures. They also use a formula to determine how likely a car is to be stolen or to be involved in a collision.
This research leads to a car being given an insurance group rating from 1 to 50. If you look at a given model range, you'll usually find that an entry-level model with a small engine is rated in a lower insurance group than one with a bigger, more powerful engine. And it's common for two all-but identical models to have differing insurance ratings simply because of differing trim levels. If you want the very cheapest insurance available, make sure to check out our guide to the best insurance group 1 cars.
Small, low powered cars are usually the least expensive to insure, which helps to keep them popular among young or inexperienced motorists. It's worth remembering that your personal circumstances also have a big part to play in determining your insurance cost – insurers will generate a quote for cover based on your age, occupation, driving history and where you live. Considering a telematics device, or 'black box,' can bring down the cost of your premium, as your insurer can monitor your driving and reward you for driving safely.
While it's unlikely you'd consider moving house just to reduce your car insurance costs, choosing a car that reduces your insurance outgoings is a very sensible move. And fortunately, affordable insurance doesn't need to limit you to a tiny, impractical car.
As you'll see, our top 10 list of the cheapest cars to insure contains many different types of car. While the inclusion of small superminis might not surprise you, the presence of larger, more practical cars in our list is likely to put budget-conscious families at ease.
Aside from the topic of insurance, If you're looking for a car which won't break the bank to run, you'll find our top 10 articles for the best first cars and most economical cars useful, along with our advice articles on how to get affordable car insurance if you're a young driver and our guide to car insurance.
The Romanian brand Dacia is all about value for money and the Logan MCV really is a lot of car for a very small outlay. Although some models cost little more to buy than a Volkswagen up! city car, the Logan MCV is about the same size as a Volkswagen Golf Estate and has a similarly practical boot, along with a spacious interior. There's more good news on the cost front, as entry-level 1.0-litre petrol models are listed in insurance group two, and if you sidestep the rather austere Access model for the better-equipped Ambiance with air-conditioning, remote central locking and DAB radio, it makes a hugely versatile family workhorse.
If you plan to make longer journeys, though, the more powerful 0.9-litre turbocharged petrol or 1.5-litre diesel will be better suited, although these push insurance up to groups eight and nine respectively. If the Dacia name isn't familiar, fear not – the brand is long established in Europe and is part of the Renault empire, sharing technology and components with popular cars like the Renault Clio.
The VW up! is one of three almost-identical city cars from the Volkswagen Group – the other two are the Skoda Citigo and SEAT Mii - but it's now the only one you can buy with a petrol engine. The up! is arguably the classiest of the three; many will appreciate the prestige of the famous VW badge. There's a choice of modern petrol engines available and the 59bhp 1.0-litre unlocks an inexpensive group three insurance rating.
Unlike some city cars, the up! doesn't feel out of its depth on the motorway or in heavy traffic. However, if you feel more comfortable with a little more power, a group five insurance rating means the 74bhp version is only slightly more expensive to insure - bear in mind that they're now only available on the used market. The 74bhp engine is our favourite and its thrummy sound, impressive fuel economy and easy-going attitude make it a very appealing choice for town or country driving.
The latest SEAT Ibiza is not only a significant improvement on its predecessor, but one of the most refined superminis you can buy. It has much in common with the Volkswagen Polo and an enticing array of standard equipment, including metallic paint, DAB radio, smartphone mirroring and air-conditioning.
Further up the range, the Ibiza offers many luxuries previously reserved for much bigger cars. To get cheap insurance, you'll want to look at the naturally aspirated 1.0-litre 'MPI' petrol engine with 79bhp, as this sits in groups 2-5, depending on trim level. If you can stretch to group eight insurance, the 94bhp 1.0-litre TSI engine is worth a look; it has a turbocharger for sprightlier performance and almost identical fuel economy.
The Kia Rio is a spacious Ford Fiesta rival with an upmarket appeal and low running costs. This extends to its insurance ratings, with the star of the range being the 1.25-litre petrol in 2 specification, which has a group four insurance rating to match. Part of the reason for such a low band is the fact that the Rio 2 comes with autonomous emergency braking (AEB), which can apply the brakes if an imminent collision is detected. This engine is also affordable to run thanks to its 45+mpg claimed fuel economy.
With space for adults in the front and back seats, the Rio is practical for a supermini, with a 325-litre boot. It's also well equipped, with a tablet-style touchscreen available with Android Auto and Apple CarPlay compatibility to connect your smartphone. Throw in Kia's unrivalled seven-year warranty and the Rio is a great choice if you need to want to keep a close eye on your motoring budget. Like the Ibiza, the turbocharged petrol engine sits in group eight but it arguably provides the best mix of performance and economy.
The Ford Fiesta is almost always the UK's best-selling car, and part of its appeal is how much it costs to insure. If you hunt out a Style model on the used market, the 1.1-litre petrol engine provides very affordable insurance as it's in group two. This model is no longer available, but the current entry-level Trend has a reasonable group-five rating. The Trend comes with much more standard equipment than the Style did, including an eight-inch touchscreen with Apple and Android connectivity, air conditioning, all-round electric windows and fog lights.
Even the base models are great fun to drive - the Fiesta is still the best-driving supermini on sale. Elsewhere, the Fiesta is quite spacious and has a bigger boot than some of its rivals, while inexpensive servicing and the sheer number of Ford dealers contribute to the Fiesta's appeal.
The 69bhp 1.2-litre petrol model of the Fiat 500 isn't the most powerful or economical city car, but it does mean you can enjoy low insurance premiums. Pop and Lounge models sit in groups five and six respectively, and the latter adds lots of handy extra features - notably split-folding rear seats, parking sensors and cruise control.
Almost all versions of the 500 come with a nifty 'city steering' button, which makes the steering incredibly light and means parking is a breeze. The Fiat 500 and this engine have been on sale for quite some time now, but we think that's a positive; there are plenty to choose from, and any problems should be easy and inexpensive to fix.
Many of the cars on this list are small city cars and superminis, but the Vauxhall Mokka X shows you can have a family SUV and still not pay a huge amount of money to your insurance company. It's a spacious SUV with a familiar, easy-to-use dashboard and enough tech to keep everyone happy, and the driving experience is similar too.
If you need four-wheel drive, the Mokka X is a good choice; many of its rivals don't offer it (it's worth noting that a four-wheel-drive model will cost slightly more to insure). The entry-level 1.6-litre petrol slots into group seven and is plenty if you mainly do short, urban journeys, and you don't miss out on the essential features either - Design Nav includes smartphone connectivity, cruise control, air con and sat nav.
If you'd prefer your family car to look a little sportier and sleeker but still be relatively cheap to insure, the Hyundai i30 Fastback starts in group eight. The Hyundai i30 is one of the cheapest new family hatchbacks to insure, and the Fastback version offers a bigger boot and a coupe body style similar to more expensive cars from Mercedes and BMW.
The Hyundai i30 Fastback is well-equipped, too, with sat nav, wireless phone charging and a reversing camera all standard. If you'd rather the hatchback or the practical estate, all three body styles start in group eight.
A previous Carbuyer Car of the Year winner, the fantastic-value Hyundai i10 remains one of our favourite small cars. It's good-looking inside and out, well equipped and – with five doors and a 252-litre boot that beats its rivals for size – practical, too. The entry-level 1.0-litre petrol is impressively cheap to insure and is also economical, bringing running costs right down. It's not the quietest or smoothest car for long motorway journeys, but it comes highly recommended as a cost-effective urban runabout.
If you've long distance friends or family members you visit from time to time though, we would recommend choosing the more powerful 1.2-litre engine. While this will push insurance premiums up a little thanks to an increase in its rating, you'll probably be glad you went for the punchier model when it comes to motorway overtaking, but it'll still be genuinely affordable for almost every driver.
Some petrol Skoda Citigo models occupy insurance group two, which might make the electric model's group 11 rating look very high. However, it's one of the cheapest electric cars to insure and offers a decent range compared to similarly priced rivals. Factor in charging that costs much less than a tank of petrol and VED (road tax) exemption, and the Citigo e iV should be otherwise very cheap to run.
We praised the petrol Citigo for its surprisingly spacious and well-built interior, plus its refinement on faster roads, and those positives are applicable for the EV version too.
Best insurance group 1 cars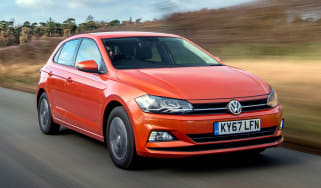 Best insurance group 1 cars
Special edition cars: the best, worst and weirdest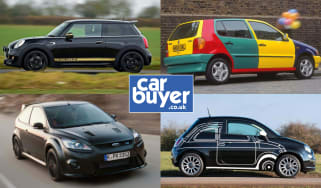 Special edition cars: the best, worst and weirdest
Cupra Formentor SUV review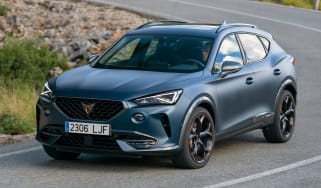 Cupra Formentor SUV review
2020 Volkswagen ID.3 hatchback: base model starts at under £30k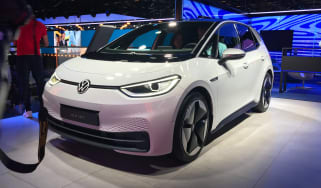 2020 Volkswagen ID.3 hatchback: base model starts at under £30k
Audi Q8 gains plug-in hybrid versions with 28-mile electric range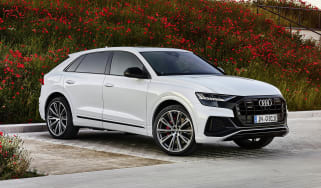 Audi Q8 gains plug-in hybrid versions with 28-mile electric range