Used Volvo XC60 review: 2017-present (Mk2)
Classily styled inside and out, spacious, safe and well-equipped, the Volvo XC60 is a first-rate used car choice
Pros
Very stylish
Spacious cabin
Lots of safety equipment
Cons
Boot is shallow
Not much fun to drive
Fiddly infotainment system
The Volvo XC60 Mk2 stands out for the restrained elegance of its design, both externally and within, in a busy sector of the car market. A Swedish company (though currently Chinese-owned), Volvo has embraced its home nation's penchant for clean, modern design to give its mid-sized SUV a distinctive identity, vital when facing rivals of the quality of the Audi Q5, BMW X3 and Mercedes GLC.
Another point of differentiation for the Volvo XC60 Mk2 is the way it drives compared with its competition. Volvo has prioritised comfort and safety over a high-thrills driving experience – if you're the sort of driver who appreciates a bit of fun behind the wheel this could mean the XC60 Mk2 is not the car for you, but for most people the Volvo performs with more than enough vigour to satisfy their needs.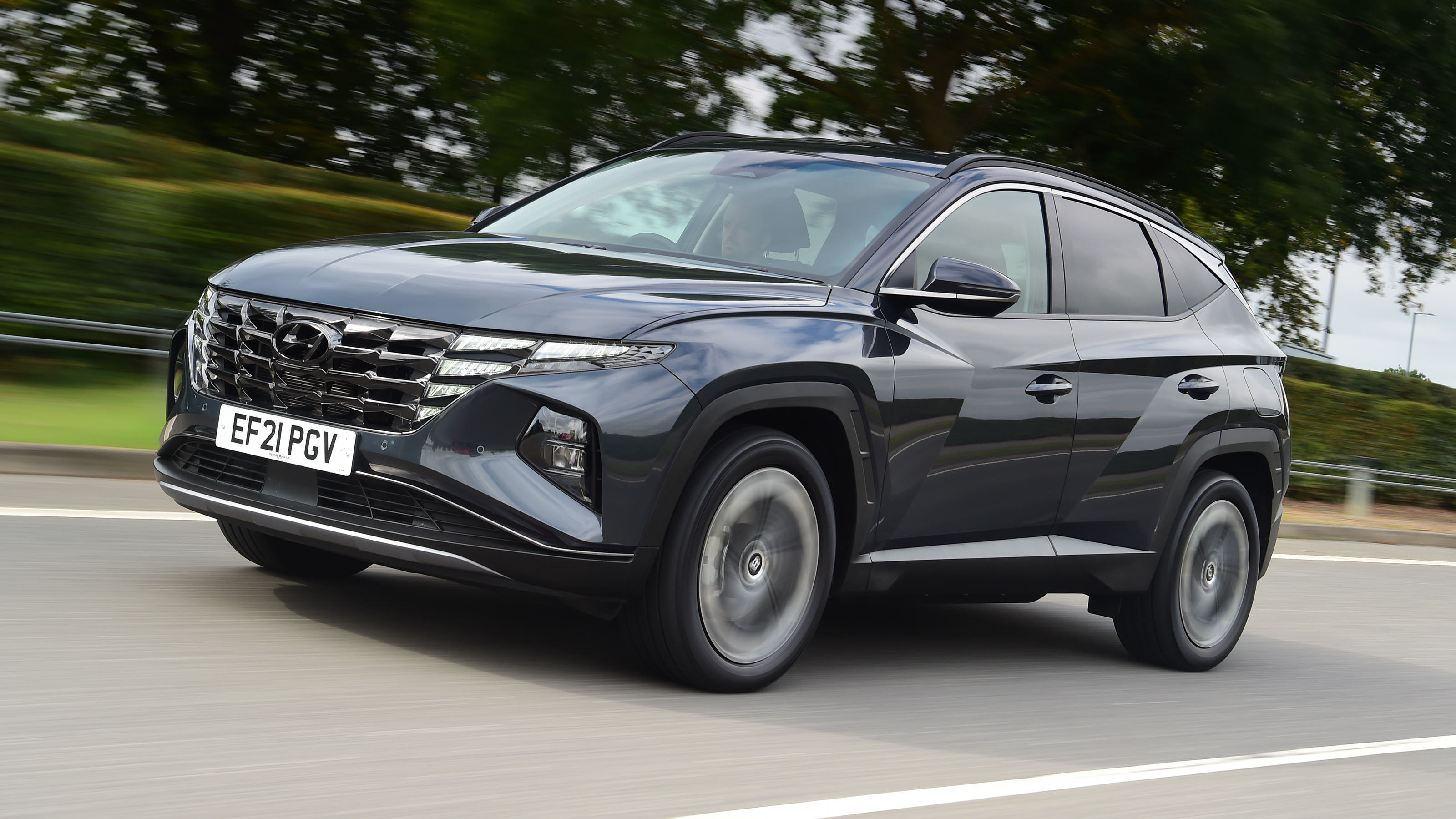 Top 10 best 4x4s and SUVs 2022
Of greater consequence to most owners is the fact that the XC60 Mk2 is spacious as well as stylish inside. Four adults can be accommodated with generous room for heads, knees and shoulders; a third, centrally seated, passenger in the rear may not mind gently rubbing shoulders with their companions, but a large hump in the floor (the transmission tunnel) means they have to sit uncomfortably with their legs astride.
As for luggage, the XC60 Mk2's boot volume is a little down on that of rivals, which isn't much of an issue. The fact that the load area is shallow, however, can be a problem when you want to stow tallish items securely out of sight beneath the luggage cover. 
The XC60 Mk2's engine line-up comprises regular turbocharged petrol and diesel units, as well as mild hybrid petrols and diesels – where a small electric motor, using power generated internally by the car, assists the conventional engine to be more fuel- and emissions-efficient. There are also plug-in hybrid petrol-electric engines that can be run for a distance on electric power only. 
Given that it's a premium mid-size SUV, unsurprisingly the XC60 Mk2 is very well equipped. Even the entry-level Momentum trim grade features (man-made) leather upholstery, electric front seats, dual-zone climate control, automatic headlights and wipers, and a powered tailgate, while upper trim grades feature such niceties as heated windscreen wipers, electronically controlled suspension, headlights that shine around corners, a crystal gear lever and even recycled driftwood trim inlays – there's that Swedish design influence again.
Safety has forever been a Volvo selling point and when the XC60 Mk2 was put through the Euro NCAP crash tests in 2017 it was the safest car the organisation had tested that year. As well as sophisticated crash structures, the XC60 Mk2 features seven airbags, traction and stability controls, autonomous braking systems and various warning and steering assistance systems to keep you alert while you're driving. 
What's the history of the Volvo XC60 Mk2?
The second-generation Volvo XC60 made its UK debut in July 2017, and it was available in front- and four-wheel-drive guises – the latter was aimed at providing all-season mobility rather than implying any great off-road ability.
All its engines were of 2.0-litre capacity and turbocharged, whether they were diesel or petrol – the diesels were badged 'D' and the petrols 'T' – and the only gearbox offered was an eight-speed automatic that Volvo calls Geartronic. Soon after launch a plug-in hybrid petrol-electric engine was added to the range: the T8 Twin Engine – its batteries could be charged via a plug-in cable and it was able to drive 28 miles solely on electric power, although the electric motor could also boost the performance of the petrol engine. 
In February 2019 the XC60 Mk2's engine line-up underwent an eco shake-up, with the introduction of mild hybrid diesels and petrols. Mild hybrids team the traditional internal combustion engine with a small electric motor – the battery for which is charged by the conventional engine and from energy recovered during braking – to improve fuel economy and lower CO2 emissions. These mild hybrids were badged 'B'. An improved T8 with a bigger battery pack was introduced at the same time and was renamed Recharge T8.
A heavily revised XC60 Mk2 made its debut in June 2021, with refreshed styling, more safety technology and revamped engines.
Which is the best Volvo XC60 Mk2?
All the engines in the XC60 Mk2's range are good – some are very economical, others very powerful. However, the engine that best suits the car and the needs of most owners is the 187bhp 2.0-litre turbocharged diesel, badged as the D4. It's smooth, has plenty of pulling power in the 30-70mph range, and fuel economy averages up to 47.9mpg. It's also the XC60 Mk2's most prolific engine, so you should find lots of choice on used car forecourts.
If you'd like your XC60 Mk2 to feel a little livelier, then the 235bhp turbocharged diesel in the D5 is a fine option and it's almost as economical. There's even more performance on offer from the 306bhp turbocharged and supercharged petrol engine in the T6 (0-62mph in 5.9 seconds), while the plug-in hybrid T8 Twin Engine is a smidge faster still. 
On paper the T8 Twin Engine sounds like a winner with all that oomph married to fuel consumption (NEDC) of 134.5mpg and CO2 emissions of just 49g/km. However, in real world driving over long distances (when the electric motor's battery charge will be depleted) its economy is nothing like that spectacular, falling back to around 45mpg. But the fact that the T8 Twin Engine, together with the T6 Recharge, can be driven for up to about 28 miles solely on electric power may put it onto your radar if you live in a city with low-emissions zones.
While the XC60 Mk2 can tempt you with several very plush trim grades, we'd pick the entry-level Momentum and save ourselves some money. Momentum has all the bits and pieces most of us really need – metallic paint, alloy wheels, leather upholstery, heated and electrically adjustable front seats, dual-zone climate control, multi-media infotainment system, electric windows front and rear, electric sunroof, roof rails, cruise control and a powered tailgate – together with a wealth of standard safety features. 
What are the alternatives?
In common with the Volvo XC60 Mk2, the Jaguar F-Pace trades off its elegant design. Not that other rivals such as the Audi Q5, BMW X3 and Mercedes-Benz GLC aren't stylish, it's simply that their style is more flamboyant, more assertive. 
If you want maximum interior space then the Land Rover Discovery Sport has to be on your shortlist – it's a winner for off-road ability, too – while if the driving experience matters to you more than practicality, you owe it to yourself to test drive a Porsche Macan.
Running costs, MPG, CO2 emissions and insurance
It's not cheap to service or tax, but some economical engines help to keep running costs down
Technically sophisticated upmarket cars are relatively expensive to run, and so it proves with the XC60 Mk2. It sits in high insurance groups, most versions attract hefty annual road tax and servicing is costly. On the plus side, the fuel economy of the diesel-engined versions is decent for a mid-sized SUV, so your pockets won't get completely shredded.
If you're lucky then the original owner of the XC60 Mk2 you're looking at will have taken out a five-year fixed price servicing plan and you'll be gifted the remaining balance of it. Otherwise you're looking at 12-month/18,000-mile service intervals, although your car's on-board computer may alter the intervals if you don't drive far each year.
Services alternate between minor (for about £295) and major (roughly £465 for a petrol-engined XC60 Mk2 and £460 for a diesel). However, the fifth service for diesel-engined models is a biggie as it involves replacing the cambelt, costing in the region of £1,020: the big one for petrol engines is at their eighth service, when you need to budget for £1,200 or so. 
How much do Volvo XC60 Mk2s cost?
Unless the mileage is 50,000+ or it's a very early example from 2017, dealers try to keep prices for the XC60 Mk2 above £30,000. If you have a budget of between £30,000 and £40,000 then you can take your pick of 2017 to 2019 models in any trim grade, with mileages below 50k.
Prices for models from 2020 and 2021 ramp up a bit, because these typically are the mild hybrid and plug-in hybrid examples and, being newer, tend not to have as many miles on the clock. On a dealer forecourt you're looking at between £45,000 and £50,000+.
For an even clearer picture of Volvo XC60 Mk2 prices, head to our sister site, Buyacar.
What's it like for fuel economy, emissions and tax?
According to the official figures, if you want the most economical Volvo XC60 Mk2 then you need to dig deep for the plug-in hybrid petrol-electric T8 Twin Engine – it's claimed to give 134.5mpg. Except that it doesn't really, not out on the open road. Then you're more likely to get 45mpg or less. However, its official CO2 emissions figure of 49g/km, combined with the fact it can run up to 28 miles on electric power alone, make it attractive to city dwellers.
Real world economy honours lie with the 187bhp turbocharged diesel D4. Using the WLTP fuel consumption measurement it returns a combined figure of 48.7mpg (and 54.3mpg using the old NEDC scale). Not far behind are the mild hybrid B4D diesel and B5D petrol and diesels models, all three of which return 46.3mpg. 
That trio can be relatively expensive secondhand, so if you want your XC60 Mk2 to be petrol-powered and more modestly priced, then the older T5 and T6 are your cars, the former giving up to 38.7mpg, the latter 31.7mpg.
Because all XC60 Mk2s were registered after April 2017 they all attract the same £155 flat rate of road tax, regardless of their CO2 emissions, even the plug-in hybrid versions. Unfortunately there's also a luxury car surcharge to be applied to any model that cost more than £40,000 when new, taking the annual tax rate up to between £480 and £490 for nearly the whole XC60 Mk2 range until the car's six years old. The exceptions are certain versions of the Momentum trim grade.
How much will the Volvo XC60 Mk2 cost to insure?
It may be one of the safest cars of its type, but the insurance industry still views the XC60 Mk2 as a relatively expensive and technically sophisticated car that will be costly to repair or replace. Consequently Volvo's mid-size SUV sits in insurance groups 28 to 43 out of 50.
Reliability and common problems
Generally a reliable car, the XC60 Mk2 has nevertheless been subject to a number of safety recalls
While there are rogue examples of the XC60 Mk2 that have caused their owners immense frustration on numerous occasions, Volvo's mid-size SUV is a generally reliable car with very few common problems. It has, however, been subject to six recalls, five of them for safety-related issues. 
Even so, in our 2020 Driver Power survey of owner satisfaction the XC60 Mk2 ranked in 30th place, down from 18th the year before but still a decent performance.
Are there any common problems and things to look at?
Not a common 'problem' as such, but something owners complain about most consistently is the Sensus multimedia infotainment system. It's criticised for being slow to respond and for the fact that some of its sub-menus are so small and fiddly that you have to prod the touchscreen several times before anything happens. In theory its operation on the move can be made safer by using voice recognition, but that can be erratic in responding to your requests.
Other complaints about the XC60 Mk2 largely concern electrical glitches that cause problems all around the car – air suspension and gearbox failures, false alerts from the collision mitigation sensors, powered tailgates and electric handbrakes that operate of their own accord, radios changing stations unprompted and dashboard lights not working. None of these are common issues, but they do highlight the need to check that every electrical device in the XC60 Mk2 that you're looking at performs as it should.
Some early examples of the XC60 Mk2 from 2017 have amassed a fair mileage by now and there are reports of starter motor failures, worn suspension bushes and cracks in exhaust gas recirculation (EGR) valve pipework. These aren't commonplace failures, just a reminder that age takes its toll on car components.
What about recalls?
The least serious of the XC60 Mk2's six recalls was for tailgate arms that could freeze in cold weather – odd for a Swedish car. Cars manufactured up to September 2018 were recalled for a piece of plastic in the engine bay that could melt and potentially cause a fire, while cars built between September and October 2018 had faulty software for the system that connects to the emergency services and gives them your location after an accident.
There were potential problems with the XC60 Mk2's autonomous braking system on cars made between February 2019 and August 2020, while a handful of cars built between July and August 2020 were recalled for a weak seatbelt anchorage point. A possible airbag fault affected cars made up until September 2020.
While it's worth noting that these recalls were of a preventative nature and that by now all the remedial work should have been undertaken, it's worth checking with your car's vendor – or through a Volvo dealer – that it actually has been.
What do owners think?
In our 2019 Driver Power owner satisfaction survey the XC60 Mk2 placed 18th – a year later it had slipped to 30th position, which still isn't bad going.
Owners reported being impressed with their car's quality inside and out, its styling, visibility, practicality, safety equipment, reliability and infotainment system. They were less happy with what they perceived to be an overall lack of refinement, the XC60 Mk2's indifferent handling and its high running costs.
Engines, drive and performance
Relaxing and quiet to drive, the XC60 Mk2 features a broad range of petrol, diesel and hybrid engines
How good you think the Volvo XC60 Mk2 is to drive depends greatly on how much worth you place on overall comfort compared with crisp, entertaining handling. Driven back-to-back with the Audi Q5 or BMW X3 – not to mention the Porsche Macan – the XC60 Mk2 can seem dull behind the wheel. Not pedestrian, but not terribly exciting either.
However, it can travel at a very brisk pace from A to B in a relaxing, unstressed manner: if that's what you prefer then you won't mind that its steering isn't razor-sharp and that there's not a dramatic, immediate response every time you press the accelerator or brake pedal. 
What's the XC60 Mk2 like to drive?
The soundproofing inside the XC60 MK2 is excellent anyway, but because you don't feel compelled to thrash the Volvo, it means the cabin remains hushed, the ambience calm. Most of the engines exhibit strong, easy pulling power in the 30mph to 70mph zone that most of us drive within, which adds to the sense of unfussed progress which is the XC60 Mk2's forte. 
It's certainly worth going on an extended test drive to make sure that the XC60 Mk2's dynamic characteristics are a match for your own style of driving. The steering, throttle response, gearshifts and braking have an elasticity that suits unhurried, smooth drivers, but might frustrate others.
Where you typically drive may have a bearing on what you think of the XC60 Mk2's suspension. In general terms the ride quality is comfortably compliant and the movement of the body well-controlled, a trait passengers will appreciate. On unkempt urban road surfaces, though, potholes and sharp ridges can make the suspension crash and thump, especially if the car is fitted with alloy wheels larger than 18 inches or is equipped with the lowered sports suspension that is standard on R Design models. That said, the same is true of several of the XC60 Mk2's rivals. Cars fitted with air suspension are better behaved on the rough stuff, but not by the margin you might imagine.
Which engine should I choose?
For most people the 187bhp turbocharged diesel engine in the D4 is ideal. There are plenty of used examples available, it's quiet and gutsy, and it returns up to 47.9mpg. The 232bhp version of the same engine in the D5 brings more performance but fewer miles to the gallon, although if you regularly tow caravans or trailers then you'll appreciate its extra mid-range muscle.
The mild hybrid B4D and B5D diesels offer similar performance and marginally worse fuel consumption, but if you're looking at younger examples of the XC60 Mk2 then that's what they're powered by. Despite its badging there's another BD5 that is propelled by a 257bhp turbocharged petrol engine and has very rapid performance: 0-62mph in 5.9 seconds. Earlier in the XC60 Mk2's life the turbocharged and supercharged petrol T6 model was equally accelerative from zero to 62mph, but you'll have to search hard to find one. There is a 255bhp T5 turbocharged petrol, too, which isn't as quick (0-62mph in 6.8 seconds) but is likely to satisfy most buyers' need for speed.
Quickest of the XC60 Mk2 range is the plug-in hybrid petrol-electric T8 Twin Engine. It's an expensive curiosity. It uses a turbocharged and supercharged 2.0-litre petrol engine in combination with a powerful electric motor to produce 401bhp: its performance is impressive, but no more so than that of the Porsche Macan Turbo with a conventional engine. It's able to travel up to 31 miles solely on electric power – useful for inner city driving – and is claimed to give up to 134.5mpg. That fuel consumption figure is merely a headline grabber: the T8 Twin Engine is more likely to deliver between 25 and 45mpg. For electric-only motoring it needs to be plugged in to a special charger for at least 2.5 hours for a full charge.
Interior comfort and safety 
A quiet, spacious and well-appointed cabin makes the XC60 Mk2 a very comfortable way to travel
Four adults can travel in great style and comfort in the XC60 Mk2. There is headroom, legroom, shoulder-room and foot-room in abundance, and the front seats are some of the most comfortable you'll find. There's something soothing about the cabin design, too, which adds to the sense of wellbeing. 
There's space for a third passenger in the middle of the back seat, but although there's just about enough shoulder width to accommodate them, there's a hump in the floor (the transmission tunnel) right where they'd want to put their feet – instead they must sit with their legs splayed on either side of the hump, eating into their travelling companions' foot room. You'd put up with the inconvenience on a long trip, but you'd prefer to do short ones.
Although the XC60 Mk2's boot is among the smallest of the mid-size SUVs there's sufficient space for the needs of everyday life, provided the objects you place in it aren't too tall. Volume isn't the issue here, it's a matter of how shallow the boot is beneath the luggage cover.
The XC60 Mk2 is vivid testament to Volvo's long-term commitment to automotive safety. At the car's 2017 launch Volvo called it the 'world's safest car', a claim backed up when the Euro NCAP organisation proclaimed the XC60 Mk2 to be the safest car it had tested that year.
What's the Volvo XC60 Mk2 like inside?
Stare at it long enough and you'll see that the XC60 Mk2's dashboard is as bulky and imposing as any other SUVs, but Volvo's stylists have done an excellent job of visually reducing its heft with simple, elegant detailing. A curving textured aluminium trim line that spans the width of the dashboard disguises how tall it is, while over-sized yet attractive air vents also distract the eye.
From the exceptionally comfortable driver's seat you're faced by a leather-trimmed steering wheel, the lateral spokes of which house remote controls for the cruise control, hi-fi and hands-free phone setup. Ahead of the steering wheel is a full digital instrument panel, with speedometer and rev-counter dials flanking a central panel that displays vehicle information and a trip computer.
A broad centre console bisects the front of the cabin and is home to the gearlever, engine start/stop knob, drive mode rotary control, electric handbrake switches, and an area containing a couple of cupholders and a 12-volt socket, which has a neat sliding cover over it when it's not in use. Above the console, in the middle of the dashboard, is the 9.0-inch colour touchscreen for the multimedia infotainment system. It's unusual in that it's mounted in portrait – vertical – position rather than landscape. 
Some of the XC60 Mk2's trim grades have full (high quality man-made) leather upholstery, while in others the centre panels of the seats are trimmed with Alcantara (fake suede) or fabric textiles. Wood veneer trim appears in some models, and among the timber options is recycled driftwood. The cabin looks plush even in the Momentum entry-level trim grade and it's solidly built: the XC60 Mk2 feels every inch a premium product.
What's on the equipment list?
All XC60 Mk2s are handsomely equipped. The entry-level Momentum trim grade features metallic paint, alloy wheels, automatic LED headlights with a high-beam self-dipping function, rain-sensing windscreen wipers, powered tailgate, dual-zone climate control, multimedia infotainment system including a colour touchscreen and sat-nav, keyless central locking and starting, leather upholstery and heated front seats with electric height and lumbar adjustments. It has a wealth of standard safety equipment, too, which we'll deal with in the next section of this used car review.
The R Design is kitted out much like the Momentum but with the additions of sportier body styling, front LED fog lights, lowered sports suspension, different alloy wheels, dark tinted windows, and sports seats, pedals and steering wheel.
Inscription is the luxury trim grade and features such niceties as soft Nappa leather upholstery, multi-way electric adjustment for the heated front seats, driftwood interior trim inlays, a crystal gearlever and multi-colour ambient interior lighting. 
Each of these trim grades is available in Pro guise. Upgrades for the Momentum Pro include heated windscreen wipers, heated steering wheel, hands-free operation for the powered tailgate, head-up display, 'cornering' headlights and LED front fog lights. The R Design Pro has all that plus 21-inch alloy wheels and sophisticated electronically controlled suspension dampers that Volvo calls Active Four-C (Continuously Controlled Chassis Concept). The Inscription Pro is also treated to the Active Four-C dampers, as well as a massaging function for the front seats' backrests.
On top of these 'mainstream' trim grades is an optional trim grade specifically for the petrol-electric T8 Twin Engine plug-in hybrid. Called Polestar Engineered – Polestar used to be Volvo's high-performance brand – it includes a 15bhp power boost, high-performance brakes, revised settings for the gearbox and suspension, gold-coloured seatbelts, panoramic sunroof, and a Harman Kardon premium sound system.
How safe is the XC60 Mk2?
When Volvo launched the XC60 Mk2 in 2017 it claimed boldly that it was the safest car in the world. After crash testing the mid-size SUV, the Euro NCAP safety organisation reported that it had achieved the highest overall score of any car that year. Awarding the XC60 Mk2 its full five-star rating, Euro NCAP scored its adult occupant protection at 98%, child protection 87%, pedestrians 76%, and its safety assistance systems 95%.
As standard across the range the XC60 Mk2 is equipped with seven airbags; City Safety, a system that automatically applies the brakes if sensors detect that you haven't noticed a cyclist, pedestrian or large animal in your path; Steer Assist that helps you make emergency avoidance manoeuvres at speeds between 31mph and 62mph; Oncoming Lane Mitigation, a system that guides you back into your lane should you have drifted into the path of oncoming traffic – it's teamed with a system that recognises if you're about to steer into the verge or off the road; and Run-Off Road Protection that pre-tightens the front seatbelts if you do leave the road.
Optional safety equipment includes a blind-spot monitor and warning system, and Pilot Assist, an advanced adaptive cruise control system that provides a degree of steering assistance on roads with clear markings at speeds of up to 80mph.
Practicality and boot space
While shallow, the XC60 Mk2's boot offers adequate luggage space and with the rear seats folded it has a long, flat cargo area 
Although it has one of the smallest boot volumes in the mid-size SUV class, the XC60 Mk2 will still accommodate up to eight pieces of aircraft carry-on baggage below the window line – in other words, out of sight beneath the luggage area cover. That should be enough for most people's needs. However, because the boot is quite shallow, taller cases etc will stick up beyond the visual protection of the cover.
A 60:40 split folding rear seat expands the luggage capacity if required, while a ski-hatch in the rear seatback allows you to transport long objects at the same time as a couple of rear passengers. 
Those passengers enjoy plenty of space when there's just the two of them in the back, but while there's the width for a third person in the middle, the central hump (the transmission tunnel) in the floor makes it awkward for them to find a comfortable position for their legs and feet.
How big is the Volvo XC60 Mk2?
At 1,658mm tall the XC60 Mk2 should present you with no problems entering multi-storey or underground car parks. You may want to get your tape measure out to be sure its 4,708mm length will fit in your home garage, and similarly that its 2,117mm width won't hinder you opening the doors once you're parked in there.
How much space is there for passengers?
Two adult rear seat passengers can lounge around in the back of the XC60 Mk2. There's copious space for their heads, shoulders, knees and feet, and the two outer seats are shaped to cosset them. 
There's enough width across the car to accommodate a central rear passenger without squeezing everyone's shoulders too much. However, there's a large mound – the transmission tunnel – that runs through the middle of the floor, which means that central passenger will have to rest their feet on it with their knees high in the air, or splay their legs and park their feet in their co-travellers' footwells. Furthermore, the central seat isn't really shaped for comfort – you could tolerate a longish trip perched there, but you'll envy the folk seated in luxury either side of you.
If you have kids then it's worth looking out for an XC60 Mk2 fitted with optional integrated booster seats in the two outer rear seating positions. When you need to carry adults, the booster seats are simple to fold out of the way.
When there's just two of you in the rear then you'll feel even more comfortable if you fold down the central armrest. This houses a couple of cupholders and a cubby storage area – there's another cubby for oddments between the front seats, and a couple more cupholders hidden beneath a sliding cover on the front centre console.
How big is the boot?
With the rear seats occupied the XC60 Mk2 has 505 litres of space in the boot, and with judicious packing you can squeeze in up to eight cabin-baggage-sized cases beneath the luggage area's cover. However, the boot is quite shallow so if you're hauling something tall then the cover isn't going to fit over it. 
Fold the rear seats flat and you've got up to 1,432 litres to play with – handy if you need to take your teenager and their chattels to uni, or have to pick up a piece of furniture. The rear seat backrest folds 60:40 to give you some flexibility with the passenger/luggage ratio, and there's a ski hatch for long items – shame that the seat isn't split 40:20:40 for even greater versatility. 
The rear seat backrests do fold flat, though, to create a long, level luggage area, and when you're folding the seats the headrests stow neatly out of the way. Some cars are fitted with an optional electric folding mechanism for the rear seatbacks, operated by buttons on the right-hand boot wall – another practical feature on cars fitted with optional air suspension is that you can lower the back end of the car to make it easier to lift in heavy items.
Read our used buyers' guide to the Mk1 Volvo XC60.