Hyundai Ioniq Hybrid review
"The Hyundai Ioniq is likely to tempt many buyers who might otherwise choose a Toyota Prius"
Pros
Conventional styling
Decent practicality
Low running costs
Cons
Some cheap plastics inside
Engine sounds strained at high revs
Not as cheap to run as electric and plug-in versions
The Hyundai Ioniq was something of a trailblazer when it arrived, as it was the first model offered with a hybrid, plug-in hybrid and electric powertrain. Alternative fuel hatchbacks like the Volkswagen Golf GTE and ID.3 are becoming more common but, even now, most rivals don't offer all three in one package.
The Ioniq Hybrid is the most popular version and it's a neatly styled, if slightly bland, five-seat hatchback that is similar in design to the now-discontinued Toyota Prius. The Prius and Toyota Corolla are both close rivals for the Ioniq, along with the Kia Niro. Unlike the electric version of the Ioniq, the Hybrid still features a large grille opening, along with a curved roofline that reduces drag and boosts fuel efficiency. 
A facelift in 2019 tweaked the design to keep it up to date, with new LED lighting and alloy wheels. It also introduced technology like 'one-pedal driving' to make city motoring more relaxing and put more energy back into the battery.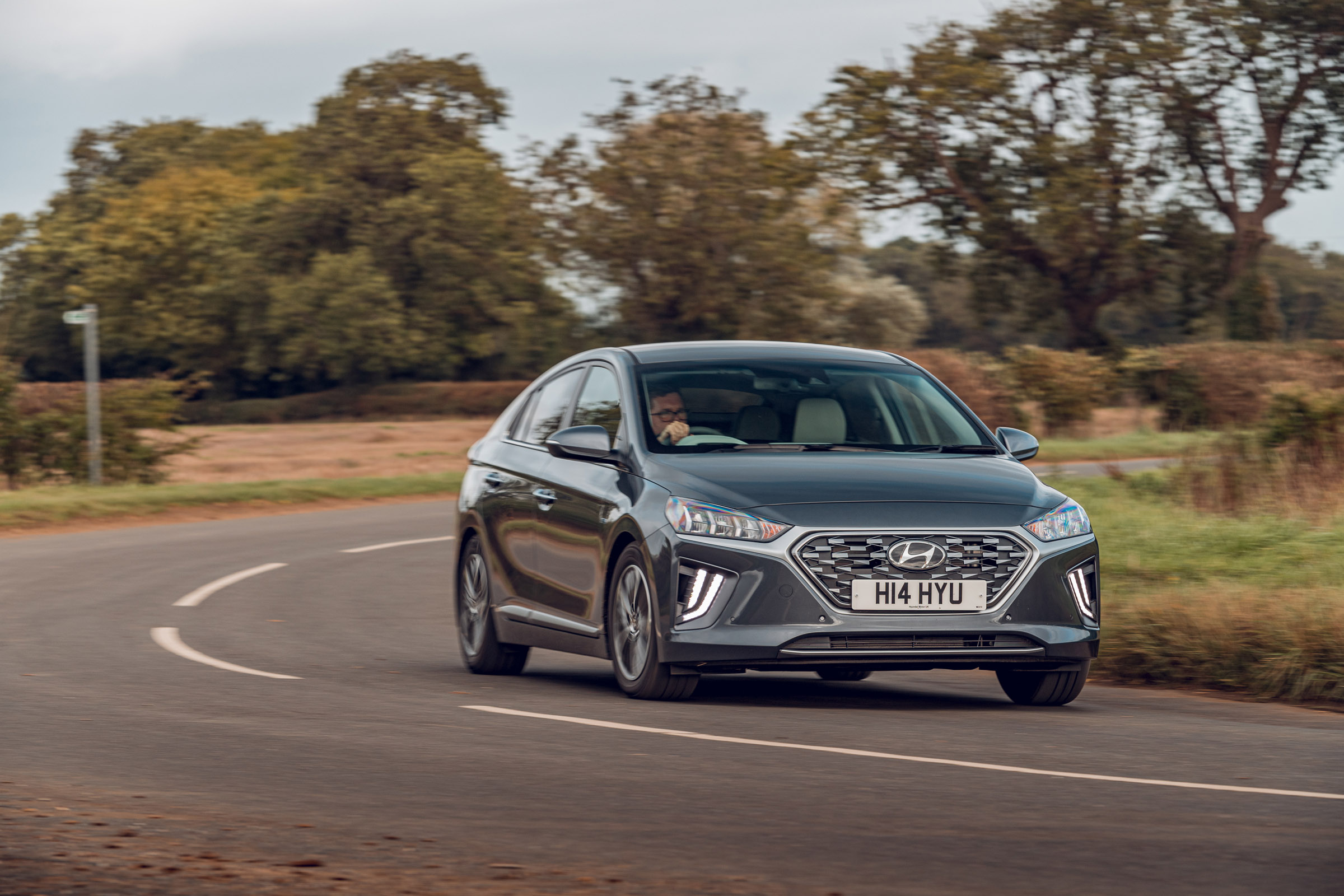 Top 10 best small hybrid cars 2022
Along with the hybrid rivals mentioned already, the Ioniq's price is competitive enough that it can also be seen as an alternative to a wide range of petrol and diesel family cars, including favourites like the Ford Focus and Volkswagen Golf.
The hybrid Ioniq is powered by a 1.6-litre GDi petrol engine, making 104bhp and paired with a 43bhp electric motor and 1.56kWh battery capacity. The latter is only there to assist the petrol engine, though: unlike the plug-in version, the basic Ioniq Hybrid isn't capable of travelling on pure electric power for any great distance. It can get from 0-62mph in 10.8 seconds and can reach a top speed of 115mph. Fuel economy is comparable to its rivals with a combined figure of up to 62.8mpg (WLTP). CO2 emissions of 102g/km mean it isn't exempt from the London Congestion Charge. Annual VED (tax) is charged at the slightly discounted rate compared to petrol or diesel models.
The Ioniq Hybrid is an attractive company-car option, with a low Benefit-in-Kind (BiK) tax rate compared with something like a 1.5-litre diesel Ford Focus. However, plug-in hybrid and electric rivals sit in even lower BiK bands.
Standard equipment is also pretty good for all versions: alloy wheels, a leather steering wheel, air-conditioning, Bluetooth and DAB radio are standard from the entry-level model up, along with a 10.25-inch infotainment display. Premium versions benefit from sat nav, Apple CarPlay and Android Auto technology, while the Premium SE has leather heated and ventilated seats, an electric memory driver's seat and front and rear parking sensors.
The interior of the Ioniq is conventionally laid out – there's little to remind you of the sophisticated technology under the metal. It's solid and well designed, however there are some cheap finishes in certain places. Although it's not exactly an inspiring place to sit, it's at least easy to use. Despite its technology, the Ioniq Hybrid is still a car that anyone will be able to jump in and drive straight away.
It'll comfortably accommodate a small family, too. The Ioniq provides space to spare for front and rear-seat occupants alike, as well as an impressive boot with more capacity than that of the Toyota Prius. It can extend further by folding the rear seats down, too.
All the positive attributes of good fuel efficiency and low emissions that made the Toyota Prius such a success apply equally to the Ioniq, which has the further advantage of comfortably undercutting the Japanese car's price. It's covered by the same five-year/unlimited-mileage warranty as other Hyundais, which have acquired a positive reputation for reliability, so the Ioniq should be easy to live with.
It's a safe car too. Every Ioniq is loaded with up-to-date technology including automatic emergency braking (which can slow the car to a halt if it detects an obstacle in its path), as well as lane-keeping assistance. Higher-spec models also have adaptive cruise control and rear cross-traffic detection to help with reversing out of parking spaces or driveways onto busy roads. These systems helped the Ioniq score the full five stars in its Euro NCAP safety tests.
The Ioniq was an impressive first hybrid model for Hyundai, which is now electrifying most of its lineup. It's not the most imaginatively designed car but it forms a very well-rounded package and should also be on your shopping list if you're considering a Toyota Prius, or even a more traditional family hatchback like a Vauxhall Astra.
See how this car scored on our sister site DrivingElectric