Carbuyer's World Cup winner: the best new car for a Russian road trip revealed
We award the prestigious Carbuyer World Cup to the best road trip car you can take to the tournament
The world of football is heading to Russia this summer, and it's being followed by thousands of football fans who are faced with what is probably the most daunting travel itinerary in World Cup history. If any supporters didn't already know it, Russia is big. The games are spread far and wide and anyone attempting to take in Russia 2018's sights, sounds and matches by car had better make sure their vehicle is well up to the job.
Here at Carbuyer, we're in the business of recommending cars, but our top recommendation where a Russian World Cup road trip is concerned would still be to take a plane. The distances involved in following any team's progress in the tournament will be vast and Russian road conditions can be challenging. Having said all that, there may be intrepid football supporters who aren't deterred from doing the World Cup by road. That got us thinking; if we could choose any car for the job, which one would it be?
5,000-mile road trip for England fans
First, let's put the task in perspective. Any England fan wishing to go to all of their country's group games in a car would be faced with a journey of epic proportions. Taking Trafalgar Square in central London as the arbitrary starting point, Google Maps clocks the round trip at a sobering 5,163 miles and reckons that 94 hours of continuous driving would be needed to complete the odyssey. Even that would require an average speed of 55mph.
| | | | |
| --- | --- | --- | --- |
| From | To | Distance | Time |
| Trafalgar Square, London | Volgograd Arena, Volgograd | 2,393 miles | 42hrs |
| Volgograd Arena, Volgograd | Nizhny Novgorod Stadium, Nizhny Novgorod | 613 miles | 13hrs |
| Nizhny Novgorod Stadium, Nizhny Novgorod | Kaliningrad Stadium, Kaliningrad | 1,015 miles | 21.5hrs |
| Kaliningrad Stadium, Kaliningrad | Trafalgar Square, London | 1,107 miles | 18.5hrs |
| | Total | 5,164 miles | 94hrs |
The suggested route heads to the first group game in Volgograd by crossing the Channel and spearing due east across Europe through France, Belgium, Holland, Germany, Poland and Belarus before entering Russia, bearing north around Ukraine to pass the outskirts of Moscow and dropping south to the city formerly known as Stalingrad. It's a mere 2,393 miles and the longest leg of the trip by 1,287 of those, so you'd want to leave early.
England play Tunisia in Volgograd on 18 June and then it's back in the car for the trek north to Nizhny Novgorod for England's 24 June date with Panama. That leg is just a hop up the Volga river at 613 miles, but when the final whistle blows, thoughts will turn to the 1,051-mile jaunt back across the country, through Latvia and Lithuania, to the final group game with Belgium in Kaliningrad – Russia's most westerly city. By that stage, many less hardy England fans will be secretly praying the country gets knocked out in the group stages. If they do, our weary road warriors and their hard-working ride will be only 1,106 miles from Nelson's Column.
England's World Cup group games: dates, times and locations
| | | | |
| --- | --- | --- | --- |
| Game | When | Where | TV |
| England vs Tunisia | 19:00 18/6/2018 | Volgograd Arena, Volgograd | BBC |
| England vs Panama | 13:00 24/6/2018 | Nizhny Novgorod Stadium, Nizhny Novgorod | BBC |
| England vs Belgium | 19:00 28/6/2018 | Kaliningrad Stadium, Kaliningrad | ITV |
Which is the best car for the World Cup road trip?
That's not a journey to be taken lightly but it brings us to the Carbuyer team's real area of expertise. What is the car for this daunting job? Football fans are known for their ingenuity in securing transport to get them to a big match, but piling into a decrepit VW Camper with scarfs trailing from the windows and a St George's Cross daubed on the side for this trip would be an act of supreme optimism, even for England supporters.
The trip is long so issues of comfort and practicality would be key. We need space for our fans to sit comfortably with enough luggage safely stowed in the boot. A good navigation system is probably worthwhile for picking your way across the Russian plains with their Cyrillic road signs and a fair turn of speed would be useful to avoid that 94-hour predicted driving time sailing way past the 100-hour mark. Then, and perhaps more importantly, we need reliability and good fuel economy yielding a long driving range. It's not a lot to ask, but below we'll whittle the options down in each category to pinpoint our four-wheeled World Cup winner.
Practicality
Space is going to be the key here and much will depend on how many passengers are going to brave the journey. Assuming they're all adults, carrying more than four or five people in anything short of a VW Caravelle or Mercedes V-Class for 5,000 miles is going to be tricky. SUVs and MPVs with seats that fold up out of the boot floor have next-to-no luggage space when the seats are in use and occupying some of these cramped chairs for a trip across Russia would be worse than enduring an England penalty shootout. For that reason, we're limiting our hypothetical party of football fans to four adults, but our round-ups of the best seven-seaters and best eight-seater cars on sale will help those with more friends.
Our attention, therefore, turns to large-ish cars with big boots. There are plenty of family and luxury SUVs that fit the bill. The Skoda Kodiaq and Peugeot 5008 are compelling choices in the latter category, while more opulent (and expensive) options include the Jaguar F-Pace, BMW X5 and Volvo XC90. And let's not discount those often-overlooked providers of practicality, MPVs, either. The newly renamed Citroen C4 SpaceTourer (nee C4 Picasso) is a brilliantly roomy option with more pockets of space to exploit than the Scotland back four.
Finally, estates tend to be well suited to long journeys with four passengers. The Mercedes E-Class Estate and BMW 5 Series Touring stand out in the executive class, but lower down the a scale, the Skoda Superb Estate, new Volvo V60, Mazda6 Tourer and others would be good choices. If you're really pushing the boat out, a Porsche Panamera Sport Turismo or even a Ferrari GTC4 Lusso would make an epic journey doubly so – although you might have to pack light (boot capacities are 425 and 450 litres respectively). Our round-up of the cars with the biggest boots will yield some more useful options.
Comfort
Once everyone you need to get in your road-trip car is inside, with their luggage in the boot, attention turns to their enjoyment, or otherwise, of the journey. You can't really beat executive and luxury saloons for ride comfort: both the Mercedes E-Class and Mercedes S-Class excel in this area while the Jaguar XF and Jaguar XJ also do impressive work ironing out bumpy tarmac. In the SUV space. few can touch the Range Rover for effortless progress over long distances. In terms of interior ambience, the Lexus LS is eerily quiet inside while the brand-new Audi A6 and Audi A7 Sportback offer interior quality and technology you'll never get tired of.
There's always the Bentley Mulsanne or Rolls-Royce Phantom too, but you'd need a footballer's salary for something in that league. These are all fairly high-end machines, but there are some great comfortable motorway cars at more affordable prices. The Volkswagen Arteon and Skoda Superb are both prime candidates while the Hyundai i30 is a smooth customer if you think you can get away with a family hatchback size-wise. The DS 7 Crossback has a beautifully designed cabin, as does the Volvo XC60, another mid-sized SUV.
Performance and running costs
As ever, this is a difficult balance to strike. Around 5,000 miles of driving could get pretty tedious if a flex of your right foot yields the kind of sluggish response you'd expect from a FIFA internal corruption investigation. On the other hand, continent-crushing performance goes hand-in-hand with hefty fuel bills and the frequent need for tank replenishment, the enemies of a successful road trip. To our lasting regret, this pretty much rules Premier League performance saloons and estates like the Mercedes-AMG E 63, Audi RS6 and BMW M5 out of the running for our World Cup squad. Likewise, great four-seat GT coupes like the Aston Martin Rapide, Nissan GT-R and Mercedes-AMG S 63 Coupe get the boot.
What we're left with is a cluster of fast but not-too-thirsty diesels and hybrids that deliver pace and enough fuel efficiency to eke major mileage out of their sizeable fuel tanks. The Porsche Panamera 4 E-Hybrid Sport Turismo can do 113mpg, if you stay clear of the 462bhp performance and charge it regularly, but it costs £83,000. More affordable options would be the Kia Stinger four-door coupe (50mpg, 0-62mph in 7.3s and £37k) or the Skoda Superb Estate with its most powerful 2.0-litre TDI diesel (54mpg, 0-62mph in 8.1s and £34k). On the SUV front, the BMW X5 xDrive40e hybrid (83mpg, 0-62mph in 6.8s and £57k) and Jaguar F-Pace 3.0D R-Sport (42mpg, 0-62mph in 6.7s and £42k) are solid options.
Carbuyer's World Cup winning car
So which of the gigantic array of outstanding long-distance cars would be our ideal companion on a Russian World Cup road trip? The need for four adult-sized seats, a big boot, decent performance and manageable fuel economy slim the field quite a bit. And with saloons and smaller hatchbacks lacking capacity and MPVs lacking in the performance department, we find ourselves focusing on SUVs and estates. Our money-no-object pick would be the Porsche Panamera Turbo S E-Hybrid Sport Turismo, a car with a long name and a longer list of abilities. The £140k list price and the charging time needed to get anywhere close to the 93mpg official fuel economy knock it out of the running. A budget option would be the Skoda Superb Estate with 2.0-litre TDI 190 power. Big, comfortable simple and effective, the Skoda is a great car to cover big mileages in and even the top-spec Laurin & Klement automatic is under £36k.
Overall though, our panel narrowed it down to a pair of models. The Volvo XC60 is spacious, safe and well designed with an excellent navigation system. The SUV's suspension is tough enough to cope with rough surfaces, but has the finesse to cosset passengers. The D5 diesel engine does 54mpg, can hit 62mph from rest in 8.1 seconds and costs from under £38k. The other car is the Mercedes E 350d Estate. If you get 4MATIC all-wheel drive and AMG Line trim, it's a £52,500 car, but it ticks all our important practicality (640-litre boot), performance (0-62mph in six seconds) and economy (42.8mpg combined) boxes, while also being a thoroughly classy customer to drive and sit in. In the final, final reckoning it's this Mercedes that the Carbuyer team would choose for the ludicrously long World Cup trip to Russia, so it's our 'World Cup winning car'. Of course, you could just watch the games on TV...
| | |
| --- | --- |
| Model | Mercedes E350d 4Matic AMG Line Estate |
| Price | £52,495 |
| Engine | 3.0-litre 6-cylinder diesel |
| Power/Torque | 254bhp/620Nm |
| Top speed | 155mph |
| 0-62mph | 6.0s |
| CO2 | 174g/km |
| Fule economy (combined) | 42.8mpg |
| World Cup road trip fuel needed | 548.7 litres |
| Cost at UK prices (130p per litre) | £713 |
| Cost at Russia prices (43r or 52p per litre) | £285 |
Get in touch on Twitter or Facebook and let us know which car you'd take on a World Cup road trip...
Updated Peugeot 5008 starts at £29,585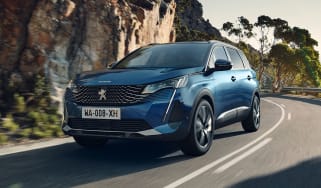 Updated Peugeot 5008 starts at £29,585
Cupra Formentor SUV review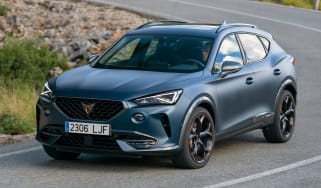 Cupra Formentor SUV review
2020 Volkswagen ID.3 hatchback: base model starts at under £30k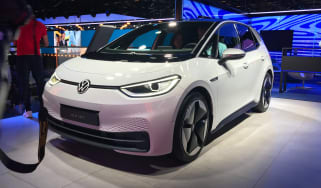 2020 Volkswagen ID.3 hatchback: base model starts at under £30k