Best used cars under £7,000
Here are some of the best used cars for £7,000 or less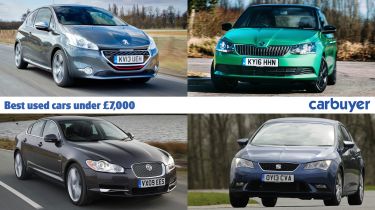 A budget of £7,000 is no longer enough to buy a brand new car and in recent years, it was only enough to get you one: the Dacia Sandero in entry-level Access trim. That was a very basic proposition, so going for a used car with more miles on the clock but more in the way of luxury has made sense for a while.
Turning to the second-hand market means you've got a far wider choice of vehicles for this budget too, and below we've compiled a list of the best used cars under £7,000. You'll be looking at vehicles that are several years old and, naturally, have higher mileages than a brand-new car, but you'll have choice and potentially more standard kit.
What to look for when buying a used car
If you're planning to finance your next car - like the majority of buyers - you'll find that most are HP (hire purchase) deals, where you pay a deposit and set monthly payments until you've completed the agreement. But for cars that are under five years old, you might be able to have a PCP (personal contract purchase) finance deal, even at this budget, which will reduce the monthly payments because there's an optional bigger payment at the end of the agreement.
Our list covers many different car types - from the luxurious to the practical - while it's also worth checking out our lists of the best used cars under £5,000 and best used cars under £10,000.
Toyota Aygo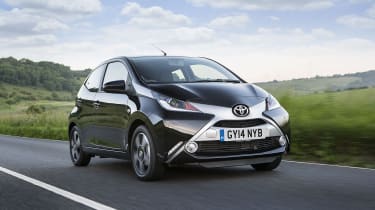 Second-hand city cars can be picked up for not much money because they didn't cost a lot in the first place. We found some examples of the Aygo that are just a year or two old for £7,000, but these tend to be near-base spec x-play versions. These are honest runarounds and all come with Bluetooth, DAB radio and air con, while higher spec versions get far more tech than you'd expect on a car of this size; you'll find many with sat nav and a reversing camera. There's just the one engine available, promising over 56mpg, but we'd recommend avoiding the sluggish automatic gearbox unless you really need it. If you're not keen on the Aygo's styling (inspired by Japanese comics, so we're told), the Peugeot 108 and Citroen C1 are mechanically identical.
Skoda Fabia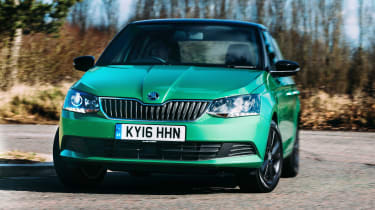 It might not set pulses racing but the Skoda Fabia is a very impressive, good-value supermini - especially given that it's based on the Volkswagen Polo. You might appreciate its fit-for-purpose nature; it doesn't try to be sporty or trendy, and instead offers plenty of room, a big 330-litre boot and a comfortable ride. Should you need even more boot space, the Skoda Fabia Estate is one of the only supermini-based estates on sale. A whole range of trim levels are available, with even 'S' getting the essentials - but SE is much more generous, with a bigger screen, air-conditioning, alloy wheels and parking sensors. Apple CarPlay and Android Auto are compatible with SE spec and above, so you can use your phone for sat nav and other features through the car's screen. The 1.2-litre turbo petrol engine is our favourite unit, while there's also a 1.4-litre diesel apparently capable of 70mpg that will appeal to higher-mileage drivers.
SEAT Leon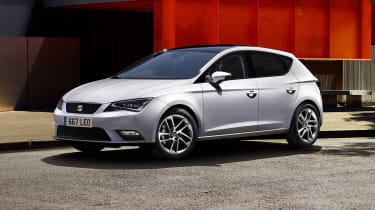 The recently replaced SEAT Leon is another VW Group product, this time based on the Volkswagen Golf. It still looks modern and fresh, with a more angular design than a Ford Focus or Vauxhall Astra of the same age. SE is the most common spec for this budget at the time of writing; most sporty FR specced cars are the older Mk2 Leon. The Technology Pack was a popular option and it's worth going for one of these cars, as they feature sat nav and LED headlights, which give you far more visibility than traditional halogen bulbs. As well as a five-door hatchback and estate model, the Mk3 Leon came in a three-door coupe body style; all are spacious for passengers and their luggage. The engines are small-sounding but punchy, and the Leon is up there with the class leaders for its driving experience.
Kia Cee'd SW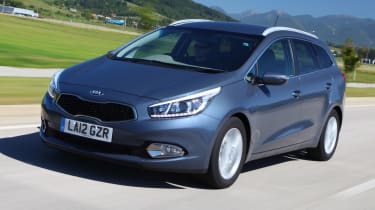 The Kia Cee'd Sportswagon is a rival to the Ford Focus Estate and the SEAT Leon ST estate mentioned above, and it is a great buy for around £7,000. We think it looks less boxy than its main competitors but you don't miss out on a big boot; the Cee'd SW offers a very impressive 528-litre luggage capacity and flat-folding rear seats. The Kia represents better value than the Ford, too, as we found a much wider selection of trim levels. Base-spec '1' trim comes with air con, digital radio and Bluetooth, '2' adds alloys and LED daytime running lights, while '3' and above come with a seven-inch touchscreen offering sat nav and the display for the reversing camera. Top-spec models are even more generously equipped. The Sportswagon name is a little misleading; this is a car that focuses on comfort rather than thrills, so no models are quick, but at least the diesel is very economical.
Read our used Kia Cee'd buying guide.
Peugeot 208 GTi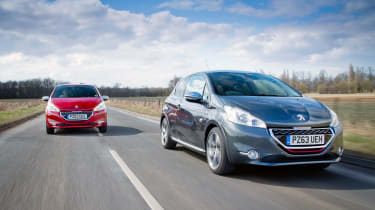 The Peugeot 206 and 207 were both available in a GTi hot hatch spec but neither could escape the shadow of the fabled 205 GTi. Performance and desirability returned with the 208 GTi, which provided an alternative to the Ford Fiesta ST, Volkswagen Polo GTI, SEAT Ibiza Cupra and Renaultsport Clio. A turbocharged 1.6-litre petrol engine produces 208bhp - more than the latest Fiesta ST - and 0-62mph takes 6.5 seconds, which matches the current Volkswagen Golf GTI. The 208 GTi got uprated suspension and brakes, plus sharp steering, so it's a joy to drive, while it was pretty subtle for a hot hatch too - unless you find one with the striking Coupe Franche two-tone paint job, that is. The 208 isn't quite as revered as its main rivals but that means it's a bit cheaper.
Skoda Yeti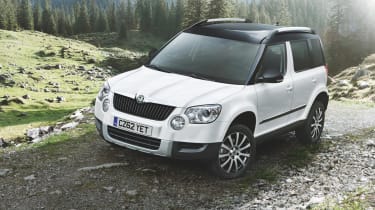 Before the Skoda Karoq came along, the Skoda Yeti was Skoda's SUV offering. It's boxy but doesn't feel like a van and is bursting with character, especially the pre-facelift cars you can get for this budget. The Yeti looks like it could take on anything and, with four-wheel drive fitted on some models, that's true off-road as well as on it. It's fairly good to drive, with much less body roll than you're probably expecting, although the cheaper engines may feel a little underpowered when the car's fully loaded. All cars get air con, Bluetooth and alloys, while SE cars have cruise control and rear parking sensors. If you need to make the most of the Yeti's square shape, the rear seats can be individually moved or taken out altogether.
Read our used Skoda Yeti buying guide.
Honda CR-V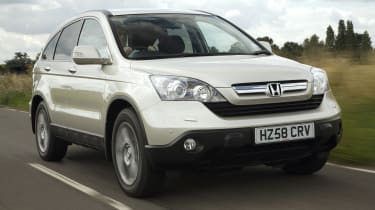 The second-generation Honda CR-V might not have quite the same cult coolness as the Skoda Yeti but it'll tick a lot of boxes for family car buyers. The build quality and reliability are top-notch, the high driving position gives you confidence and it's a spacious five-seater. A 556-litre boot is pretty good even compared with the latest crop of SUVs, and there's a reasonable amount of safety equipment - top-spec EX even gets a form of autonomous emergency braking. Diesel and petrol, auto and manual versions are available, and the trim levels are well-equipped; our favourite mid-range ES spec has air con, all-round parking sensors and two-zone climate control.
Read our used Honda CR-V buying guide.
Suzuki Grand Vitara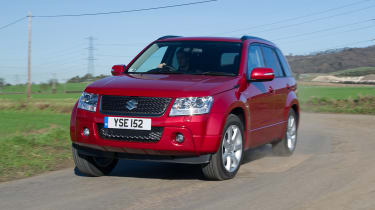 If you want your SUV to be a bit more rugged, the Suzuki Grand Vitara is an excellent option for this budget. All come with four-wheel drive as standard, and the 1.9-litre diesel offers a decent 2,000kg towing capacity. It's this engine we recommend unless you don't mind the heavy fuel consumption of the 167bhp 2.4-litre petrol engine. SZ4 spec comes with a CD player, front fog lights, climate control and alloy wheels, while top-spec SZ5 adds heated leather upholstery and cruise control.
Read our used Suzuki Grand Vitara buying guide.
BMW 1 Series convertible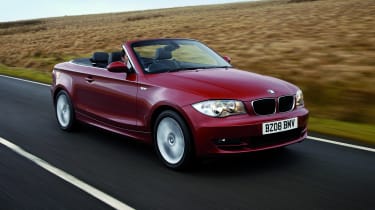 Despite the notoriously bad British weather, we love convertibles in this country. The BMW 1 Series convertible, sold until 2014, lets you enjoy roof-down driving without paying a fortune for the privilege. It's comfortable, even on poor road surfaces, and handles sweetly. Because it's based on the 1 Series hatchback, the engines range from the economical to the rapid, but even the lowliest 118i and 118d models are nippy. The 120i and 125i are rarer at this budget but some are available, and the latter posts a sub seven-second 0-62mph time. We think a petrol engine suits the 1 Series Convertible because few people do high mileages in cabriolets. The petrols sound better than the diesels too.
Jaguar XF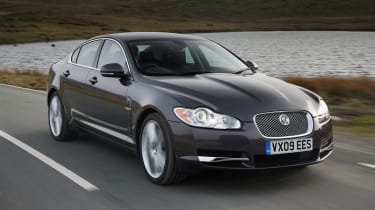 The first-generation Jaguar XF brought modernity and fresh styling to a brand that had previously traded on quite a retro image. It offered svelte coupe looks to buyers also considering a BMW 5 Series or Audi A6 and some of the design touches are still used on current Jags. We particularly like the rotary gear shifter that rises when you turn on the ignition and, pleasingly, there are fewer Ford parts than you got in the old Jaguar S-Type. It's worth going for the 3.0-litre diesel over the 2.7, which is derived from the 2004 Land Rover Discovery, or the smooth 3.0-litre V6 petrol engine. Make sure it's got plenty of paperwork and history, as Jaguars aren't known for reliability and any repairs could be expensive.
Read our used Jaguar XF buying guide here.
Want to know more about buying a used car? Read our used car buying checklist, or why not check out our guide to financing a used car.
Updated Peugeot 5008 starts at £29,585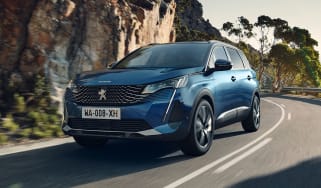 Updated Peugeot 5008 starts at £29,585
Cupra Formentor SUV review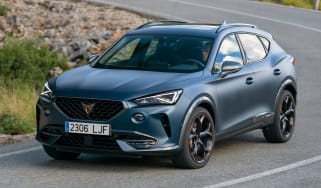 Cupra Formentor SUV review
2020 Volkswagen ID.3 hatchback: base model starts at under £30k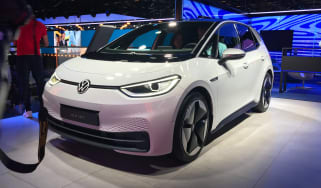 2020 Volkswagen ID.3 hatchback: base model starts at under £30k