Best estate cars
The best estate cars aren't just incredibly practical – they also offer great value for money, lots of equipment and sporty handling. Here, we list our 10 favourite estate cars.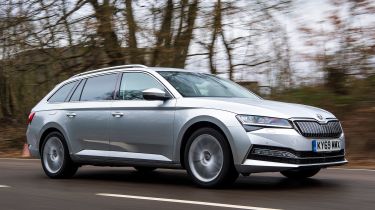 Estate cars have been a popular part of British family life for generations. Combining the comfort of a saloon or hatchback with the luggage capacity of a small van, the family estate was the favoured method of transport for many households until MPVs and SUVs began to surge in popularity in the nineties.
Anyone who makes regular trips to IKEA or has to haul bags of grass clippings and garden rubbish to the tip will find the extra convenience of an estate's big boot a boon. And not everyone wants a bulky large SUV, while many households aren't sufficiently populated to need five spare seats – so an MPV is unnecessary.
An estate is often a more accomplished load-lugger than either of those two, anyway. They typically sit lower than an SUV, which means the boot floor is closer to the road. This means you don't have to lift heavy items very far to get them in. It also means that dogs or other creatures you'd rather carry in the boot than the back seat don't have to exert themselves to get on board.
The boot of an estate car can be more practical than that of an MPV, too. In an estate, the rear seats will usually fold flat in one simple movement, leaving a long, flat load bay for carrying outsized items instead of passengers. In many seven-seat MPVs, the load area is only marginal with the third row of seats in place and you may need to remove two heavy, bulky rows of seats to match the total carrying capacity of an estate.
Another big advantage an estate car has over a cumbersome SUV or MPV is the way it drives. Driving an estate is typically indistinguishable to driving the saloon version of the same model. And even if you're not someone who relishes the prospect of driving, you're sure to be pleased by the biggest benefit an estate brings – that it's unlikely to cost much more to run than a saloon or hatchback.
If the reasons above have sold you on the idea of an estate for your next car, here's a list of the 10 best estate cars on sale in the UK today. We've also got guides to the best used estates, best hybrid estates and best fast estates.
Its name still might not be easy to swallow, but the Skoda Superb genuinely does live up to its slightly presumptive appellation. As Skoda's flagship saloon, the car is mightily impressive and the same is true of the estate – if not even more so. It's enjoyable to drive, reliable (thanks to technology shared with VW and Audi), safe and economical. It's also a terrifically comfortable car for long motorway journeys.
The deciding factor for it topping our favourites list, though, is the sheer amount of space you get. If you want a roomier car than this, you need to buy either a van or the biggest of SUVs, which involves making all the compromises that come with either of those choices. We'd recommend the Skoda Superb for anyone looking for a comfortable saloon, but as an estate car it really deserves to be the obvious choice.
The BMW 5 Series Touring has evolved over many years to get better and better. The latest version is almost the perfect car for families, putting forward a strong case that you should choose it over an SUV. It's certainly better to drive, with wonderfully precise handling that no longer comes at the cost of a comfortable ride and refinement. Another plus for the BMW is the sheer range of excellent petrol and diesel engines, with power spanning from 181bhp in the 520i Touring all the way up to 335bhp in the 540i Touring. Several versions are even available with BMW's xDrive four-wheel-drive system, for extra grip in poor conditions.
There's plenty of space for front and rear passengers, standard 40:20:40 split-folding rear seats and a 570-litre boot to carry your gear. If you've got your hands full, simply wave your foot under the back bumper to open the boot – as long as the key is in your pocket.
It's another great result for Skoda in our list of top estate cars, with the Octavia nipping at the larger Superb's heels. Many of the same virtues apply here, with good, simple design, well proven mechanicals and a rock-solid interior, yet the Octavia is comfortably less expensive than the Superb. It's powered by some of the best engines on the market and is available with a diesel engine with low enough CO2 emissions to render the Octavia tax-exempt. Or you can choose the sporty, turbocharged vRS model.
The Octavia is one of those 'one-size-fits-most' cars – it should suit most families. It has an enormous boot, and is renowned for its reliability – Skoda as a brand achieved a fifth-place overall finish in our 2020 Driver Power owner satisfaction survey. It may not be the most glamorous car in the world, but for a dependable vehicle that has to work for a living, the Octavia deserves to be on your shortlist.
The latest Mercedes E-Class Estate builds on the strengths of the previous model and is one of the most luxurious and comfortable large estate cars currently in production. If you go for a diesel, it offers an enviable combination of efficiency and performance, too, with fuel economy of almost 50mpg and 0-62mph taking under eight seconds with the smallest engine. The bigger engines are a little less frugal, but marvellously smooth and powerful.
The car's looks are elegant and restrained, with just a hint of showiness and inside the E-Class really impresses. The dashboard is made with beautifully crafted materials and features a design that's both classical and up-to-date, while the handily shaped 640-litre boot means it's as practical as it is desirable. Downsides? None, really, aside from price: you could almost have two Octavia Estates for the price of one E-Class.
While some may find the Volkswagen Passat Estate's styling rather conservative, here at Carbuyer we think it has a very classy, sharp and understated look to it. It's also a pleasure out on the road – perhaps not the most thrilling drive, but certainly a safe, secure and soothing all-rounder. What's more, it's extremely spacious, with a whopping 650 litres of boot space and an increased amount of legroom for passengers in the back compared to the previous model.
The engine range features low-emission models at one end of the scale, and a fast and powerful twin-turbo diesel at the other. Four petrol engines were introduced in 2017, ranging from 1.5 to 2.0 litres in size, and the Passat Estate GTE plug-in hybrid has very low CO2 emissions. With a version to suit everybody and a smart, high-quality interior in every model too, the Passat has much to recommend it.
Although a BMW or Jaguar is still more engaging to drive, the latest Volvo V60 leaves most of its rivals in the shade when it comes to classy, contemporary design and the latest in-car and safety technology. It's a highly practical car, too, if not quite king of the hill when it comes to absolute load capacity.
Under the bonnet can be found a range of cutting-edge petrol and diesel engines and supreme comfort on the motorway counts in its favour, too. We'd also recommend checking out the plug-in hybrid model if you're looking at the V60, with its performance, electric range and unaffected practicality.
The BMW 3 Series Touring is another excellent car – one that builds on the enjoyable driving experience of its saloon sister model. BMW always manages to strike a balance between handling prowess and everyday usability, and despite its sporting appeal on country roads the 3 Series is also a comfortable car for long motorway journeys. Its boot measures just shy of 500 litres with the seats up, which is a bit less than you get in some of the other cars here, but it's still a sensibly shaped and useful space that can expand to 1,500 litres of with the seats folded down.
Families will appreciate its generous standard equipment and strong Euro NCAP crash-safety rating, as well as the fact that BMW's engine line-up is one of the strongest – and most economical – on the market today. Finally, there's little doubt that the BMW badge carries the image and status that many owners crave.
While BMW has a reputation for building the best driving estate cars, the Mazda6 Tourer isn't far off and offers buyers a stylish alternative. Sharp steering, tenacious grip and a snappy gearchange see all the boxes ticked for the enthusiastic driver, but your passengers should be perfectly happy, too. The interior isn't quite on the same level as the Audi A4's, but the dashboard is uncluttered and modern-looking. The dash-mounted sat-nav display is easy to use thanks to an i-Drive-style control wheel near the gearlever, but there are traditional gauges rather than a digital dashboard.
The simple engine range consists of a 2.0-litre petrol or 2.2-litre diesel in several power outputs; we recommend the 173bhp diesel for its blend of performance and 50mpg fuel economy. The boot measures 506 litres, expanding to 1,648 litres with the rear seats folded flat.
The Audi A4 Avant competes squarely with the BMW 3 Series Touring and while we'll readily declare the BMW the best car to drive in the class, we think the Audi is the class leader when it comes to interiors. Everywhere you look and touch, you'll find materials and textures that delight and provide a real sense of permanence and longevity. It's beautifully laid-out, too, with simple controls and clear displays.
The Avant is a very comfortable car and also boasts an impressive engine range, with the most economical diesel variant capable of over 53mpg and CO2 emissions low enough to tax to slash company-car tax bills. The car's 505-litre boot just trumps both the BMW 3 Series Touring and the Mercedes C-Class estate. If you're in the market for a slick, upmarket estate, the Audi A4 Avant is a great all-rounder that makes sound financial sense.
The Kia Ceed Sportswagon has morphed into a real rival for the estate versions of the Ford Focus, Volkswagen Golf and Skoda Octavia, and it's hard to overlook the South Korean car if you're after a spacious family estate. With 600 litres to fill with the seats up, the Ceed Sportswagon is within touching distance of the Octavia Estate's luggage capacity. It looks smart and you can't argue with the amount of kit you get as standard either.
A Ford Focus Estate will be more engaging on twisty roads but the Ceed doesn't embarrass itself, and the engines are very economical. Kia's standard seven-year warranty only adds to the appeal.
Top 3 used cars for dog owners for £17,000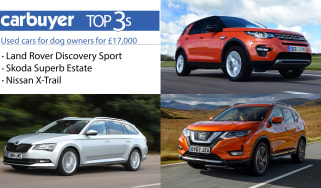 Top 3 used cars for dog owners for £17,000
Best new car deals 2020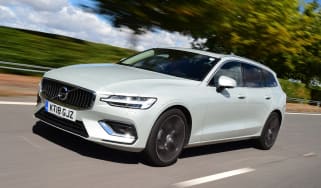 2020 scrappage schemes: the complete guide
2020 scrappage schemes: the complete guide
The UK's top 10 best-selling cars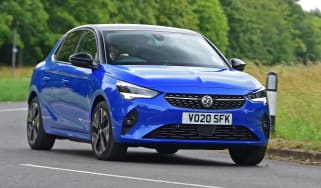 The UK's top 10 best-selling cars