Should you buy an Audi, a BMW or a Mercedes?
If you're in the market for a premium German car, choosing between the top contenders can be tough. We explain what each brand is about
click here to go back a page, while those wanting to learn more about Mercedes should click here to go through to the third page.
BMW
Slogan: The Ultimate Driving Machine
Founded in 1917, BMW was originally an aircraft manufacturer before turning to motorcycle production in 1923 and car production in 1927 - assembling a version of the Austin 7 of all things. Short for 'Bayerische Motoren Werke' (Bavarian Motor Works), BMW has long held a reputation – as their slogan suggests – for building cars with the driver in mind. Like Audi, BMW makes a wide range of cars to cater for all tastes, from the Ford-Focus-sized 1 Series hatchback to the imposing X7 luxury-SUV.
Naming strategy:
BMW's naming strategy is somewhat involved. Its standard range of hatchbacks, coupes, estates and saloons starts with the 1 Series hatchback, covering all intervening numbers until you reach the large 7 Series executive saloon. Models prefixed by the letter 'X' and featuring an odd number (the X1, X3 and X5) are SUVs, while even-numbered 'Xs' (the X4 and X6) are coupe-inspired SUVs. BMW's most technologically and environmentally advanced cars get the letter 'i' (the i3 and i8).
Performance BMWs are prefixed with the letter 'M', which denotes 'Motorsport'(see the M2, M3, M4, M5 and M6), while the two-door coupe version of the 3 Series saloon is now known as the 4 Series and the two-door 1 Series is referred to as the 2 Series. Essentially, with the exception of the 'X' cars (and the MPV Active Tourer models) BMWs with an even number are two-door models, while odd-numbered cars have four or five doors – although the 1 Series hatchback is available with three doors and the 6 Series Coupe is also available as a four-door Gran Coupe saloon! If that's not complicated enough, BMW estates are called 'Touring', and the Z4 sports car is a bit of an outlier, being the only BMW in production wearing a 'Z' moniker.
Trim levels:
Again, this is only a rough guide, but SE is BMW's entry-level trim, rising through Sport, Luxury and on to top-spec M Sport trim. EfficientDynamics cars, as the name suggests, prioritise economy and low running costs.
You should expect to find the following attributes on nearly all BMWs:
Rear-wheel drive and an enjoyable driving experience: it wouldn't be much good if BMW didn't live up to its slogan. While 'ultimate' may be ambitious (and subjective), almost all BMWs are excellent to drive. The hugely popular 3 Series saloon and Touring estate models are arguably all the car you could ever want: desirable, practical, well built and hugely entertaining to drive. Only the 2 Series Active Tourer and its bigger brother, the Gran Tourer disappoint slightly. Even so, they're still good to drive by the standards of their people-carrier rivals. Front-wheel drive is something BMW buyers have started getting used to, as both the 2 Series people carriers and the 1 Series hatchback now feature it. 
For now, however, all other BMWs feature the brand's trademark rear-wheel drive, save for its X-badged SUVs and the i8 hybrid sports car, which come with four-wheel drive. That said, the firm's xDrive four-wheel drive system is available as an option on all cars bar the 2 Series
A driver-focused dashboard: climb aboard a BMW and you're greeted by a dashboard that's unapologetically angled towards the driver's seat. While the heating and infotainment controls are easily accessible by the front-seat passenger, BMW's bias towards the driver is clear from the moment you get in.
An excellent infotainment system and standard sat nav: when it first launched in 2001, BMW's iDrive infotainment system came in for a lot of criticism, as buyers struggled to get to grips with what it did and how it worked. Since then, our expectations have changed, and the latest version of iDrive is one of the better systems on the market. It may have more options than you actually need, but the iDrive setup features an intuitive and quick user experience, a sophisticated control wheel and a crystal-clear screen. BMW's decision to fit all of its cars with Apple CarPlay is welcome too, as older models were not compatible.
Anything else to know?
BMW had to give way to Audi in our 2020 Driver Power customer satisfaction survey, with a 27th-place result out of 30 carmakers, which is a disappointing result for a brand with such a strong image. Like many carmakers, BMW has turned to turbocharging in a bid to meet CO2 emissions and fuel-economy targets. That's not so much of an issue for some manufacturers, but it means BMW's famously smooth non-turbocharged six-cylinder have all been replaced by turbocharged versions, which aren't as characterful but are far more powerful and efficient. The three-year/unlimited-mileage warranty all BMWs come with is decent if not exceptional.
Cheapest route into BMW ownership: an entry-level three-door BMW 1 Series hatchback will set you back around £26,000. The 1 Series has an excellent driving experience thanks to its rear-wheel-drive setup, which partly makes up for the cramped rear seats. It's significantly more expensive than the cheapest Audi, but the 1 Series sits in the class above the A1 - the 1 Series is a more natural rival for the A3, which is similarly priced Some also consider a MINI to be a 'junior' BMW, as this iconic British make is now owned and overseen by the German brand, with prices starting at just under £17,000.
Most exclusive model: the BMW i8 is truly innovative. It's a radical-looking plug-in hybrid sports car that can go from 0-62mph in 4.4 seconds, yet emits just 42g/km of CO2 thanks to its small (but powerful) petrol engine and electric motor combination. The rear seats are a token effort, though, and at almost £30,000 more than a Porsche 911, exclusivity is guaranteed.
The one you'll probably buy: a BMW 3 Series Touring or saloon. Eyebrows were raised in the early 2000s when the 3 Series began outselling the Ford Mondeo. Today, while SUVs are stealing sales from traditional saloons and estates, the 3 Series' image and driving experience are still strong enough to tempt many. It is for many the complete car, with the latest version delivering new 5 Series space, comfort and quietness for a lot less cash.
For all there is to know about Mercedes, click here to go to the next page for the final of our three rundowns, or click here to go back and read our guide to Audi.
Genesis GV80 SUV review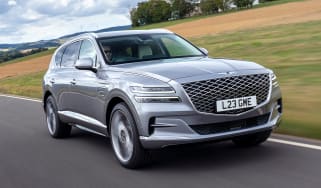 Top 10 best company cars 2021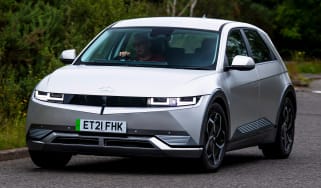 Top 10 best company cars 2021
Buying a car from a dealership: 20 car buying secrets that dealers don't want you to know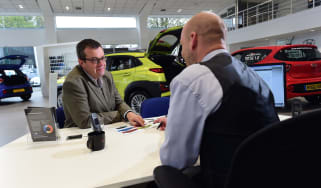 Buying a car from a dealership: 20 car buying secrets that dealers don't want you to know