Most economical family cars
Choose one of our top ten most economical family cars and you'll save money while being able to carry passengers and their luggage.
With the price of fuel as high as it is, many buyers will be on the lookout for the most economical family cars available. Luckily, modern engineering means we don't have to buy tiny cars to cut down on our motoring bills; there are lots of practical family hatchbacks, SUVs and saloon cars with fuel-efficient engines.
In this list we've concentrated on the family cars that make up the bulk of sales – petrols, diesels and hybrids – that are popular thanks to their widespread availability and affordable prices. However, if you want a car with zero emissions, you should also take a look at our guide to the best electric cars, including the Nissan Leaf hatchback and Jaguar I-Pace SUV.
Impressively, every model in this group returns almost 60mpg or more, despite a couple having more than 400 litres of boot space and several boasting SUV-style looks. Each only needs refuelling at the petrol station, with no plugs to hook up at home or at public charging stations. That means no matter where you travel in the country, you'll enjoy the same low running costs all the time.
Factors like this make our top ten flexible, whether you're driving on the school run or heading to Cornwall for a few weeks away. Each also has plenty of space in the back for kids and adults, a decent boot and a reassuring amount of safety equipment.
Most of the cars on our list use a diesel engine, so you'll need to work out whether this is suited to the type of driving you do. Diesel models usually cost more to buy than petrol and if you drive less than 12,000 miles a year, a petrol engine might work out to be better value. That's particularly the case if you only do short journeys where it's more difficult to exploit diesel's superior economy, while many small petrols are now capable of more than 50mpg.
We haven't included plug-in hybrids on this list as they tend to be more expensive than petrol, diesel or hybrid cars. Nevertheless, if your budget stretches to a plug-in hybrid, you can save even more on fuel costs, as many offer around 30 miles of electric range. Check out our list of the best hybrids here.
Read on for our list of the top 10 most economical family cars you can buy in the UK right now.
The latest Volkswagen Golf has gone digital and it's a treat for tech fans, but not all of the interesting technology is gadgetry for the driver and passengers. A clever new 2.0-litre diesel engine brings a host of improvements over the old 1.6, with the result that the 113bhp diesel engine is said to manage 67.3mpg and low CO2 emissions. While the least powerful diesel Golf is likely to be bought predominantly by fleet buyers, it's also a good choice for private buyers looking for the best fuel economy.
Like the old car, there's plenty of space for adults in the rear seats and the 380-litre boot is a good size. Lower-mileage drivers will be better off with the 1.5-litre petrols, which both achieve 50mpg.
The most frugal Renault Clio, the 85bhp diesel, matches the Golf's 67.3mpg figure, but it's not the eco-friendly Clio we'd recommend as acceleration really suffers; 0-62mph takes a pedestrian 14.7 seconds. Instead, most buyers will be better served by the new E-Tech hybrid Clio, which manages up to 64mpg. Renault says up to 80% of journeys in town can be completed on electric power. It should be noticeably quicker than the diesel too, but the hybrid is the most expensive engine in the range.
The Clio offers a fantastic interior and one of the most practical boots in its class, both of which helped it to our Carbuyer Car of the Year 2020 award.
It's not as recognisable as a Toyota Prius, but considering the Hyundai Ioniq Hybrid is in its first outing, it has done very well. Like the Toyota, it uses a petrol engine coupled with an electric motor, a small battery pack and automatic gearbox. Economy figures are actually slightly better than the Prius at 62.8mpg, so it's easy to be tempted by the Hyundai's cheaper price.
Rear passenger space is a little tight for taller occupants due to the Ioniq's aerodynamic roofline, but the 443-litre boot pips the Prius for space. The Ioniq plug-in hybrid manages a claimed 247.8mpg in mixed driving, and there's also a purely electric version capable of 194 miles of range.
The Honda Jazz has returned and is now only available with a hybrid powertrain. The Jazz will manage 62.8mpg and our test drive gave us an even higher reading, so you can enjoy the economy of a diesel and the cheaper price of petrol.
With two electric motors and no gearbox, it feels broadly similar to an electric car at lower speeds, while the new Crosstar trim level should appeal to those who want a little SUV style. Inside, it's a far nicer place than before, as Honda has fitted a chic two-spoke steering wheel and a much-improved infotainment system.
The latest Ford Focus features numerous fuel-saving tricks, including cylinder deactivation for its three-cylinder EcoBoost petrol engines – a world first on such an engine. The 1.5-litre EcoBlue diesel is the economy star, though, managing up to 62.8mpg.
Elsewhere, the Focus looks fresh inside and out and is packed with new technology. The infotainment system is more like a tablet device than ever and there are trim levels from the sporty ST Line to the luxurious Vignale. Ford has improved space in the rear seats by increasing knee and shoulder room, and the boot now measures 375 litres – just five off that of the Volkswagen Golf. Ford has introduced mild-hybrid technology on the EcoBoost petrol engine, which now officially claims up to 55mpg.
Honda's engineers have worked very hard to tweak the Civic's 1.6-litre diesel engine for fuel economy, and the results are sensational. A figure of 62.8mpg will bring down bills and even make family driving holidays a fair bit cheaper.
Despite being so thrifty, the engine also has plenty of punch and the Civic is great to drive. Its fastback shape and spoilers also hide a cavernous 478 litre boot, putting rivals like the Volkswagen Golf and Ford Focus to shame. Owners also score the Civic very top for servicing costs, so you shouldn't face nasty bills.
You might not have realised the Mercedes A-Class is available as a saloon, and it's kind of like a mini-Mercedes C-Class. It has a bigger boot than the hatchback and is more aerodynamic. Fuel economy is good whether you go for a hatchback or saloon, especially if you go for the diesel A180d model. It can manage around 62mpg, but if you'd like a bit of extra power, the A200d will still return over 55mpg.
Of course, it has the A-Class' excellent interior, which is one of the most luxurious on the market. Two screens dominate, and the tech behind them has more processing power than the screens fitted to the Mercedes S-Class.
The Toyota Prius has now been on the roads for more than two decades and in that time it has been Toyota's flagship for hybrid technology. It's clearly a success, because owners rated its fuel economy and running costs highly in our 2020 Driver Power survey.
One Prius driver told us they regularly achieve 65mpg and that their trips to the petrol station have halved. Officially the Prius is claimed to return up to 61.4mpg, with emissions of 104g/km of CO2. It also makes a good family car thanks to a generously proportioned interior and decent 363-litre boot. Its CVT automatic gearbox makes light work of stop-start driving too, making the Prius ideal for urban driving.
The DS 3 Crossback might trade on style but it also has a range of frugal engines. To get the most miles for your money, you'll need the 1.5-litre BlueHDi diesel engine with 101bhp - DS claims you can get up to 61.4mpg in mixed driving. If you'd rather not spend any money on petrol or diesel, an electric E-Tense version is also available, which promises 200 miles of range.
The DS 3 Crossback offers distinctive styling and a luxurious interior full of interesting diamond motifs. Other premium SUVs are more practical but the DS 3 Crossback is a strong and distinctive package.
The Kia Niro shares its engine, electric motor and battery with the Hyundai Ioniq Hybrid, but it's dressed in a fashionable crossover suit. This chunky styling and a raised roof benefits kerb appeal and gives the Niro a roomy and airy interior, but it also hurts fuel economy slightly. Still, 58.9mpg is hardly thirsty and the Kia Niro has proved a real hit with owners, coming fourth overall in our 2020 Driver Power survey.
Niro drivers particularly love its user-friendly infotainment system, interior and comfortable seats, as well as excellent visibility for parking. The Niro plug-in hybrid offers a claimed 201.8mpg, while you'll find the electric Kia e-Niro is one of the best electric cars to buy thanks to its reasonable price and 282-mile range.
Updated Peugeot 5008 starts at £29,585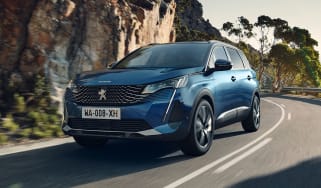 Updated Peugeot 5008 starts at £29,585
Cupra Formentor SUV review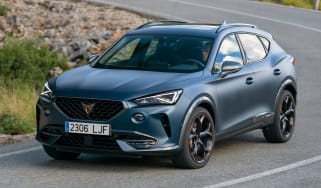 Cupra Formentor SUV review
2020 Volkswagen ID.3 hatchback: base model starts at under £30k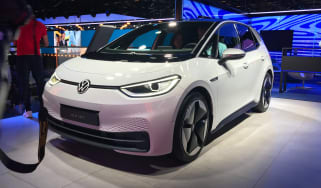 2020 Volkswagen ID.3 hatchback: base model starts at under £30k