What are brake pads and discs?
We explain how car brakes work and how to check your brake pads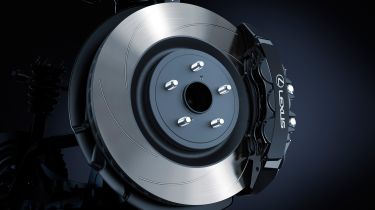 The brakes on a car are one of its most vital features to keep us safe. It's hard to underestimate their value, because they ensure that a car can be controlled safely and brought to a stop when required. Otherwise, a tonne or more of car would become an incredibly dangerous hazard. But how do car brakes work?
What are disc brakes?
Just like that of a pedal bike, a modern car's braking system is made up of three main components; callipers, pads and discs. The caliper is the part you can see first and foremost and is the part of the system that creates friction and acts as a clamp around the disc. These calipers are often painted in bright colours on sportier cars to emphasise the theme of performance.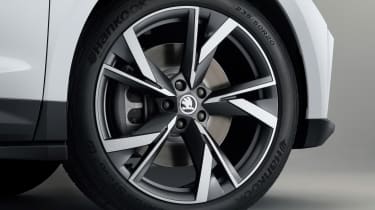 Attached to either side of a caliper are the brake pads; the materials that make contact with the discs under braking. The discs themselves are fitted to the inside of your car's wheels. As you apply pressure to the brake pedal, brake fluid pushes a piston against the caliper, causing it to squeeze the pads against the disc. This in turn slows the turning wheel and therefore, the car down.
Brake pads are the part of the whole system that usually need replacing first since they are made of a softer material than the discs, and therefore wear much quicker as they are essentially eroded away by the metal discs.
What are drum brakes?
While most cars are now fitted with disc brakes as standard, some cars may use drum brakes at the rear. Though the concept is much the same, drum brakes utilise a metal drum instead of the round discs that you'll find in the majority of modern vehicles. When the brake is applied, brake shoes (similar in function to brake pads) are pushed against the inside of the spinning drum which creates friction, thus slowing the vehicle down.
Drum brakes are much cheaper to produce than their disc counterparts, however they are becoming uncommon in conventional petrol and diesel cars due to their inability to dissipate excess heat. Nevertheless, their inherent low cost means they are still finding their way into the rear axles of some of the cheapest cars on the market where intense braking isn't so much of an issue.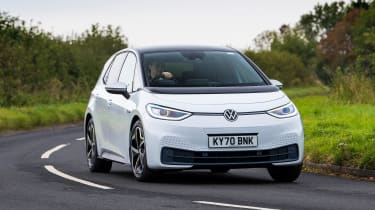 Drum brakes are also seeing a resurgence in the electric car market. This is because the majority of an electric car's braking power comes not from the brakes themselves, but through regenerative braking. This means that expensive and complex disc brakes are not needed, especially in smaller EVs such as the Volkswagen ID.3. You can find out more about regenerative braking in our in-depth guide.
How do I check my brake pads?
Checking your brake pads may be something you'd want to do every now and again to ensure your vehicle is stopping as well as it should be. Thankfully, this can be done by ear sometimes as brake pads are designed to make an unpleasant squeaking sound when they come into contact with the disc. So, if you hear such a sound, then it may be best to check your brakes and get them serviced. 
You can do this by jacking up your vehicle, removing each wheel and checking the pads. If any of the brake pads are less than an eighth of an inch thick, they should be changed immediately. They should also be changed if they have any dents, rust or have been warped. Read our full guide to checking brake pads here.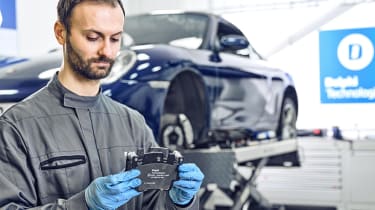 The best thing to do if you are concerned about your brakes is to take your car to a service centre to get them looked at by a specialist who can change them there and then if need be. Brake pads typically last for up to 60,000 miles of driving, though you may need them replacing sooner depending on how and where you drive. You should be able to schedule brake pad replacement into your annual service and many providers will also throw in a year or more warranty for peace of mind.
Want a car that will do all the braking for you? Check out our guide to traffic jam assist systems
Car technology made simple