BMW 3 Series saloon review
"Brilliant BMW 3 Series is the pacesetter for executive saloon handling and performance"
Pros
Impressive handling
Spacious interior
Excellent engines
Cons
Bland styling
Steering lacks feel
Expensive range-topping models
Think of a saloon and the BMW 3 Series might be the first one that springs to mind. The 3 Series has come to be seen as the archetypal compact executive saloon, arguably setting the class standard ever since the first model went on sale in 1975. And its heritage goes back further than that, with its predecessor the 2002 making its debut in 1966. No other manufacturer has more experience of building this type of car than BMW.
It wasn't until the early 1980s that Mercedes made a true rival to the 3 Series; its 190E would later evolve into the Mercedes C-Class we know today. Audi, meanwhile, was a little quicker off the mark, its 80 model doing battle with BMW throughout the 1970s and '80s, before being replaced by the now-familiar Audi A4 in 1994. Fast forward to today, and the 3 Series also faces stiff competition from the Alfa Romeo Giulia, Jaguar XE and Volvo S60, plus new electric cars including the Polestar 2 and Tesla Model 3, so life for BMW in this part of the market has never been tougher.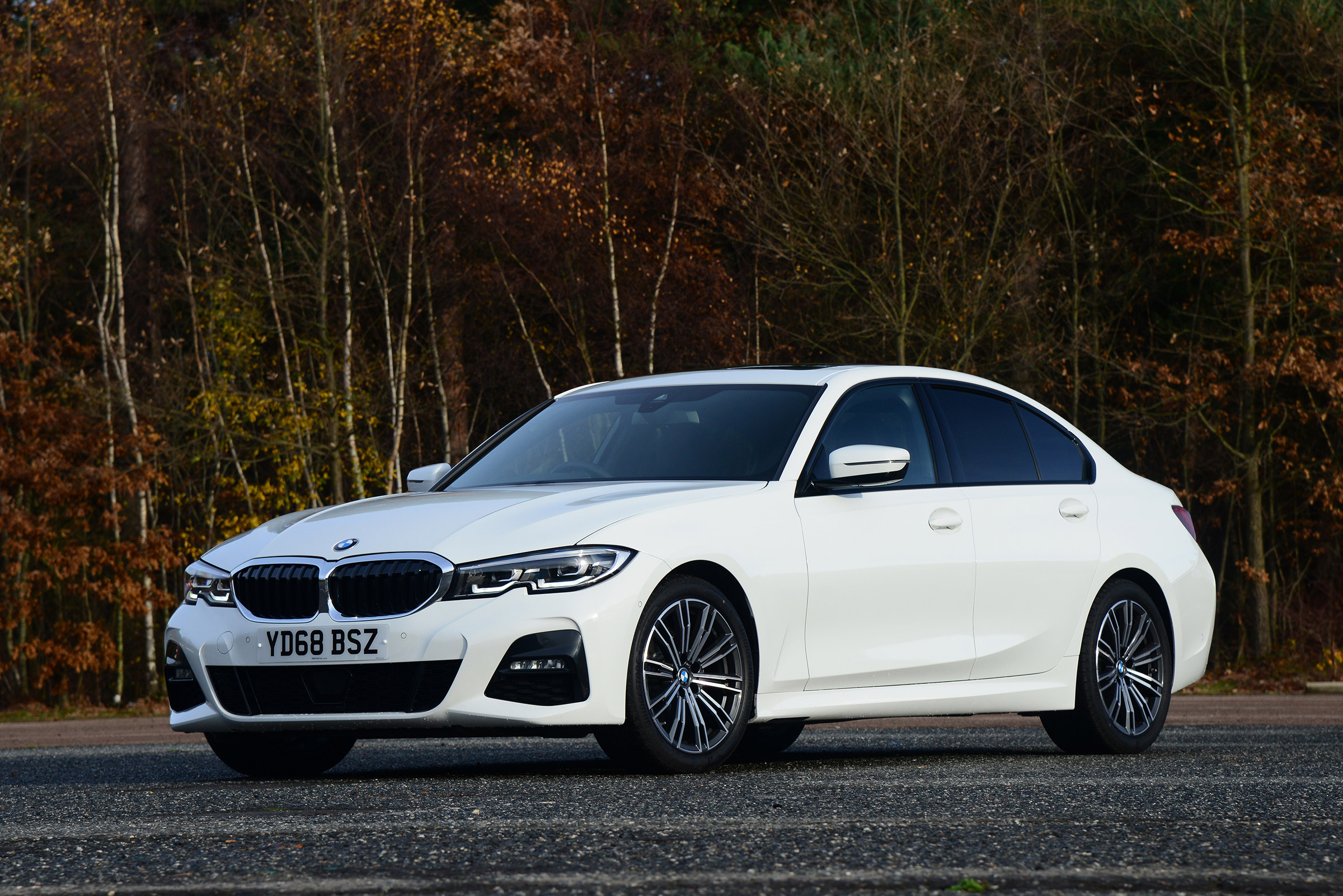 Top 10 best executive cars 2022
The latest 3 Series doesn't exactly represent a radical design departure for the brand. For a company that produces such arresting, unconventional cars as the electrified BMW i3 and BMW iX, the 3 Series is rather more unassuming - although top-spec models do look eye-catchingly sporty. However, BMW's smallest saloon has always been instantly recognisable – the only car it could possibly be confused with is the bigger BMW 5 Series, although from the rear it bears a striking similarity to the Lexus IS.
While the 3 Series' iconic 'kidney grille' design continues to evolve, and its latest iteration is a more complex, exaggerated shape than ever before, the 3 Series maintains a face that's unquestionably BMW in character. Its LED headlamps take the form of a single unit on each side, but their light signatures recall the quad headlamps that were once a 3 Series staple. Meanwhile, the celebrated 'Hofmeister kink' – a bend in the rearmost side pillars into which the door glass cuts - has been seen in BMW models for more than half a century.
Irrespective of personal taste, few will argue against the BMW 3 Series having an upmarket image firmly on its side. Despite becoming a common sight on British roads, and a regular fixture in the top 20 of the sales charts, the 3 Series retains its upmarket appeal, perceived exclusivity and reputation as an engaging driver's car.
The latest model feels at least as sharp and nimble as its predecessors, with the cornering poise that BMW manages to engineer into every model – and not just those with a Sport Pro or M Sport badge. Its well developed suspension also manages to edge its rivals' for composure, even if it's slightly firm on the roughest B-roads. BMW's intelligent xDrive four-wheel drive system (it can automatically and quickly send power to the wheels with most grip) is available on some models, which heightens the sense of security on poor road surfaces as well as increasing cornering grip.
Our only major misgiving is that the electric power steering system lacks feedback, even if it is precise. Sport Pro and M Sport models have a noticeably more engaging feel thanks to bigger alloy wheels and wider tyres, and a suspension setup that further reduces body lean without making life too uncomfortable for passengers. The M340i xDrive is tweaked by BMW's M division, and is the hottest version of the 3 Series besides the new BMW M3, which brings even more pumped-up looks and over 500bhp.
Five adults will find the latest 3 Series a pleasure to travel in, thanks to an interior that boasts more rear legroom and headroom than before. Those in the front seats will enjoy a dashboard that has a sleek, hi-tech look but isn't complicated to use. The overall look may not be as stylish as that in the Mercedes C-Class, but BMW's latest iDrive 7.0 control system combines touchscreen and physical controls to great effect.
As before, the 320d diesel and 320i petrol are extremely talented all-rounders, with the diesel offering more than 60mpg while achieving 0-62mph in a little under seven seconds. The petrol 320i also takes around seven seconds to reach 62mph and is still promised to nudge economy of more than 40mpg. The 330i is bound to appeal to those who want a bit more power without sacrificing economy too drastically, while the M340i is the only six-cylinder petrol in the range and boasts 369bhp. The BMW 330e plug-in hybrid is also a hugely desirable version, thanks to its great performance and low running costs, particularly for company-car drivers. That's especially the case in cities such as London, where it is exempt from the daily Congestion Charge.
The BMW 3 Series continues to set the standard against which other compact executive saloons must be judged.