Land Rover Discovery named best new car
New SUV crowned Car of the Year at the Auto Express New Car Awards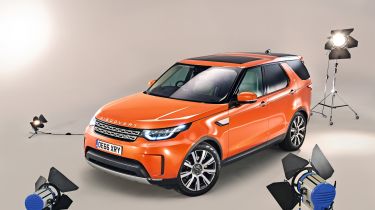 The new Land Rover Discovery has been named Car of the Year 2017 by Auto Express. The judges praised its innovation, technology, comfort and space.
The award marked the culmination of a series of accolades, which also saw the Discovery take the trophy for Best Large Premium SUV, while sister brand Jaguar took top honours in the Best Compact Executive Car class for the XE, as well as the Design Award for the i-Pace electric SUV.
Steve Fowler, Editor-in-Chief of Auto Express, said: "The new Land Rover Discovery is an incredible car, bringing new levels of luxury and go-anywhere ability to the SUV class. It rivals the very best cars you can buy for quality and refinement, offers all the practicality a family could ever need, will wow buyers with amazing technology they won't have seen before and offers efficiency you wouldn't expect for this size and class of car. On top of all that, it's brilliantly built by the guys and girls working for Land Rover in the Midlands. It's a great British success story."
Another big winner on the night was Skoda, taking home four trophies: Best Family Car for the Skoda Superb, Best Estate Car for the Octavia, Best Large SUV for the Kodiaq and Best Integrated Ad Campaign for Skoda-Reconnect starring Sir Bradley Wiggins.
In total, 27 awards were presented to 21 individual winners, reflecting the growing new car market. Highlights included the Technology Award, which was scooped by BMW's clever plug-in hybrid models, and the Driver Power customer satisfaction award, which was won by Lexus. Citroen's British CEO Linda Jackson was inducted into the Hall of Fame.
Full list of winners
Car of the yearLand Rover Discovery
Best city carWinner – Volkswagen up!Commended - Skoda Citigo, Kia Picanto
Best superminiWinner – SEAT IbizaCommended - Citroen C3, Skoda Fabia
Best compact family carWinner – Volkswagen GolfCommended - Skoda Octavia, Vauxhall Astra
Best family carWinner – Skoda SuperbCommended - Vauxhall Insignia Grand Sport, Toyota Prius
Best estate carWinner – Skoda OctaviaCommended - BMW 5 Series Touring, Skoda Superb
Best compact executive carWinner – Jaguar XECommended - BMW 3 Series, Alfa Romeo Giulia
Best executive carWinner – BMW 5 SeriesCommended - Tesla Model S, Mercedes E-Class
Best luxury carWinner – Mercedes S-ClassCommended - Bentley Mulsanne, Porsche Panamera
Best hot hatchWinner – Honda Civic Type R Commended - Ford Focus RS, Volkswagen Golf GTI
Best convertibleWinner – Mercedes C-ClassCommended - Audi A3, MINI Convertible
Best MPVWinner – Citroen Grand C4 Picasso Commended - Renault Grand Scenic, SEAT Alhambra
Best small SUVWinner – Citroen C4 Cactus Commended - Peugeot 2008, Dacia Duster
Best mid-size SUVWinner – Peugeot 3008Commended - SEAT Ateca, Mazda CX-5
Best large SUVWinner – Skoda KodiaqCommended - Kia Sorento, Hyundai Santa Fe
Best premium SUVWinner – Volvo XC60Commended - Jaguar F-Pace, Mercedes-Benz GLC
Best large premium SUVWinner – Land Rover DiscoveryCommended - Volvo XC90, Tesla Model X
Best coupeWinner – Audi A5Commended - Audi TT, Porsche 718 Cayman
Best roadsterWinner – Mazda MX-5 RF Commended - Porsche 718 Boxster, Fiat 124 Spider
Best pick-upWinner – Mitsubishi L200Commended - Ford Ranger, Nissan NP300 Navara
Performance car of the yearWinner – Porsche 911 GT3Commended - Ferrari 488 GTB, McLaren 720S
Electric awardWinner – BMW i3Commended - Renault ZOE, Tesla Model S
Technology awardBMW's plug-in hybrid models
Design awardJaguar i-Pace
Hall of fame Brit listLinda Jackson
Driver Power awardLexus
Van of the yearWinner – Volkswagen CrafterCommended - Peugeot Expert, Ford Transit