Best used cars under £10,000
We show you some of the many great used cars that £10,000 can buy
Having £10,000 to spend on a used car is a pretty decent position to be in, because you've so many options to choose from. There's a wealth of pretty recent or even nearly-new cars out there, or if you're happy to drive something a little older, you may be surprised at just what your money will buy.
Choosing a nearly-new model can be a great way of getting a higher specification than your budget would allow if you went for a brand-new car. You'll also get the balance of the car's original warranty and the reassurance of knowing that your car is almost as up-to-date as it possibly can be.
Cars are constantly being updated and you'll often find dealers selling older stock at discounted prices to make space for the very latest model. If you don't mind missing out on a few new features or some subtly different styling, a £10,000 budget can often secure a real bargain.
It's worth noting that £10,000 is a significant psychological price barrier – since a dealer knows that a four-digit price tag is a lot more alluring than one with five figures, you'll find a lot of used cars advertised at £9,995. There may still be room for negotiation, too – it's all too tempting for a dealer to round a car up to that figure without making it look poor value. We can help you to drive the best bargain with our guide to getting the best deal.
If you're prepared to own something older, you'll find some extremely appealing cars for a fraction of their cost when they were new. Be aware, though, that many larger cars have higher running costs, and the saving you make at purchase time may dwindle when maintenance and fuel bills are taken into account.
As with any car purchase, it pays to be careful when buying a used car for £10,000. Here are 10 of our favourites.
Vauxhall Astra Mk7 (2015-present)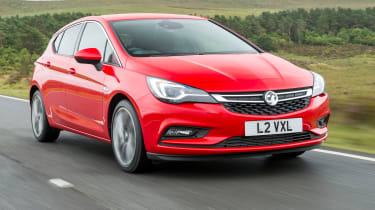 If you're after a different family hatchback to the ubiquitous Volkswagen Golf and Ford Focus, the Vauxhall Astra is still a very good option. The latest model looks similar to the mk6, just a bit more lithe and stylish. It's always appealed to private and company buyers alike, so there's a wide range of engines that offer either excellent economy, decent performance or a blend of both. There are also enough trim levels for everyone, and all should come with DAB radio, cruise control, air con and all-round electric windows. The Astra tends to suffer from higher depreciation than its rivals, but it therefore makes a great used buy. For £10,000, you'll be looking at a car roughly three years old but you've essentially got the pick of the range; high-spec trim levels fall within budget, as do diesel and petrol models and the more spacious Vauxhall Astra Sports Tourer estate variant.
Read our review of the Vauxhall Astra.
Hyundai Tucson Mk3 (2015-present)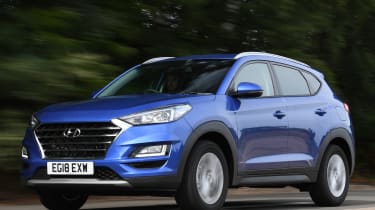 SUVs bring a higher driving position, more space and rugged styling, so it's no surprise that customers are lapping them up. As a result, there are plenty on the used market, and the Hyundai Tucson should be near the top of your shopping list. All models come with digital radio, smartphone mirroring and auto headlights, while the Tucson scores well for practicality and is reasonably economical too. There's a decent choice of specs and engines on the used market, despite not too many being available for our budget. Many are diesels and many are entry-level, but we'd recommend going for at least the SE spec as it adds parking sensors, climate control and heated front seats. Hyundai's warranty is another reason to recommend the Tucson; the five-year/unlimited-mileage cover means most £10,000 cars are still within warranty.
Read our review of the Hyundai Tucson.
Skoda Octavia Mk3 (2012-2019)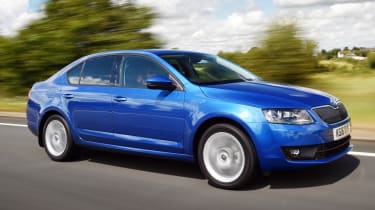 A Skoda Octavia is essentially a Volkswagen Golf with a bigger boot and an ever-so-slightly less luxurious interior. If you can live with that, you'll see why we rate it as the best family car on sale now. The boot of the hatchback is a similar size to the Golf Estate's boot, and there's the even more versatile Skoda Octavia Estate if you need more space. Whichever spec you choose, all feature air con, Bluetooth and DAB radio, but the top-spec versions include plenty of luxuries like heated leather seats and adaptive cruise control. The Octavia range also includes rugged Scout and performance-focused vRS models, and a £10,000 budget is enough to buy most models and trims. A low-mileage, five-year-old car in a well-equipped spec comes in on budget, but the vRS models are older and have done more miles (vRS cars keep their value much better).
Read our review of the Skoda Octavia.
Ford Fiesta ST Mk2 (2013-2017)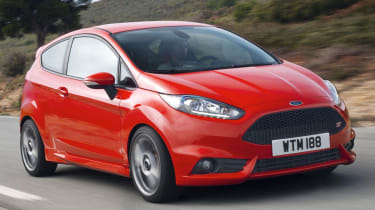 The last Ford Fiesta ST must be one of the most thrilling cars you can get for £10,000. It was one of our very favourite hot hatchbacks at the time and blew rivals like the Peugeot 208 GTi and Volkswagen Polo GTI out of the water. A firm ride and a dated interior are minor downsides but you won't care about either on a twisty B-road. Its 180bhp 1.6-litre engine is good for 0-62mph in under seven seconds, and flat out you'll be doing almost 140mph. There are plenty of modified examples out there, but £10,000 can buy a unfettled, low-mileage car. We'd recommend getting at least an ST-2 (kit includes DAB radio, keyless start and more powerful headlights), while the ST-3 piles on the kit with cruise control, climate control, auto wipers and lights, and sat nav.
Read our review of the Ford Fiesta ST Mk2 here.
Volkswagen Golf Mk7 (2012-2019)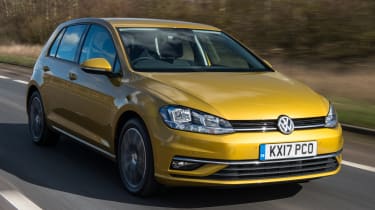 The Volkswagen Golf hatchback is often the default choice for family car buyers because it's such a talented all-rounder. Economical engines, decent space and practicality, reliability and an upmarket interior are all reasons why you might consider the Golf over its rivals. It also tends to hold its value better than a Kia Ceed or SEAT Leon, which is good news when you come to sell it on again. The trim levels have changed slightly over the seven years of production but £10,000 is enough to drive away in a well-specced three- or four-year-old model. SE includes cruise control, DAB radio and all-round electric windows, while Match models add sat nav, front fog lights and parking sensors. If you'd like exciting performance, you can get a late-model Mk6 (2009-2012) Volkswagen Golf GTI with reasonable mileage.
Read our review of the Volkswagen Golf here.
Audi TT Mk2 (2006-2015)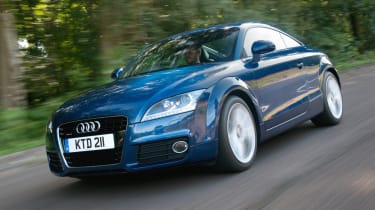 The Audi TT is the oldest car on the list, which just goes to show how desirable it is. Unlike many sports cars, you really can drive the TT everyday, whether you go for one of the powerful petrol engines or the economical diesels. If you're wanting the faster models, you'll need to look out for early 3.2-litre V6 versions or TTS and TT RS cars. With TTs, it doesn't necessarily matter about the mileage as they all use tried-and-tested VW Group parts, but make sure it has a full service history and that all maintenance has been carried out on time. There are plenty to choose from on online marketplace websites so if you're unsure about a particular car, walk away and check out another example.
Read our used Audi TT Mk2 buying guide.
Citroen Grand C4 Picasso Mk2 (2013-present)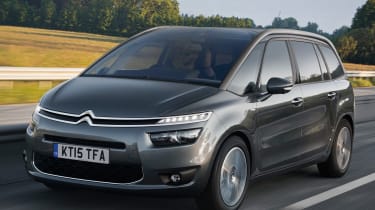 If you're after a seven-seat family car, you might think you'll need to compromise on style. The Citroen Grand C4 Picasso (now Grand C4 SpaceTourer) shows this doesn't need to be the case, as it even ranks on our list of the best-looking cars on sale now. It's not as fun-to-drive as a Ford S-MAX but that's hardly a priority for most MPV buyers. Practicality is top-notch, though; there are acres of space in the front two rows of seats, and the middle row comprises three individual seats - each with their own ISOFIX mounting for child seats. It feels quite futuristic inside, thanks to the large digital information display and a central touchscreen, with nothing in front of the driver where you'd normally find an instrument cluster. Diesels are much more common than petrol models, and they're better for lugging a fully loaded car. Many are high-spec Exclusive versions, and we'd recommend going for the 2.0-litre diesel if you can find one with a similar mileage/condition to a 1.6-litre engine.
Read our review of the Citroen Grand C4 SpaceTourer here.
Mazda6 Tourer Mk3 (2012-present)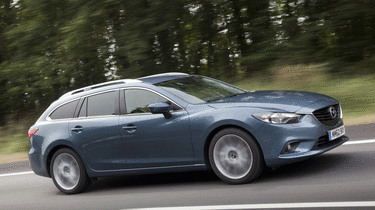 If you want a premium car with lots of space for £10,000, you'd probably look at the BMW 3 Series Touring and Audi A4 Avant first. The Mazda6 Tourer is a good alternative; if you can live with an infotainment that's not quite as slick as BMW's iDrive or Audi's MMI systems, you'll find an upmarket car with around half the mileage of some newer BMWs and Audis. All trim levels of the 6 are well equipped, coming with goodies like sat nav, cruise control and parking sensors, and many people went straight to the Sport Nav near the top of the range. This also includes a Bose sound system, heated seats and a reversing camera, and it's the spec we'd search for on the used market. Most come with a 2.2-litre diesel engine that is surprisingly powerful and pleasingly economical, and there are plenty of automatic versions available if you don't want to change gears yourself.
Read our review of the Mazda6 Tourer here.
BMW 3 Series Mk6 (2011-2018)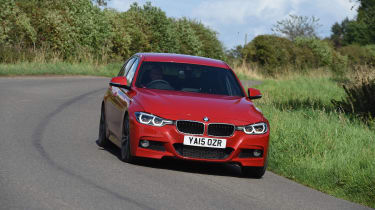 For those that are swayed by the BMW badge, the previous-generation BMW 3 Series saloon is a good option for £10,000. The estate seems to be more expensive than the saloon, and you can get a four-door model between four and seven years old with decent mileage for the budget we have here. All should have digital radio, parking sensors and two-zone climate control, while higher-spec cars get extras such as cruise control and sat nav. The 3 is excellent to drive, living up to BMW's 'Ultimate Driving Machine' tag, and models on standard suspension are comfortable too. There's an engine for every taste, from frugal diesels to super-powerful petrol engines, although the range-topping M3 is still out of budget. Of course, the boot opening isn't as wide as the estate's, but the boot is still very large at over 500 litres.
Read our review of the BMW 3 Series Mk6 here.
Renault Captur Mk1 (2013-2019)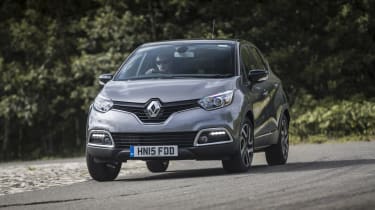 The Renault Captur was one of the first small SUVs and continued to be popular until it was replaced in 2019. It combined the low running costs of the Renault Clio with the high driving position and practicality of an SUV, although the Clio is better to drive. The Captur's petrol engines will suit anyone who mainly does short, urban journeys, while the diesel is good for higher-mileage drivers. You can get both for £10,000, and some cars are facelift models that are only around 18 months old. Its popularity means it's cheaper than most of its rivals on the used market, and we'd suggest hunting out a Dynamique Nav model or similar to get plenty of equipment for your money.
Read our review of the Renault Captur Mk1 here.
Toyota Prius Mk3 (2009-2015)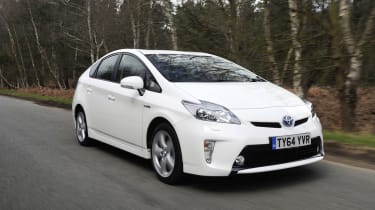 Since the Toyota Prius was launched at the end of the nineties, its role has changed somewhat. From its early beginnings as an alternative family car with a strong focus on low emissions and great fuel economy, the Prius has come to form the backbone of many urban taxi fleets, where operators love it for its low running costs and reliability. And there's no reason private owners shouldn't enjoy the same virtues. The Prius drives rather differently to other family cars – the controls aren't as immediate and responsive as a Ford Focus, for example – but it's comfortable and makes fast motorway journeys effortless. For £10,000 you can buy a six-year-old example that's escaped the grip of an Uber driver, although there are many higher-mileage cars out there that have seen service as minicabs. This isn't necessarily an issue if maintenance has been kept up-to-date, but look out for signs of wear and tear.
Read our used Toyota Prius Mk3 buyer's guide here.
For more used car choice, read our best used cars guide or see what you can get for £5,000.
Car dashboard warning lights: the complete guide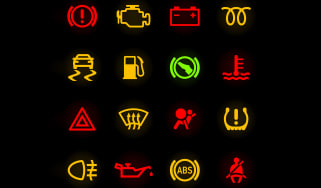 Car dashboard warning lights: the complete guide
New Volkswagen Golf GTI Clubsport gets 296bhp and racetrack mode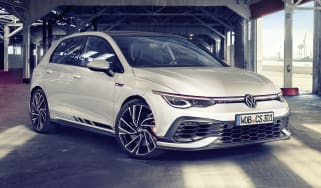 New Volkswagen Golf GTI Clubsport gets 296bhp and racetrack mode
2020 scrappage schemes: the complete guide
2020 scrappage schemes: the complete guide