Best new cars coming in 2021 and beyond
What can you expect to see in showrooms in the next couple of years? Our guide reveals all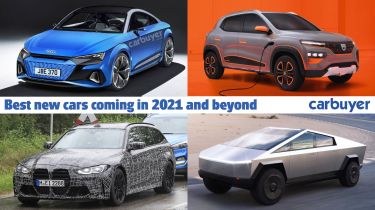 Page 6 - Cars coming in 2022 and beyond
Cars coming in 2022 and beyond
Aston Martin Vanquish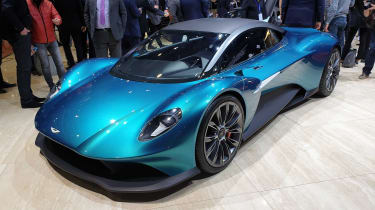 The Aston Martin Vanquish Vision was one of three concepts launched in early 2019 by the British brand, and it's said to be almost identical to the finished production version, which will launch in 2022. Rivalling the McLaren 720S and Ferrari F8 Tributo, the car will be Aston's first mid-engined road-going model.
Audi TT EV
There's been a lot of debate regarding the future of the Audi TT - at various points it has seemed the next TT would be a two-door like the current car, a four-door coupe like the Mercedes CLA or even an SUV with TT badges. For now, it appears that Audi is planning to stick with a two-door coupe body style, but with a battery pack instead of a petrol engine.
Read more about the next-generation electric Audi TT here.
BMW i Hydrogen NEXT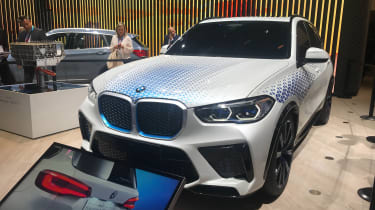 BMW will be releasing plenty of electric models in the coming years but it's also working on hydrogen power too. It plans to release a small number of hydrogen-powered BMW X5s in 2022, but says that a large-scale adoption of hydrogen power is still some way off because of the lack of infrastructure. Hydrogen offers zero-emission driving but cars can be refuelled in just a few minutes and manage a similar range to petrol engines.
Read more about the BMW i Hydrogen NEXT here, or read our guide to hydrogen fuel-cell cars.
BMW iX1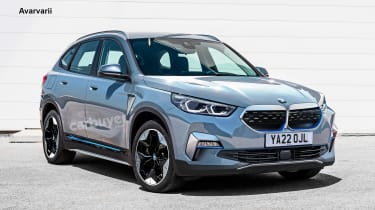 A new BMW X1 is in development, with the next-generation model likely to launch in 2022. Both hybrid and electric versions will be available, with the latter set to be called the BMW iX1. Our image suggests how it might look.
Read more about the BMW X1 and iX1 here.
BMW M3 Touring estate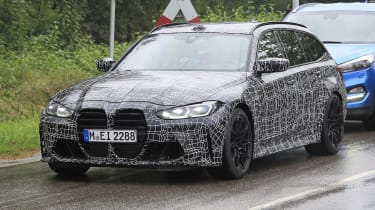 BMW has never put an estate version of the M3 into production - despite its Audi RS4 Avant and Mercedes-AMG C63 estate rivals - but now it looks like the company is making a u-turn, perhaps due to customer demand. The car will have four exhaust pipes and swollen wheel arches. It'll have up to 503bhp and rear-wheel drive, plus the big grilles from the new BMW 4 Series.
Read more about the BMW M3 Touring here.
BMW 5 Series EV (2023)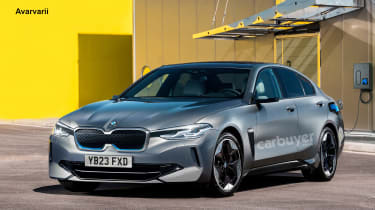 After the electric BMW X1 and 7 Series (below), BMW will introduce a new generation of its 5 Series models in 2023. Unsurprisingly, you'll be able to buy an electric 5 Series, set to be called the BMW i5, which is likely to use the same powertrain as the recently revealed iX3.
Read more about the electric BMW 5 Series here.
BMW 7 Series EV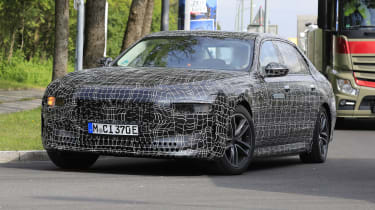 The next BMW 7 Series saloon will come with a huge choice of powertrains, including petrol, diesel and electric options - with the latter likely to be called the BMW i7. A range of over 300 miles is expected from BMW's flagship saloon, and it'll rival the next-generation Jaguar XJ, which will also have electric power.
Read more about the electric BMW 7 Series here.
Cupra Tavascan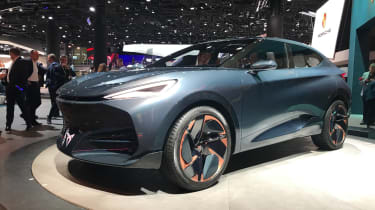 Revealed as a concept in 2019, the Cupra Tavascan could preview a production-ready SUV with an electric powertrain. It'll have performance fitting of the Cupra brand, with 302bhp and 0-62mph in 6.5 seconds suggested. After the hybrid Formentor, the Tavascan will be the brand's first EV.
Read more about the Cupra Tavascan here.
2022 Honda Civic Type R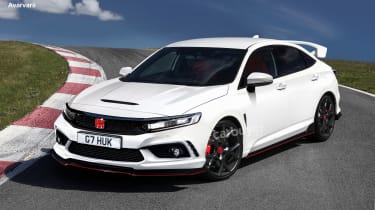 Prototypes of the 2022 Honda Civic Type R have been spotted testing in recent months and while the new model won't be a huge departure from the current car, it's likely to retain the outlandish bodystyling. Power is likely to come from a reworked version of the current turbocharged 2.0-litre petrol engine, with a slight power increase to around 330bhp.
Read more about the 2022 Honda Civic Type R here.
Fiat Panda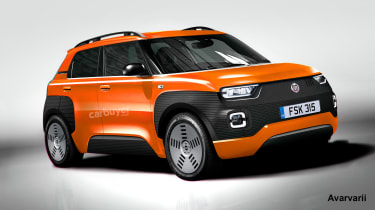 The Fiat Panda is likely to get an electric version when it's replaced in 2022 but it won't be an expensive style-led model like the new electric Fiat 500. The price will be much lower and it's set to get styling inspired by the Centoventi concept. Fiat-Chrysler is merging with the PSA Group (Peugeot, Citroen, DS and Vauxhall) so the next Panda could get the same underpinnings as cars like the Peugeot 208.
Read more about the Fiat Panda here.
Fiat 500XL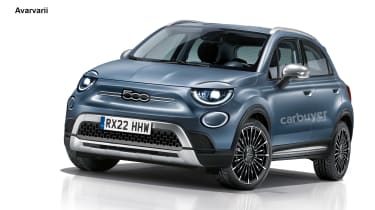 The Fiat 500X and 500L models could be merged into a single model dubbed the 'Fiat 500XL'. Its design is expected to be an evolution of the current 500X, with power coming from Fiat's latest mild-hybrid powertrains. There'll be a fully electric model too. Technology updates are likely to include the firm's latest Uconnect 5 infotainment system, along with an array of new safety features.
Read more about the Fiat 500XL here.
Maserati Grecale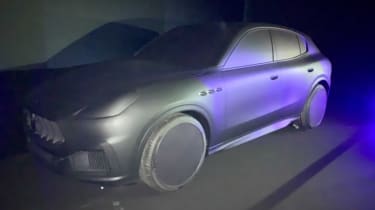 Maserati is set to launch its second SUV in the next couple of years. Called the Grecale, it'll be smaller than the existing Maserati Levante and will share a number of parts with the Alfa Romeo Stelvio. An electric model, badged Folgore, has been confirmed.
Read more about the Maserati Grecale here.
Mercedes GLC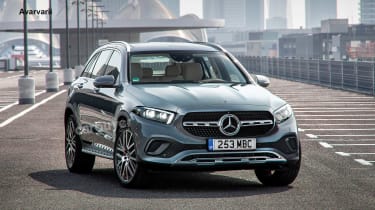 A new Mercedes GLC SUV is in the works, and it may look quite similar to the current car. The GLC is Mercedes' best-selling SUV, after all, but the new model will get interior tech inspired by the flagship Mercedes S-Class. A broader selection of plug-in hybrids will be offered as Mercedes looks to reduce its overall emissions.
Read more about the new Mercedes GLC here.
Mercedes T-Class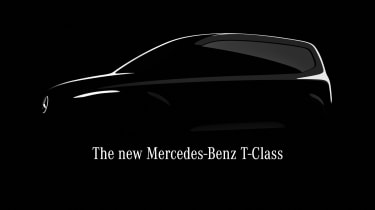 Mercedes is set to join the van-based MPV market with a new T-Class model, which will be launched in 2022. It'll be an upmarket rival to the Ford Tourneo Connect and Volkswagen Caddy Life, with petrol, diesel and electric options all due. The German brand will hope the T-Class will prove a greater success than the Mercedes X-Class pickup, which was clearly based on the Nissan Navara and withdrawn after just two years on sale.
Read more about the Mercedes T-Class here.
Nissan X-Trail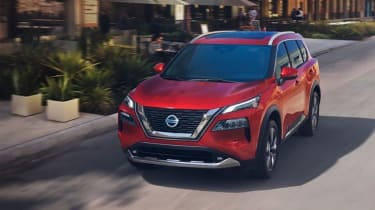 Having undergone a series of minor updates since it was introduced six years ago, the fourth-generation Nissan X-Trail will introduce an array of updated technology, a new design and a hybrid powertrain. The new car has already been revealed in North America, where it's known as the Rogue, with tech such as LED headlights and a digital instrument cluster fit as standard. It also gets a redesigned interior with plenty of soft-touch materials. The European specs for the new X-Trail won't be revealed until next year, with the car expected to go on sale in 2022.
Read more about the Nissan X-Trail here.
Peugeot 3008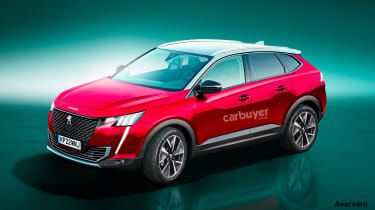 Peugeot is working on the next 3008 SUV, which'll have a much more style-led design. Rather like the Range Rover Evoque, the focus won't be on practicality so much because Peugeot's customer analysis has shown that most 3008 customers don't have young children. Electric and plug-in hybrid versions are both planned.
Read more about the Peugeot 3008 here.
Peugeot 5008 (2023)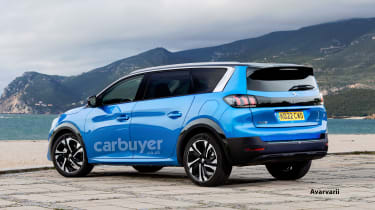 With the Peugeot 3008 getting sleeker styling, the bigger 5008 will offer more practicality than the current version. It'll be a cross between an SUV and an MPV, and it, too, will be available with several electrified powertrains. Our preview image suggests how the car might look.
Read more about the Peugeot 5008 here.
Polestar 3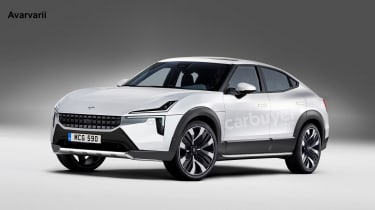 We'll see Polestar's third model in 2022. It may be unimaginatively named but the styling will be much bolder. Sitting on the same platform as the next Volvo XC90 (also likely in 2022), the Polestar will be sportier, highlighted by a sloping coupe-style roof, and perhaps more luxurious. It'll be fully electric and have a range of over 300 miles.
Read more about the Polestar 3 here.
Range Rover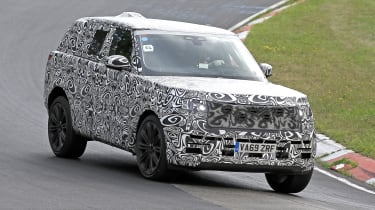 The Range Rover is due to be replaced in a couple of years, and the new model is expected to push even further upmarket to take on ultra-luxurious SUVs like the Bentley Bentayga, Aston Martin DBX and Rolls-Royce Cullinan. A new platform will mean a fully electric powertrain can be introduced alongside petrol-electric and diesel engines, and it'll manage over 300 miles of range.
Read more about the new Range Rover here.
Tesla Roadster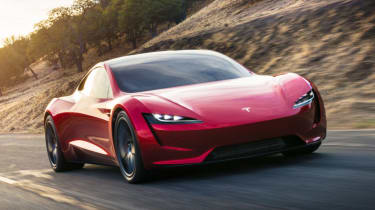 Zero to 60mph in 1.9 seconds, at 100mph in 4.2 seconds and a top speed of 250mph: these are apparently the statistics of the upcoming Tesla Roadster. Tesla's first car was the original Roadster, but this is a completely different beast. Boss Elon Musk is aiming to create the world's fastest accelerating car. The car has now been delayed until 2022 as Tesla priorities other projects, such as the Tesla Model Y.
Read more about the new Tesla Roadster here.
Toyota GR C-HR (2023)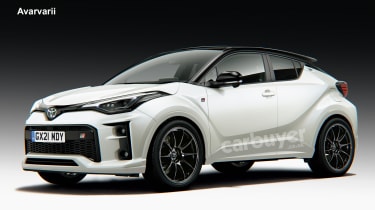 The third performance Toyota to arrive in the coming years will be a GR-tuned version of the C-HR SUV. Unlike the rest of the C-HR range, it won't be a hybrid, instead employing the same 250bhp engine as the GR Yaris and GR Corolla. We expect a new C-HR to be revealed in 2021, with the GR version set to debut a few months afterwards.
Read more about the upcoming Toyota GR C-HR here.
Vauxhall Insignia crossover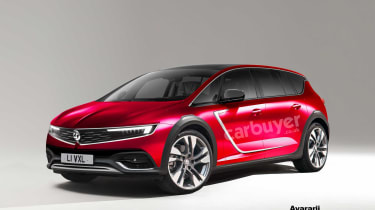 The SUV market is booming right now, and a couple of saloons are set to morph into crossovers to establish a foothold in the market. It's thought the Ford Mondeo and Vauxhall Insignia Grand Sport will both become SUVs in the next couple of years, and our exclusive images preview how the next Insignia might look.
Read more about the next Vauxhall Insignia here.
Volkswagen ID. Buzz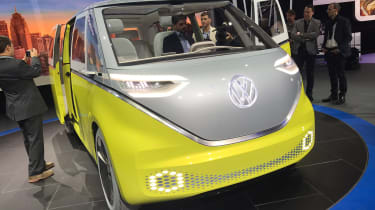 Joining the ID. range in dealerships will be the VW ID. Buzz, a modern take on the classic T2. Just like the original, it'll be available as a van, campervan and as a 'Microbus' people carrier. Unlike the 1950s version, however, the steering wheel may be able to retract into the dashboard.
Read more about the Volkswagen ID. Buzz here.
Volkswagen ID. Vizzion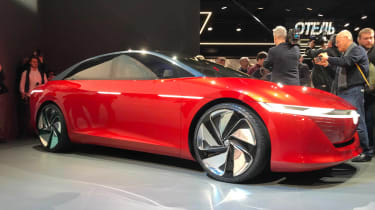 Soon there'll be electric Volkswagens in many different shapes and sizes. The ID. Vizzion concept previews a large saloon in the vein of the Volkswagen Passat, which will rival cars like the BMW i4 and Skoda Superb iV. VW is targeting a range of over 350 miles for all its large EVs, and over 248 miles for its smaller and cheaper models. The ID. Vizzion is planned to go on sale in 2022.
Volvo coupe SUV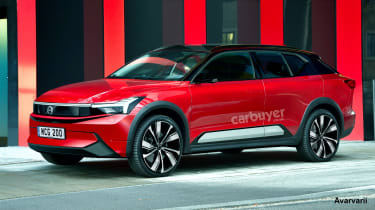 Volvo is planning its next-generation SUV line-up, and it's thought they will have sleeker styling than current models. Electric power will be the main focus, so less boxy styling will help with efficiency and range.
Read more about the new Volvo SUVs here.
Find expert reviews of all new cars on sale in our Car Reviews section.
Cupra Formentor SUV review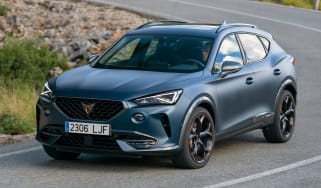 Cupra Formentor SUV review
2020 Volkswagen ID.3 hatchback: base model starts at under £30k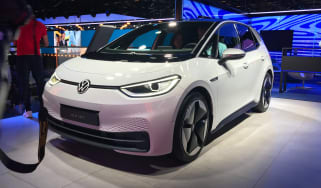 2020 Volkswagen ID.3 hatchback: base model starts at under £30k
Audi Q8 gains plug-in hybrid versions with 28-mile electric range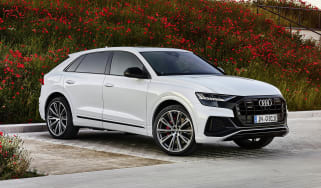 Audi Q8 gains plug-in hybrid versions with 28-mile electric range