Best new cars coming in 2023 and beyond
There are so many new cars coming in the next few years; we've narrowed them down to some of the best
​It's fair to say that the car market is going through something of a revolution at the moment, as manufacturers are being forced to make the transition to electrified powertrains by 2030. As this major shift happens, we're also publishing reviews and articles about new SUVs more frequently than ever before. Buyers can't seem to get enough of the fashionable looks and unrivalled practicality of crossovers, with nearly every manufacturer producing one of some kind – even supercar marques like Ferrari and Lamborghini!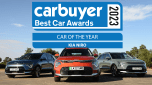 Carbuyer Best Car Awards 2023 - the winners
Over the past few years, EV technology has rapidly improved too and there are now cars with plenty of range to satisfy all but the highest-mileage drivers. Charging times are coming down, and the availability of charging points is increasing almost every week. Prices are still higher than an equivalent petrol or diesel car, but we should start to see costs coming down in the next few years. Take a look at our guides to the best electric cars and cheapest electric cars currently available.
For now, we've consolidated a list of the best new cars coming in 2023 and beyond; keep reading to see which new models you should be keeping an eye out for over the next couple of years. We've split the list into five segments –small cars, family cars, SUVs, performance cars and cars coming in 2024 and beyond – and have covered nearly all of these cars in individual articles, so follow the provided links if you wish to learn more...